Halkbank, Headquartered in Ankara
Already-strained relations between Turkey and the US took a further negative turn on Nov. 30 when Reza Zarrab, a controversial Turkish-Iranian gold trader,
told a New York court
that Turkish leader Recep Tayyip Erdogan was personally involved in an international money-laundering scheme that allowed Iran to break US sanctions.
Zarrab testified that starting in 2012 he helped Iran deposit funds from selling oil in Turkey's state-owned Halkbank and two other banks and used the money to buy gold. The gold was then smuggled to Dubai and sold for cash. Zarrab was arrested in March 2016 in Miami while visiting the US with his family.
REUTERS/Raheb Homavandi/TIMA
The former president of Iran, Mahmoud Ahmadinejad, is again in the forefront of Iranian social media.
An egomaniac who cannot bare to fall out of media attention, Ahmadinejad has lately declared war on the Iranian judiciary, which has brought court cases against his top presidential aides, Esfandiyar Rahim Mashaei and Hamid Baghaei, on charges of corruption and
misuse of public funds
.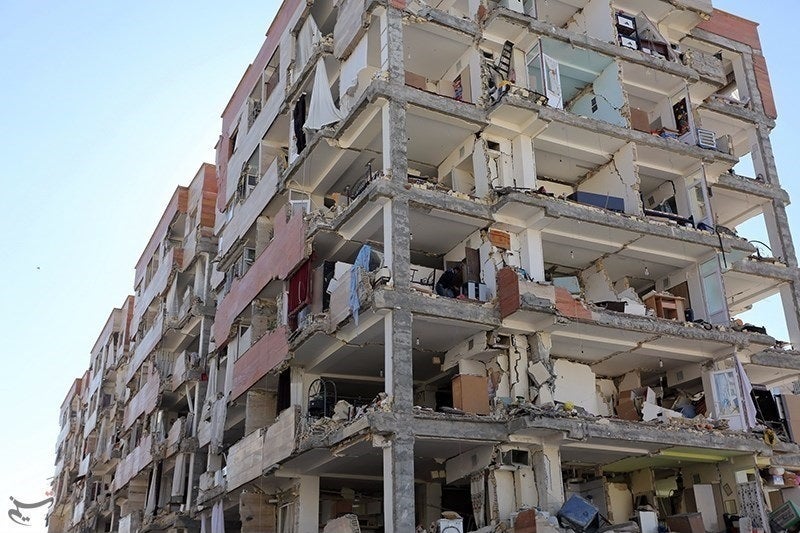 Damaged apartment block of Mehr housing project in Sarpol-e Zahab, Iran
The evening of November 12th, 2017 was tragic for the people of the Western province of Kermanshah, which has a Kurdish population famous for its warm hospitality. A powerful earthquake of 7.3 magnitude shook the province,
destroying
thousands of homes, killing at least 500 people and injuring nearly 10,000 more. The Iranian government
says
the quake also caused some $6.3 billion in damage.
Ahmad Safari, Kermanshah representative in the Iranian Parliament,
said
that the number of dead and injured, as well as the scope of damage, is much higher than has been reported. Safari criticized the IRIB (state radio-TV) for its coverage and the Red Crescent for a weak response and added that Kermanshah lacks proper crisis management.
While opposing many policies of the Iranian government, Trump administration officials have frequently claimed to care for the Iranian people.
But such sentiments are belied by the feeble US official response to a
massive earthquake
that has killed more than 500 Iranians in a remote area on the Iran-Iraq border.
Wind turbines are seen in Manjil in Iran's Gilan province in this 2013 photo.
(Reuters/Michelle Moghtader)
Doubts cast by US President Donald J. Trump
about the future of the nuclear deal with Iran, US sanctions that have restricted access to foreign financing, and a tight budget have hampered the Islamic Republic's ability to secure significant investments in renewable energy.
International banks have been reluctant
to finance new energy projects in Iran as a result of Trump's criticism of the nuclear deal that was reached between Iran, the United Kingdom, Germany, France, Russia, China, and the United States in 2015. This reluctance is compounded by the fact that numerous Iranian energy companies are supervised by the Islamic Revolutionary Guard Corps, which is subject to US sanctions.
Saudi Arabia and Iran could be headed toward a major war.
Recent power struggles in Riyadh, the shooting down of a Yemeni missile over the Saudi capital, and rising Saudi alarm over Iran's strengthening position in the Middle East have created a potentially deadly brew of instability.
Relatives of an imprisoned Iranian-American father and son are urging the Trump administration to open a direct channel to the Iranian government to discuss trading the detainees for Iranians imprisoned for sanctions violations.
As Congress debates what if anything to do about the Iran nuclear deal, a growing number of experts – including the former head of Israel's atomic energy agency -- is urging legislators to make sure that the United States continues to comply with the accord.
"The bottom line is the agreement is good for Israel," Uzi Eilam told a small group in Washington on Tuesday assembled by the liberal Jewish group, J-Street.
The Joint Comprehensive Plan of Action (JCPOA) is arguably the most comprehensive and verifiable non-proliferation agreement since the nuclear Non-Proliferation Treaty (NPT). It not only ensures against the proliferation of nuclear weapons, but also recognizes the right to a peaceful nuclear program.
As more countries, including members of the Gulf Cooperation Council (GCC) develop nuclear infrastructures to meet growing energy demands, it is essential to build on the JCPOA and further enhance the NPT by pursuing Weapons of Mass Destruction (WMD) Free Zones with the objective of inhibiting proliferation, as well as ensuring the peaceful nature of new nuclear programs.
The Islamic Revolutionary Guard Corps (IRGC), the most powerful security and military organization in Iran, recently presented its analysis of Trump's new strategy toward Iran as laid out in his
October 13 speech
de-certifying the Joint Comprehensive Plan of Action (JCPOA).