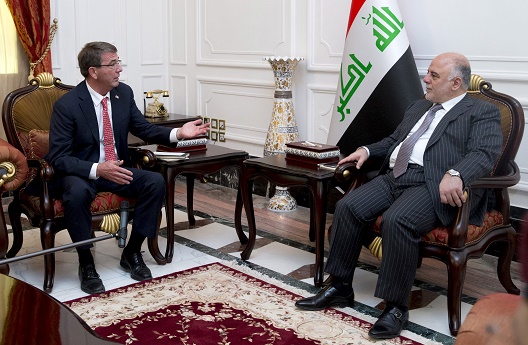 After the White House succeeded in getting Bulgaria to close its airspace to Russian overflights last week, Moscow continues to buttress Syria's embattled regime though Iranian and Iraqi airspace, despite US requests made as recently as September 5 for the Iraqis to assist in the effort to deny the Russians a supply line to Syria.
According to the New York Times report that broke the story, "With few aircraft, Iraq is extremely limited in its ability to defend its airspace. But it could tell the Russians that they do not have the clearance to fly through its airspace and ask for American help in detecting and discouraging Russian flights."
Despite Iraq's lack of capability in asserting sovereignty over its airspace, Prime Minister Haider al-Abadi is unlikely to give the green light for a greater US military role in Iraq—particularly one focused on countering Russian and Iranian interests in Syria. For Iraq, foreign policy remains a subset of domestic politics, which does not favor Western interests in Syria.
For years, the White House has tried repeatedly to get Iraq's government to take a tougher position against the Syrian regime of Bashar al-Assad. In December 2011, President Obama hosted then-Prime Minister Nouri al-Maliki at the White House to mark the end of the US military occupation and a new chapter in bilateral relations. But buried under the press headlines of the US withdrawal, there was another significant marker in post-Saddam Iraq that had gone largely unnoticed: Iraq's entrance into the high-stakes gamesmanship of foreign policy. While it was stated that the two leaders shared the same goals, Obama commented that there remained "tactical differences" between Washington and Baghdad on the crisis unfolding in Syria.
The major issue of contention for US diplomats in Baghdad, at least since the US military withdrawal, had been tacit exploitation of Iraq's airspace by Iran for the purposes of buttressing the Assad regime. Convinced that external support has kept Assad from negotiating his departure from power, US officials have repeatedly tried to persuade Iraq's government to halt the Iranian overflights, but to little avail. In March 2013, Secretary of State John Kerry made his first public attempt and failed when discussing the issue with Maliki in Baghdad. Today, with Russia rerouting its shipments, Iraq's airspace has become the most significant supply line to Syria. According to the New York Times, "American military specialists analyzing satellite photographs and other information said Russia had about half a dozen T-90 tanks, fifteen howitzers, thirty-five armored personnel carriers, 200 marines and housing for as many as 1,500 personnel at the airfield near the Assad family's ancestral home."
However, Abadi's interests today do not differ from Maliki's then. It simply is not in Baghdad's interests, regardless of who is prime minister, to hasten the downfall of the Syrian regime at the hands of Sunni insurgents. To participate in this effort—which is seen among Shiite Iraqis as aligning with Sunni insurgents in Iraq's own civil war—would jeopardize any leader's political survival in Baghdad.
While Maliki's domestic interests dovetailed with Iran's foreign policy interests in buttressing the Assad regime, Abadi neither has the physical nor the political capacity to exercise sovereignty over Iraq's airspace. Since the transition of power from Maliki to Abadi in the summer of 2014, power and authority in Iraq have become increasingly diffused. Today, with various players exercising unilateral power over the use of force, the state represents more a contested arena of actors than a sovereign institution with agency. The Prime Minister may head the government, but he does not have a monopoly on executive decision-making, especially in the security sector. He is constrained by multiple actors, so much so that should he try to oppose Iran's strategic interests directly, his actions would likely jeopardize his political survival.
Thus, Abadi is left with one option when dealing with US diplomats over the issue: to plead ignorance. Rather than admitting what is happening under his watch, Abadi is likely to pretend he has little or no knowledge about the covert activities. The fact remains that Abadi cannot afford to look weak in Shia circles by being seen as curtailing to Western interests, and simultaneously, cannot afford to be seen as a puppet of Iran and Russia to his supporters in the West.
While Abadi heads a governing coalition of Shia, Sunni, and Kurdish parties, he has gained the trust of none. The reforms package he introduced last month, scrapping a number of senior positions in government, involved no consultation with any other members of his coalition. While this may be seen in the West as a positive step forward in democratic development and tackling rampant corruption, it has also exposed Abadi to his rivals, perhaps too early. While US officials deny that they played a role in pushing Abadi to articulate his reforms, Iraqi politicians point to increased British engagement in Baghdad. Because of Abadi's exiled years in the United Kingdom, the Prime Minister appears to be relying on close cooperation with Frank Baker, the UK Ambassador to Iraq.
Today, the US-Iraq relationship cannot extend to balance-of-power politics in the region. At this point, neutrality is the best Washington can hope for in Baghdad. Unlike the traditional Sunni allies in the Middle East, Iraq is a fragile state whose leaders remain vulnerable to domestic politics. In the discourse of Iraqi politics, to force the Prime Minister to side with the West against the Syrian regime is equivalent to realigning him with the Sunni axis against the Shia one within his own civil war.
Hence, for the foreseeable future, the United States should not expect too much cooperation from Abadi in countering Iran and Russia on the regional stage. To its credit, Washington appears to recognize this weakness. The United States has shifted toward softer diplomacy with Abadi when compared to Maliki regarding the same concerns for overflights over Iraq. For one, Abadi is far too weak to make a difference—and much weaker than his predecessor. More importantly, the White House likely recognizes that it should not exacerbate Abadi's political vulnerability by forcing him into playing a delicate balancing act between regional and international powers. Doing so at this period would force Abadi to resist US efforts and move closer to Russia.
Abadi struggles for survival on politically shaky ground. He has yet to consolidate his authority and, until he does, his longevity will remain an uncertainty that overshadows his time in office. It had taken years for Maliki to consolidate his regime to the point where he could play one external power against another in extracting concessions without jeopardizing his survival. Abadi faces a long road ahead to reaching that level of political stability. In the multilevel chessboard of Iraq's politics, Abadi does not have the luxury of playing the regional game without giving first priority to the domestic.
Ramzy Mardini is a Nonresident Fellow with the Atlantic Council's Rafik Hariri Center for the Middle East.