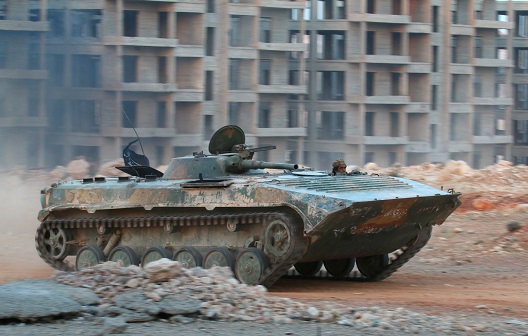 In the past year, the Nusra Front, the former al-Qaeda affiliate and now known as Hay'at Tahrir al-Sham (HTS), has gone through a fast, complex evolution. This has paved the way for the emergence of a 'neo-Qaeda,' one that is specific to Syria, pragmatic and aggressive, and struggling between its political ambitions and jihadist identity.

In July 2016, the Nusra Front officially broke ties with its parent organization al-Qaeda and renamed itself Jabhat Fateh al-Sham. At that point, most experts, with the exception of a few articles, were quick to call it a mere relabeling. On January 28, JFS reformed into Hay'at Tahrir al-Sham by joining forces with northern opposition factions ranging from more mainstream movements to hardcore jihadist: Nur al-Din al-Zinki, Liwa al-Haqq, Jabhat Ansar al-Din, and Jaysh al-Sunna, as well as defectors from Ahrar Sham who had formed Jaysh Ahrar. Prior to the group's official announcement of the HTS merger, JFS worked on confirming its leadership status by attacking rival factions. In January 2017, JFS launched several coordinated attacks against Ahrar al-Sham in Idlib. The organization also attacked the Liwa Suqur al-Jabal of the Free Idlib Army. "The attacks focused at the time mainly on Suqur al-Sham, Jaysh al Mujahidin and Jaysh al-Islam," says sheikh Hassan Dgheim, an expert on Syrian Islamic movements.
"HTS needed to integrate more moderate factions to enlarge its support base," says activist Brahim Idlibi. The new formation dealt a heavy blow to one of JFS's largest rivals, Ahrar al-Sham, by absorbing some of its hardliners who had defected from Ahrar.
To further strengthen its public support base and portray itself as a leader among the rebel groups, HTS worked to show that it was actively fighting the Assad regime. While many of Syria's rebel brigades were dealing with the Assad regime in the Astana in Kazakhstan, HTS denounced the negotiations in several statements and took to the battlefield.
On February 25, a series of HTS suicide attacks hit military installations in the government-held, western city of Homs, killing 32, including Syrian military intelligence chief General Hassan Daabul, a close ally of President Bashar Assad. Brigadier Ibrahim Darwish, head of the State Security Branch, was also wounded in the attack. Two weeks later, on March 11, around 74 people, including 43 Iraqi Shia pilgrims, were killed in a double suicide bombing in Bab Saghir area in Damascus. The neighborhood is home to several Shia shrines, including the Sayyida Zaynab Mosque, which is one of Syria's most visited Shia pilgrimage sites. HTS was sending a message that while the rest of the opposition was negotiating in Astana, it was down in the trenches doing the hard work.
Through these radical moves, HTS was trying to entrench itself with the Syrian public and opposition, but the rift only grew between HTS and some of its former hardline members from the Nusra front and sponsors such as jihadist ideologues Abu Mohamad Maqdisi and al-Qaeda's leader Ayman Zawahiri.
The dissent between HTS and former Nusra members is real, explains Sheikh Dgheim, who named hardliners Abu Khadija (also known as Bilal Khreisat) and Dr. Sami Uraydi among those who oppose HTS's more 'pragmatic' approach to integrating into the Syrian society. According to Sheikh Dgheim, former Nusra front member Abu Julaybib al-Urdunny is being prosecuted by HTS, which accuses him of breaking off from the group, taking 500 other fighters with him, and stealing funds in August 2016 (right after Nusra had broken ties with al-Qaeda and changed to Fateh al-Sham). Ramy Dalati, another veteran of the Syrian Islamic scene, concurs: "HTS leadership is now mostly comprised of Syrians." The change in leadership contrasts to how foreigners previously dominated Nusra, including many Jordanians.
Dalati emphasizes that HTS has been increasingly embracing an all Syrian branding and nationalistic agenda, one that undoubtedly clashed with al-Qaeda's international jihadist ideology. Two months ago, al-Qaeda's propaganda arm, al-Sahab Media, released an audio message by Zawahiri. In his message, posted on the Long War Journal, Zawahiri warned that the Syrian war should not be considered an exclusively "nationalist" effort, because this is what the Sunni jihadists' enemies want. "The enemy seeks to transform the jihad in the Levant from a cause of the Muslim Ummah to an exclusively nationalist Syrian cause," Zawahiri argued in indirect reference to HTS. In another statement, Abu Muhamad Maqdisi also fiercely criticized HTS for "diluting" the Syrian Jihadi cause, after which ensued a war of words between both HTS and its jihadist critics.
This verbal sparring took a turn for the worst last week, when a member of HTS Hossam Atrash (formerly from Nur al-Din al-Zinki) called on Twitter for HTS to dissolve and join an opposition interim government that would rule over rebel areas. The tweets, which were decried as a heresy on jihadist channels close to Dr. Uraydi and Sheikh Maqdisi, were followed by an official HTS statement on its Telegram channel, saying that Atrash's position was his own and that he did not reflect the organization's position.
Yet the fact that such a debate can take place within HTS is unprecedented. "No doubt, radical changes are taking place in HTS, which is endorsing a more nationalistic and moderate agenda," explains Dgheim. Before this ideological debate, HTS had also endorsed what jihadists considered controversial positions in regard with its relations with foreign governments. For example, HTS member Abu Abdullah Shami Attoun wrote that HTS aimed at establishing relations with foreign governments.
By accepting such controversial debate within its ranks, HTS' ideology is certainly evolving, prioritizing survival over jihadists beliefs. Yet the process of mainstreaming is fraught with obstacles and goes against HTS' authoritarian nature. Brahim Idlibi reported in the past few months that the organization arrested a prominent fighter, Suheil Abu Tow, because of tweets critical to the group, and cracked down on a children's charity because it allowed boys and girls to mingle. This week, HTS clashed with the opposition group 13th Brigade in Maarat al-Nu'man after a stabbing incident.
More important, according to Sheikh Dalati, is the distancing of HTS from the cause for international jihad, a core principal of al-Qaeda's narrative.
Some Syrian experts, such as Sinan Hahtahet from Omran Dirasat, believe that Tahrir al-Sham might follow a trajectory similar to the Taliban's, becoming a politically accepted faction while retaining its radical positions. Yet the evolution of HTS could be, with the right circumstances, much more swift and potent, akin, to that of an ideology-based group like Hezbollah. In a decade, Hezbollah has succeeded in moving from a jihadist movement promoting the Muslim Umma (Nation) to a player firmly integrated in Lebanese institutions but still maintaining a Jihadist arm.
Mona Alami is a Nonresident Fellow at the Atlantic Council's Rafik Hariri Center for the Middle East.