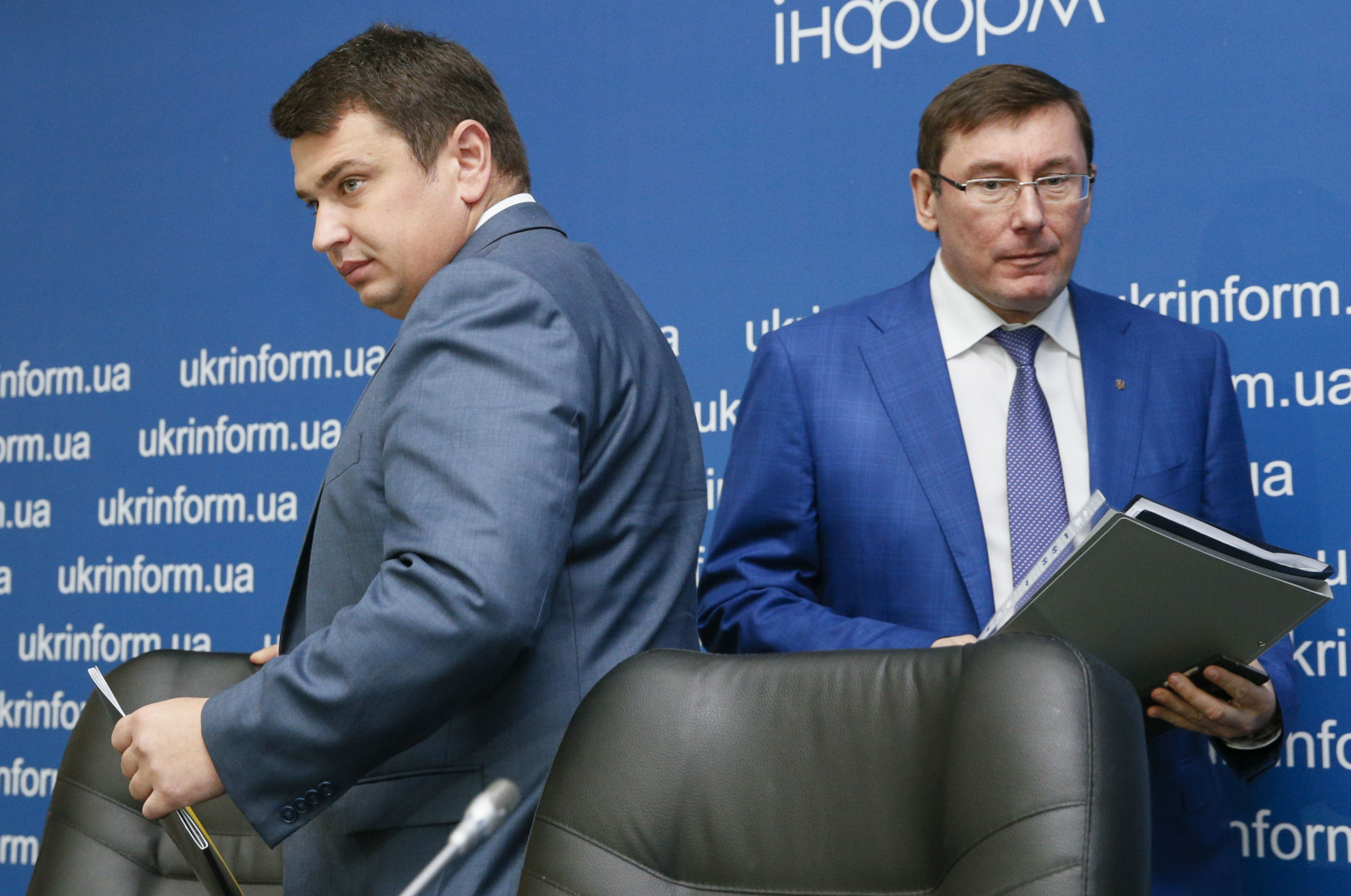 On December 7, Ukraine's parliament is likely to dismiss the head of Ukraine's only independent anticorruption body, the National Anti-Corruption Bureau (NABU). Established in 2015 to target high-level crimes committed by the country's corrupt political class, NABU has demonstrated a high level of independence led by its director Artem Sytnyk. It has not hesitated to target senior officials, judges, and state enterprise managers who previously possessed de-facto immunity from prosecution.
Supporting NABU has certainly been a US priority, as the two agencies signed a memorandum of understanding for the FBI to assist NABU with training, capacity building, and information sharing. Ukraine's political elites have spent much of the last two years coming up with ingenious methods to weaken NABU and diminish its effectiveness. Ukraine's unreformed judiciary also stymies NABU's investigations by denying search warrants, setting purposely small bail for suspects—thereby allowing them to flee the country—and preserving official positions for people who are NABU suspects. This means that while NABU has investigated hundreds of cases, most can't make it through the courts. And despite the IMF's requirement that an independent anticorruption court be established, President Petro Poroshenko continues to slow-roll the submission of legislation to do so.
As bad as all this is for NABU, things got worse last week. On November 29, the Security Services of Ukraine (SBU) and Prosecutor General's Office (PGO) purposely disrupted an undercover NABU operation targeting a senior official from the State Migration Service of Ukraine allegedly involved in a scheme to sell passports and residency permits.
Even more disastrously, several undercover NABU operatives were detained by the SBU and PGO and their names were publicly leaked, thereby ending their ability to perform their jobs, as well as potentially putting them in danger.
And it doesn't end there. Ukraine's old guard struck again today. First, parliament's Anticorruption Committee voted to dismiss committee head Yehor Soboliev. Soboliev has been one of the few strong voices for anticorruption reform, and his loss will be a blow to activists. A coalition of twelve committee MPs from President Poroshenko's Block Petro Poroshenko (BPP), former Prime Minister Arseniy Yatsenyuk's People's Front, and Opposition Bloc MPs voted for Soboliev's dismissal.
And in a direct blow at Sytnyk, a dangerous draft law—number 7363—which would end NABU's independence was registered in parliament today by the parliamentary heads of BPP and the People's Front. The draft law would allow parliament to dismiss the heads of NABU and other anticorruption agencies by a simple majority vote. Currently NABU's director can be dismissed only after a guilty verdict in a criminal case which is confirmed on appeal. Given the power of BPP and the People's Front in parliament, activists, opposition parliamentarians, and Sytnyk himself fear that he will be dismissed on December 7.
Sytnyk is clear-eyed about the ordeal. In a statement at a World Bank conference in Washington, DC, on asset recovery on December 6, Sytnyk stated that the "reason for my firing is simple. Not everyone is happy that someone is committed to bringing corrupt people to justice and trying to bring stolen assets back from abroad."
Ukraine's Western partners are unhappy with Kyiv. On December 4, the State Department raised concerns about Ukraine's fight against corruption, saying that recent actions "risk eroding international support for Ukraine," while Secretary of State Rex Tillerson said "it serves no purpose for Ukraine to fight for its body in [the] Donbas if it loses its soul to corruption." Meanwhile the EU added that Kyiv's war on NABU "undermines public trust in an effective fight against corruption."
Daria Kaleniuk with the Anticorruption Action Center urged Ukraine's Western partners to sanction the country's top officials, arguing this remains the only way to get Kyiv's attention.
Whatever happens next, we can say with confidence that the West's patience with Kyiv is running out. Let's hope Ukraine's political class gets the message before it's too late.
Josh Cohen is a former USAID project officer who managed economic reform projects throughout the former Soviet Union. He is a contributor to Reuters, Foreign Policy, the Washington Post, and others.