Amy Pope
Nonresident Senior Fellow, Adrienne Arsht Center for Resilience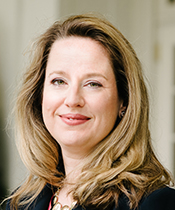 Expertise
{expertsdata}
---
Read Full Bio
[module-1405 style=xhtml]
Full Bio
Amy Pope is a nonresident senior fellow with the Atlantic Council's Adrienne Arsht Center for Resilience. She most recently served as the deputy assistant to the president and deputy homeland security advisor on the National Security Council staff of the White House. Ms. Pope led teams of senior United States government officials to develop and negotiate solutions for some of the most challenging issues facing the country: from countering terrorism and violent extremism to promoting travel and regular migration to managing President Obama's comprehensive effort to combat Zika, Ebola, and other public health threats. Prior to this position, Ms. Pope led the Transborder Security Directorate.
Before joining the National Security Council staff, Ms. Pope worked in several positions at the US Department of Justice including as deputy chief of staff & counselor to the assistant attorney general of the criminal division, as counsel in the Criminal Division's Office of Policy and Legislation, and as a federal prosecutor in the Civil Rights Division, where she investigated and prosecuted multiple large criminal cases.
Ms. Pope has served twice as Senate staff: first, as counsel to the Senate Judiciary Committee's Subcommittee on Terrorism, Technology, and Homeland Security, and later, detailed as counsel to the office of Senate Majority Leader Harry Reid, where she worked with the Senate Judiciary Committee to pass legislation relating to immigration and border policy, national security, and the Affordable Care Act.
Ms. Pope is a graduate of Haverford College and a magna cum laude graduate of Duke University School of Law. She clerked for the Honorable Kim McLane Wardlaw of the US Court of Appeals for the Ninth Circuit.
She currently serves as a member of the President's National Infrastructure Advisory Council.