The Adrienne Arsht-Rockefeller Foundation Resilience Center aims to reach One Billion People with resilience solutions to climate change, migration and human security challenges by 2030. We hope you'll be part of this effort.
The Adrienne Arsht-Rockefeller Foundation Resilience Center is one of the newest centers at the Atlantic Council with a different model than your average Think Tank center. We are bringing solutions to vulnerable people, meeting them where they are, to improve their resilience to major disruptions caused by climate change. We focus our efforts on people, communities, governments, and institutions to help them better prepare for, navigate and recover from the multiple shocks and stresses people all over the world face every day.
We bring on the ground solutions for vulnerable people and communities – from macro-level tools like global policy initiatives on extreme heat such as the Extreme Heat Resilience Alliance, community-level work such as our Community Resilience Pods in Miami, and personal level resilience work on food security with kitchen garden kits in India, and our Humanitarian Service Points that support migrants on their journeys in Colombia, Guatemala and Athens in partnership with the International Federation of the Red Cross.
Overview of the Role
As the lead support on all planning and production of AARFRC live and virtual events this role requires a high-level of energy, creativity, organization and project management skills. They must be a natural problem solver with excellent communication and organizational skills. The projects that this AD will work on include the recently launched Stories of Human Resilience with Anna Deveare Smith, the launch of the Arsht Resilience Dialogues, the implementation of the Global Forum on Resilience and the AARFRC delegation trip to Glasgow, Scotland for COP26. Collegiality is also important for this work as the AD will serve as the liaison between the AARFRC team and the Atlantic Council events team and Executive Office.
A successful candidate must communicate effectively, and enjoy the fast-paced teamwork, under the pressure of time. The position requires a superior ability to multitask with a record of coordinating projects and events, excellent administrative skills, exceptional writing ability, attention to detail, positive attitude, and knowledge of diplomatic protocol rules. Our ideal candidate will have experience producing in-person and virtual events with high-level speakers, key donors and constituencies.
Job Responsibilities
For all AARFRC live and virtual events –
Draft and vet event materials such as speaker invitations, event invitations, talking points, run of show
Coordinate invitation lists, RSVPs through Council Pardot system
Coordinate event marketing and outreach with Center and Council communications staff including social media
Manage and track budget
Coordinate event logistics and AV coordination with the Council's Office of External Relations
Coordinate with the Executive Office and the Office of External Relations on VIP attendees (Heads of State, government officials, ambassadors and other members of the diplomatic corp, CEOs, Board of Directors) to ensure they are received and managed with respect to protocol and other requirements
For live events, serve as POC for VIP arrivals, departures, security measures, guest management, and AV coordination and work with security details of domestic and foreign government officials to coordinate holding rooms, private entrance and exit points and additional security measures
For AARFRC special projects –
Draft and vet project materials including invitations, announcements, marketing materials, talking points and project reports for Director and donor
Coordinate marketing and outreach with Center and Council communications staff
Maintain and track budget
Serve as liaison to project consultants
Conduct research as necessary
3-5 years of professional event experience in a related field are required
Interest in transatlantic relations and the Atlantic Community and in the core mission of the Atlantic Council, climate/conservation/migration issues
Research and writing skills in the areas of international relations
Superior communication skills – candidate must be able to communicate and interact with all levels of staff and senior diplomatic officials
Ability to represent the Atlantic Council to external constituencies, such as senior officials, board members, donors, and individuals and corporate members
Excellent organizational, logistical, and administrative skills
Ability to travel internationally; overseas experience is preferred
Foreign language is preferred
Ability to work irregular hours and evenings
B.A. degree required
The successful candidate should be:
A consummate communicator. Someone with the ability to define and articulate the Center's mission and work to diverse audiences.
Emotionally Intelligent. Work with a variety of colleagues with empathy, an open mind, and self-awareness.
A "hands-on" implementer. Someone who is eager to work with a team in order to execute projects and workstreams.
Committed to Diversity, Equity & Inclusion. Someone who reflects these values in all their interactions, practices and communications, and supports the DEI efforts of the Center and the Council.
A team player. Someone whose ego is in check and who will enthusiastically share credit and the spotlight and thrive in the collaborative culture of the Council.
A hardy traveler. Someone with the ability and desire to travel and work with partners around the world.
A flexible work style. Someone that can work easily with ambiguity in a fast-paced environment with tight timelines and constrained funding.
Above all, someone who is passionate to the core about the mission and work of the Resilience Center!
Explore the Program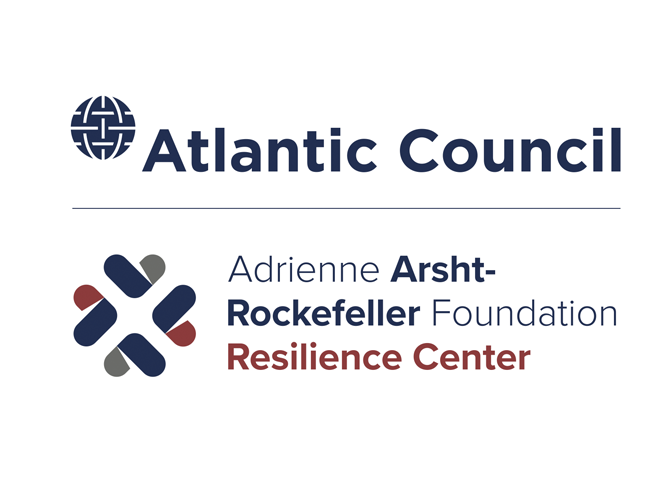 Please note: Atlantic Council is an equal opportunity employer that is committed to inclusion and diversity. We take affirmative action to ensure equal opportunity for all applicants without regard to race, color, religion, sex, sexual orientation, gender identity, national origin, disability, veteran status, or other legally protected characteristics. Atlantic Council is committed to working with and providing reasonable accommodation to applicants with physical and mental disabilities. Thank you for your interest in the Atlantic Council.