Job Location: Atlantic Council Headquarters – Washington, DC
Employment Type: Full-Time
Seniority Level: Director
Job Category: Staff
Overview
The Atlantic Council seeks an intellectual entrepreneur and experienced director to lead the effort to launch the Economic Statecraft Initiative (ESI).
The selected candidate will work closely with the GeoEconomics Center Director and Council leadership. The Director will manage and oversee all aspects of ESI including funding, progamming, and staffing as well as research, publish, and engage with policymakers.
The ESI will be part of the Atlantic Council GeoEconomics Center. The Center aims to bridge the divide between these oft-siloed sectors with the goal of helping shape a better global economic future. As the global economy struggles to recover from COVID-19 and rising powers like China assert economic influence, this mission is critical to the long-term prosperity of the United States. The Center is organized around three pillars: 1) The Future of Capitalism; 2) The Future of Money; and 3) The Economic Statecraft Initiative.
The successful candidate will have knowledge and experience in international business and economics. She/he will have an entrepreneurial spirit, exemplary communication skills, a record of publishing, and a desire to work in the fast-paced environment of the Atlantic Council to build a world-class international finance policy initiative on the strong foundations of our existing work.
The ideal candidate will have robust experience or significant aptitude in project management and business development. S/he will be hands-on and entrepreneurial and possess a vision and an ambition for building a new initiative. The successful candidate will have an established bipartisan and international network of practitioners on the issues, particularly policymakers and analysts in the US and in Europe, and possess a desire to continue to build this network.
Job responsibilities
The primary focus of this position is leading and managing the Economic Statecraft Initiative, a key pillar of the GeoEconomics Center. The Initiative Director will manage his/her own team including program assistants and interns. The Initiative Director will manage his/her own budget in coordination with the GeoEconomics Center's budget.
In collaboration with the Center Senior Director, the Director will interface with all non-resident senior fellows. The Initiative Director will also play an integral role in the recruitment of all direct hires and additional non-resident senior fellows for both the initiative and the center.
Below are the main objectives of the new ESI where research, events, and programs are expected:
Statecraft Tools: The Initiative will continue to define the "rules of the road" for economic statecraft tools to include sanctions, investment security, market regulation, tariff remedies, illicit finance policy, and export controls. We shape policies that reduce economic frictions and work at cross-purposes with partners. We have frequent opportunity to support government efforts to design and deploy effective tools—even drafting legislation. Our programming in these areas is most impactful the more granular it can be and will remain flexible to respond quickly to policy developments.
Competition and Industrial Policy: Statecraft can walk a fine line between national security and protectionism and lobbying. This project will defend free market practices while helping to guide the evolving role of the state in the private sector. Based on both US and international interest we will start a new line of programming to expand our work on industrial policy as a key element of "defensive" economic statecraft.
Transatlantic Trade: The Center will continue pushing for US-EU-UK trade, legal and regulatory alignment, including at our London event on the future of UK financial markets in March 2022.
The Director will be responsible for building out these workstreams both substantively and operationally. This includes recruiting senior non-resident fellows to contribute to the work output and representing the ESI in both public and private engagements. The Director will develop financial opportunities to support the work of ESI and steward the existing donors to the initiative. The ideal candidate is expected to:
Intellectual Leadership. The Director will develop concepts for, write, and oversee the production of a strategy paper to launch the Center, major center projects and programs, policy documents, long- form reports, and shorter writings.
Communications. The Director will also moderate and participate in private and public events at the Atlantic Council and outside institutions. The Director will represent the Center at a range of events both inside and outside the Council, and be comfortable speaking on all topics within the Center's scope.
Collaboration. The Director will also be asked to help coordinate the Center's work with the other 13 centers and programs at the Atlantic Council.
Development. The Director will work with the Center Senior Director on fundraising goals for the Center. The Inititaive Director will independently craft proposals for funding, and generate financial support for new and existing lines of programming, focused on his/her intitiatve. Working with the Council leadership and Office of External Relations, continue to build the initiative's funding base by sustaining current financial support and pursuing additional support from corporations, government agencies, international organizations, foundations, and individuals.
Financial Management. The Initiative Director will work with the Senior Director and Associate Director/s to manage and coordinate all relevant center budgeting and administrative responsibilities. He/she will be responsible for budgeting, spending, and financial health for their initiative.
Qualifications
Master's degree in relevant field.
7+ years of combined professional experience in international economics and/or foreign policy.
Excellent writing and editing skills.
Proven track record in managing multiple projects simultaneously and a demonstrated ability to work efficiently and collaboratively with both junior-level and senior-level colleagues.
Ability to dynamically and effectively represent the Atlantic Council to external constituencies, such as corporate executives, senior government officials, diplomats, board members, and donors.
Accomplished track-record in fundraising and financial management.
Self-starter who can balance multiple tasks and remain flexible, adaptive, and positive in a fast- paced environment.
Excellent organizational, logistical, and administrative skills; experience in project and database management highly desirable.
A network and/or previous experience engaging with members of Congress, the Executive Branch, and European financial institutions and representatives.
The position is located in Washington, DC, and requires occasional to frequent international travel and requires participation in evening events.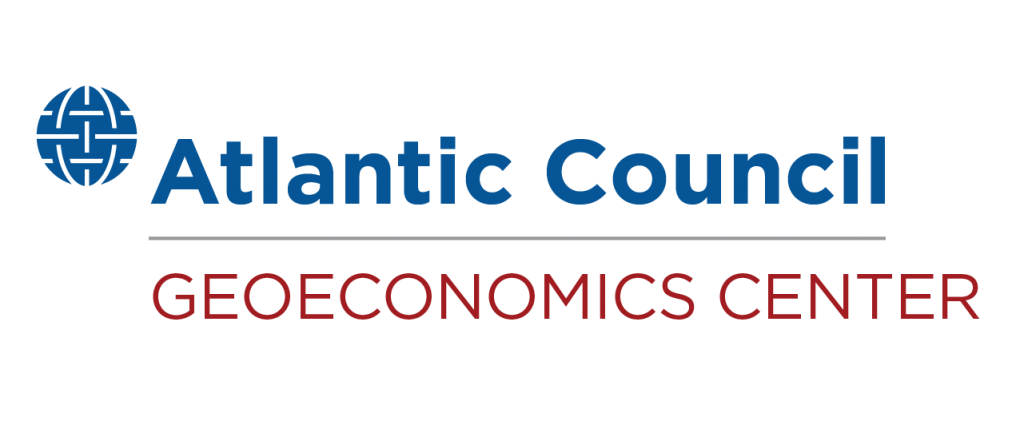 At the intersection of economics, finance, and foreign policy, the GeoEconomics Center is a translation hub with the goal of helping shape a better global economic future.
All Atlantic Council employees are required to adhere to the Atlantic Council's vaccination policy. All Atlantic Council employees must be fully vaccinated and boosted, and they must submit proof of both vaccination and COVID-19 booster shot on their first day of employment. Prospective or new employees may seek an exemption to the vaccination requirement through human resources and must have an approved exemption prior to the start of their employment.
Please note: The Atlantic Council is an Equal Opportunity Employer. We do not discriminate on the basis of race, religion, color, sex, gender identity or expression, sexual orientation, age, non-disqualifying physical or mental disability, national origin, veteran status, or any other legally protected characteristics covered by applicable law. The Atlantic Council is committed to working with and providing reasonable accommodation for all qualified individuals and bases all employment decisions on qualifications, merit, and business need. The Atlantic Council believes that diversity and inclusion amongst our team members are critical to our success as a global organization and seek to recruit, develop, and retain the most talented people from a diverse candidate pool. For more information, check out our Talent DEI Statement or connect with us at [email protected]. Eligibility to work in the United States is confirmed with E-Verify; employment at the Atlantic Council is eligible for Public Service Loan Forgiveness (PSLF). Thank you for your interest in the Atlantic Council.