Job Location: Warsaw, Poland
Employment Type: Full-Time
Seniority Level: Director
Job Category: Staff
Overview
The Atlantic Council is seeking a dynamic intellectual entrepreneur to serve as Director of the Warsaw Office. The Director will manage and build the Council's core programming on the US-Polish relationship and Poland's voice in the EU and NATO, stepping up the Council's body of work, expanding its resource base, and enhancing its impact on the most important challenges and opportunities facing the transatlantic community through innovative approaches.
While representing all of the Atlantic Council's portfolio, the director will work under the umbrella of the Europe Center. The Europe Center is the Council's core program focused on Europe and the transatlantic relationship. The program aims to promote leadership and strategies for a strong Europe advancing a better global future in partnership with the United States. The Center seeks to understand change in the European Union and galvanize transatlantic leadership to solve global challenges.
The program pursues three pillars of programming: forging enduring transatlantic bonds and a compelling transatlantic agenda in turbulent times, understanding and informing Europe's evolution, and analyzing great power engagement in Europe in an era of geopolitical competition while bolstering US engagement on the continent. The program serves as the Council's lead for managing relationships with European Ambassadors, heads of state and government, foreign ministers, and top EU and other institutional leaders.
Engaging Central Europe is at the core of our mission.  The Warsaw office will serve as a hub for the Atlantic Council's Central Europe programming advancing US engagement and raising Central European voices and perspectives in the European conversation. Our work is always focused on looking for impactful solutions, from high-level convening, constant and constructive engagement with media and policymakers, to cutting-edge research.
The Council's Central Europe programming advances its work through:
Convening. The Council's world-class convening capability helps spotlight issues and leaders and sets the public, policy, and business agenda. We have a track record of engaging with Central European leaders from across the public, private, and nonprofit sectors. The Council has hosted presidents and prime ministers from all countries in the region. The Council also manages strategy session to assist high-level visiting delegations in managing the interagency process in Washington to ensure that decision-makers from Central Europe have their voices heard.
Content. The Council's team of intellectual entrepreneurs produce constructive analysis to help our audiences understand developments and trends and to advance key policy ideas and practical solutions.
Community. Through our work, the Council forges communities of influence invested in our mission. These stakeholders expand our capacity to translate ideas into action.
Communication. The Council employs diverse technique to communicate our content and to amplify our messages, drawing on our strong credibility with traditional media and expanded reach to new communities through our digital strategy. The Council intentionally works to project American ideas and soft power influence into Central Europe.
Home Game/Field Game. The Council provides a platform in Washington to spotlight Central Europe and its talent, integrating them into a broader foreign policy and national security discussion. At the same time, the Council uses both communication tools and actual presence through delegations, fellows, and offices to maintain visible engagement in the region.
The Director will be responsible for fundraising to build a sustainable operation in the region, as well as building upon the intellectual, programmatic, and financial foundation that the Europe Center already enjoys in the region. The ideal candidate will be ready to shape policies in the region, engage with high level policy makers, leverage and grow the Council's reputation, brand, and impact within Central Europe, broaden the resource base of the Center through constant and effective fundraising, as well as develop new projects relevant to policymakers and key stakeholders. The Director will be expected to work autonomously, as an entrepreneur, to build a brand, organize events, and handle administrative matters with a disciplined eye to detail.
The Warsaw Director will also develop concepts for, write, and oversee production of major projects, policy documents, and longer reports. The Director will also moderate private and public Atlantic Council events and events organized by outside institutions, and will be comfortable with public speaking and media engagements. Beyond their own thought leadership, they will be expected to build a team of fellows able to write in the Polish, European and American media.
The Warsaw Director will work under the supervision of the Director of the Europe Center and the Council's Executive Office, in close coordination with the Distinguished Fellow for the Europe Center and the Center's program staff and network of accomplished non-resident senior fellows to direct the Council's robust programming on Poland.
The Warsaw Director will work collaboratively with other programs at the Council to integrate European-related efforts across the Council by sharing expertise on critical issues in Europe, the European Union, and transatlantic relations on issues ranging from energy security, cyber statecraft, countering disinformation, support for Ukrainian sovereignty, etc.
All Council Directors must generate programmatic ideas, independently craft proposals for funding, and generate financial support for new and existing lines of programming, working in tandem with Council leadership and the Office of External Relations.
The position is full-time and is located in Warsaw, Poland and requires occasional international travel.
About the Program
The Atlantic Council's Europe Center is premised on the belief that the United States has an enormous strategic stake in Europe's future, the resilience and strength of the EU in a coherent and cohesive Atlantic community. Vision, leadership, and sustainable strategies are needed to protect and bolster this unique partnership as a force for good in the world.
The Center aims to:
Restore transatlantic leadership in the global economy and bolster the economic foundation of the transatlantic community's international strength by advancing growth, innovation, and competition policies;
Build a Europe, whole, free, and at peace, by restoring trust in a reformed European project, confronting backsliding, integrating the peripheries, and confronting Russian aggression;
Renew NATO and develop a more credible European defense pillar.
Galvanize Europe on global challenges ranging from the wider Middle East and North Africa to the Arctic, the Asia-Pacific, and Latin America;
Build a transatlantic consensus on issues of global consequence, such as great power competition, energy markets and supplies, international financial flows, climate change, cyber security, and disruptive technologies;
Recommit to common values and ideals across the Atlantic and with other partners by fostering an international order characterized by rule of law, democracy, human rights, and free markets; and
Develop the next generation of American and European leaders.
The Director will be specifically responsible for:
Intellectual Leadership. Play a leading role in developing the intellectual framework for advancing the Center's mission through both strategic planning and establishing programming to support that mission. Represent the Center and the Council in external policy debates through publications, speaking engagements, and other thought leadership.
Development/Fundraising. Working with the Council leadership and the Office of External Relations, build the Center's financial base by pursuing opportunities with foundations, corporations, individuals, government agencies, and international organizations.
Programmatic Design and Oversight. Develop programming and new projects designed to shape policy and the public discussion about Europe's future, including its relations with North America and global allies. Manage multiple projects simultaneously, often involving senior experts and policy leaders.
Management. Recruit, manage, and develop top talent consisting of resident and nonresident senior fellows. Integrate relevant board members, members of the Council's networks, and supporting partners into the Center's programming and leverage expertise of the Council's other programs and broader network. Maintain strong oversight of finances and administrative obligations, working with the Council's finance and administration staff.
Outreach/Communications. Lead Center outreach in Poland and Central Europe, especially with key government and international actors, as well as media, donors, and others. Provide expert analysis and commentary. Working with the office of external relations, harness social and digital media to communicate in innovative ways around the globe.
Qualifications
The successful candidate should possess:
A minimum of 10-15 years relevant work experience in European affairs and business, transatlantic relations and/or other relevant areas within government service, the private sector, non-governmental organizations, and/or academia;
At least master's degree in a relevant field is highly desirable;
Significant expertise with a strong and current network in Warsaw and Europe among government, business, and civil society;
Significant experience in program management and business development, preferably in an entrepreneurial environment;
Superior writing and communication skills and a willingness to experiment in outreach methods;
Excellent organizational and management skills; must be able to juggle multiple tasks and prioritize appropriately;
Excellent people skills; must be able to manage fellows, staff, and interns, and work well with colleagues, senior Council staff, and external officials and partners;
A strong and current bipartisan and international network in Europe among government, business, and civil society;
Demonstrated track record in budget management, grant solicitations, and fundraising to include solicitation from high net worth individuals, foundations, and corporate sources;
Excellent organizational and management skills, and
A proven ability to build networks and initiate effective partnerships among expert analysts, government leaders, and non-governmental organizations, international institutions, and business executives.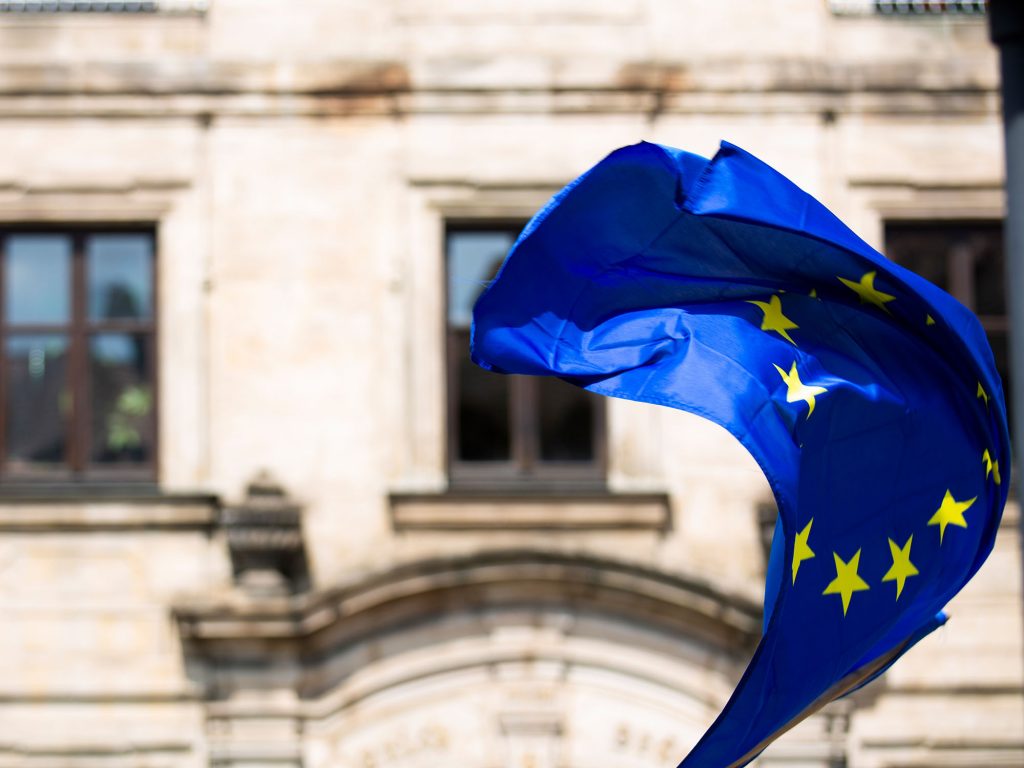 Providing expertise and building communities to promote transatlantic leadership and a strong Europe in turbulent times.
All Atlantic Council employees are required to adhere to the Atlantic Council's vaccination policy. All Atlantic Council employees must be fully vaccinated and boosted, and they must submit proof of both vaccination and Covid-19 booster shot on their first day of employment. Prospective or new employees may seek an exemption to the vaccination requirement through human resources and must have an approved exemption prior to the start of their employment.
Please note: The Atlantic Council is an Equal Opportunity Employer. We do not discriminate on the basis of race, religion, color, sex, gender identity or expression, sexual orientation, age, non-disqualifying physical or mental disability, national origin, veteran status, or any other legally protected characteristics covered by applicable law. The Atlantic Council is committed to working with and providing reasonable accommodation for all qualified individuals and bases all employment decisions on qualifications, merit, and business need. The Atlantic Council believes that diversity and inclusion amongst our team members are critical to our success as a global organization and seek to recruit, develop, and retain the most talented people from a diverse candidate pool. For more information, check out our Talent DEI Statement or connect with us at [email protected]. Thank you for your interest in the Atlantic Council.