Learn about our co-chairs and members, and stay tuned for the latest events and resources of the Nuclear Energy and National Security Coalition.
---
Nuclear Energy and National Security Coalition Co-Chairs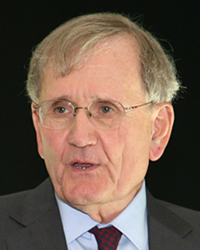 Ambassador Thomas Graham, Jr.
Executive Chairman of the Board, Lightbridge Corporation
Ambassador Graham became a director of Lightbridge on April 2, 2006, and chairman of the board on April 4, 2006. Ambassador Graham served as a member of the board of directors of Thorium Power, Inc., from 1997 until the merger with the Lightbridge. He is one of the world's leading experts on nuclear non-proliferation and has served as a senior US diplomat involved in the negotiation of every major international arms control and non-proliferation agreement involving the United States during the period from 1970 to 1997, including the Strategic Arms Limitations Talks (the Interim Agreement on Strategic Offensive Arms, the Anti- Ballistic Missile Treaty, and the Salt II Treaty), the Strategic Arms Reduction Talks (the Start I Treaty and the Start II Treaty), the Intermediate Nuclear Forces Treaty, the Nuclear Non- Proliferation Treaty Extension, the Conventional Armed Forces in Europe Treaty, and the Comprehensive Test Ban Treaty. In 1993, Ambassador Graham served as the acting director of the US Arms Control and Disarmament Agency (ACDA), and for seven months in 1994 served as the acting deputy director. From 1994 through 1997, he served as the special representative of the president of the United States for arms control, non-proliferation, and disarmament with the rank of ambassador, and in this capacity successfully led US government efforts to achieve the permanent extension of the Nuclear Non-Proliferation Treaty in 1995. He also served for fifteen years as the general counsel of ACDA.
Ambassador Graham worked on the negotiation of the Chemical Weapons Convention and the Biological Weapons Convention. He drafted the implementing legislation for the Biological Weapons Convention and managed the Senate approval of the ratification of the Geneva Protocol banning the use in war of chemical and biological weapons. Ambassador Graham served as a member of the International Advisory Board for the nuclear program of the United Arab Emirates from 2009 through its termination in October 2017. He is also chairman of the board of CanAlaska Uranium Ltd. of Vancouver, Canada, a uranium exploration company.
Ambassador Graham received an AB in 1955 from Princeton University and a JD in 1961 from Harvard Law School. He is a member of the Kentucky, the District of Columbia and the New York Bar Associations and is a member of the Council on Foreign Relations. He chaired the Committee on Arms Control and Disarmament of the American Bar Association from 1986 to 1994. He has published numerous non-fiction books, including The Alternate Route: Nuclear Weapon Free Zones and Seeing the Light, the Case for Nuclear Power in the 21st Century in 2017 and Unending Crisis in 2012.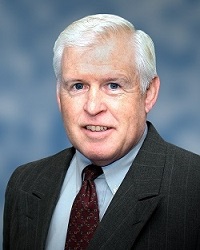 Admiral Richard Mies, USN (Ret.)
President and CEO, The Mies Group, Ltd.
Admiral Richard Mies is the president and CEO of The Mies Group, Ltd. and provides strategic planning and risk assessment advice on international security, energy, and defense issues. A distinguished graduate of the Naval Academy, he completed a thirty-five-year career as a nuclear submariner and commanded US Strategic Command prior to retirement.
Admiral Mies served as a senior vice president of science applications international corporation and as the chief executive officer of Hicks and Associates, Inc, a subsidiary of SAIC from 2002 to 2007. He served as the chairman of the Department of Defense Threat Reduction Advisory Committee from 2004 to 2010 and as the chairman of the boards of the Navy Mutual Aid Association from 2003 to 2011 and the Naval Submarine League from 2007 to 2016. He presently serves as the chairman of the Strategic Advisory Group of US Strategic Command and is a member of the Committee on International Security and Arms Control of the National Academy of Sciences, the board of governors of Lawrence Livermore National Laboratory, and the board of directors of BWX Technologies, Exelon, the US Naval Academy Foundation and the US Naval Institute. He also serves on numerous advisory boards.
Admiral Mies completed post-graduate education at Oxford University, the Fletcher School of Law and Diplomacy, and Harvard University. He holds a master's degree in government administration and international relations.
Members
Steve Abbot
Craig Albert
Everet Becker
John Bird
Joe Braddock
Paul Bushong
Fred Byus
Michael Connor
Daniel Cooper
Jeff Crater
Jim Curtiss
John Deutch
Nelson Diaz
Kirk Donald
James Ellis
Ronald Eytchison
Jeffrey Fowler
Seth Grae
John Harvey
John Harvey
Rich Haver
Siegfried Hecker
Timothy Keating
Dale Klein
Tom Knudson
Joe Krol
Ken Luongo
Peter Lyons
Fred McGoldrick
Richard Meserve
George Miller
Arthur Money
Michael Mullen
Chuck Munns
Peter Nanos
Robert Natter
Bill Ostendorff
Bill Owens
Joe Prueher
Stephen Rademaker
Snuffy Smith
James Stavridis
William Studeman
Jim Tegnelia
John Till
Elizabeth Turpen
Michael Wallace
John Welch
Larry Welch
Nils Thunman
Johnny Foster
Job Henning
Hollis Holden
Joe Henry
Steve Henry
Bob Bell
Bill Madia
Norm Augustine
Dave Goebel
Charlie Allen
Charles J. Beers, Jr., USN (Ret.)
Brad Gehrke
Victor Reis
John Mazach
Douglas J. McAneny
Al Konetzni
Robert John Lawless
Stan Szemborski
David K. Karnes
Ken Perry
Bobby R. Inman
Amy Zegart
Tom Christopher
John Butler
Pete Miller
John Browne
Frank L. Bowman
Thomas Fargo
Albert Kelln
Mike Williams
Harold Palmer Smith, Jr.
Hugh Scott
Richard C. Schaeffer, Jr.
Arnold Lotring
Donald G. Trost
Kenneth Myers
Richard A. Buchanan
David R. Franz
John Morton
John Totushek
James Loy
Roger C. Dunham
Oliver Kingsley
Dennis Blair
Steve Reinemund
William H. Press
Philip M. Bilden
Kevin McCoy
William Schneider
Carlton Fulford
Winsor Whiton
Marv Langston
Nicholas L. Miller
Bill LaPlante
Seth Grae
Andy Singer
George R. Sterner
Kathleen Kennedy Townsend
Tom Pickering
P. Stephen Stanley
Vic Utgoff
J. F. "Dugan" Shipway
Corbin McNeill
Sheila McNeill
Mike Anastasio
Scott Campbell
Sherri Goodman
Charles Ebinger
Joseph Hezir
John Hopkins
Dan Akerson
Michelle Hindman
Robert Otto
William Tobey
Walt Havenstein
Bill McDaniel
Kiran Magiawala
Dave Perry
Daniel Poneman
Susan Eisenhower
Robert E. Frick
Bruce Grooms
Dennis Jones
Robert Work
William Burke
William Hilarides
Kendell Pease
Marty Chanik
Richard Morningstar
Fred Festa
Suzanne Baker
Joseph Mulloy
Mark Fox
Branko Terzic
Uday Mehta
Florie Knauf
Jay Foley
Anne Bader
Jay Johnson
Sydney McNiff Johnson
Joe Enright
Michael Jabaley, Jr.
Dennis Haley
Stay tuned to the latest events, read the latest news, and learn about our co-chairs and members of the Nuclear Energy and National Security Coalition.