Venezuela's interim leaders, sensing that their dream of freedom "is tantalizingly close," are in no mood to enter into a dialogue with Nicolás Maduro's regime, which has driven the oil-rich South American nation into a humanitarian crisis while cracking down on its opponents.
This week, under pressure from a growing number of countries, including the United States, Maduro has sought to involve his international backers, including Russia and Mexico, in a new process of dialogue with the opposition.
Venezuela's interim government is having none of it.
"We are not willing to participate in any dialogue of the type that Maduro is interested in. The only thing we will accept is our agenda: how do we negotiate his exit? And that's where the pressure has to be brought to bear," Carlos Alfredo Vecchio, the interim government's newly appointed representative in Washington, said at the Atlantic Council on January 30.
"The international community should not be manipulated by" Maduro's offer of a dialogue, he warned.
On January 28, the Trump administration announced sanctions on PDVSA, Venezuela's state-owned oil company—an act that will likely choke off a vital source of revenue for Maduro and hamstring his ability to buy support, particularly that of the military's top brass.
US President Donald J. Trump, in a tweet, appeared to credit US pressure for Maduro's dialogue offer. "Maduro willing to negotiate with opposition in Venezuela following U.S. sanctions and the cutting off of oil revenues," Trump tweeted. Trump also called Guaidó on January 30 to congratulate him on "his historic assumption of the presidency."
Vecchio said that in the past, the Maduro regime had responded to pressure by trying to "divide, confuse, and manipulate the international community, and it always plays the dialogue card."
"But dialogue to them is used to manipulate, to buy time… We do not agree with dialogue for manipulative purposes," he said. "We have seen it in 2014, '15, '16, '18. We are not speaking abstractly." 
The international community should help the interim government in Venezuelan "put an end to the usurpation of power by Nicolás Maduro," said Vecchio, adding, "We cannot resolve the political and economic and social crisis as long as the dictatorship is in place."
On January 23, Venezuelan National Assembly President Juan Guaidó took the oath of office as interim president following Maduro's assumption of a second term two weeks earlier based on fraudulent election results—a view shared by scores of countries around the world. According to Article 233 of the Venezuelan Constitution, the president of the National Assembly has the ability to serve as interim president and to call elections when the office of the president becomes vacant. That same day, the United States, joined by about twenty other countries, recognized Guaidó as the interim president of Venezuela.
Vecchio said the interim government wants a constitutional transition toward a stable democracy, and to call free and fair elections. "We want orderly transition to take place in our country so that we can ease the suffering of our people. We don't want more conflict," he said.
Jason Marczak, director of the Atlantic Council's Adrienne Arsht Latin America Center, said "what happens in the coming days, weeks, and months will set the trajectory of Venezuela and, frankly, the region, for the next generation."
He said the international community must do as much as possible to help Guaidó's interim government succeed and to "exert pressure on Maduro and his loyalists to let the will of the Venezuelan people succeed."
In a discussion moderated by Paula Garcia Tufro, deputy director of the Adrienne Arsht Latin America Center, Vecchio said: "The dream of freedom is so great that we won't stop until we reach our goal. That's where the support of the international community is so important."
Widespread protests are expected on January 30 in Venezuela, where Guaidó has called on supporters to take to the streets. The Maduro regime on January 29 barred Guaidó from leaving the country and ordered that his assets be frozen.
Vecchio said the Maduro regime faces pressure from three sources—from the streets where protests have grown in size, from the National Assembly, and from the international community.
Julio Borges, the interim government's representative to the Lima Group, a multilateral body established to ensure the peaceful end to the crisis in Venezuela, said the reason Maduro's regime has not fallen despite this pressure is because it is supported by a handful of military generals, oil revenue, and Cuba. But, he claimed, "99.9 percent of the military" does not support Maduro. This segment hasn't risen up because it is "hamstrung by a system that does not allow them to operate them as they will," he added.
"We have been watching it [develop] in slow motion," admitted Borges, a former president of the Venezuelan National Assembly.
In an effort to peel the military away from Maduro, the National Assembly has passed an amnesty law. Vecchio said this amnesty would not cover officers accused of crimes against humanity. It would only apply to those who are willing to accept the authority of the interim government and to restore democracy, he said.
The humanitarian crisis
The crisis in Venezuela has been marked by hyperinflation and critical shortages of food and medicine.
According to the United Nations office for humanitarian coordination (OCHA), this crisis has produced more than three million migrants and refugees. A majority of these refugees are being hosted by Venezuela's neighbors. More than one million—the highest number—are in Colombia.
David Smolansky, coordinator of the Working Group to Address the Regional Crisis Caused by Venezuelan Migrant and Refugee Flows at the Organization of American States, contended that the Venezuelan migrant crisis is the largest in the history of Latin America.
"Five thousand people are leaving daily," Smolansky said, adding that the best way to resolve this crisis is for Venezuela to "fully restore democracy, regain its freedom, have rule of law, and be a country where there are job opportunities."
Vecchio insisted that restoring rule of law is a priority for the interim government as it seeks to recover democratic order. Other priorities include establishing a separation of powers and ensuring democratic co-existence, he said.
Marczak said the interim government needs "unrelenting support" to alleviate the humanitarian crisis.
Speaking on a separate panel, Chile's Ambassador to the United States Alfonso Silva Navarro pointed out that the Maduro government has refused to acknowledge the humanitarian crisis in Venezuela. "We should focus on relief and forcing the regime to receive humanitarian aid," he said, adding, "when you're killing your people for the lack of medicine, for the lack of food that is a kind of genocide."
Ed Royce, a former US representative from California who chaired the House Foreign Affairs Committee, said he and Elliott Abrams, the Trump administration's special envoy to Venezuela, have been working to get food into Venezuela where Maduro controls the importation of food and medicine. According to nongovernmental organizations that are working in the region "80 percent of people inside Venezuela are not getting enough food," Royce said.
The international response
Marczak discussed the international community's response in a discussion with David O'Sullivan, the European Union's ambassador to the United States; Paraguay's Ambassador to the United States Manuel Cáceres; Silva Navarro; and Royce.
Paraguay was the first country to recognize Guaidó as the interim president. "It was the right thing to do," said Cáceres.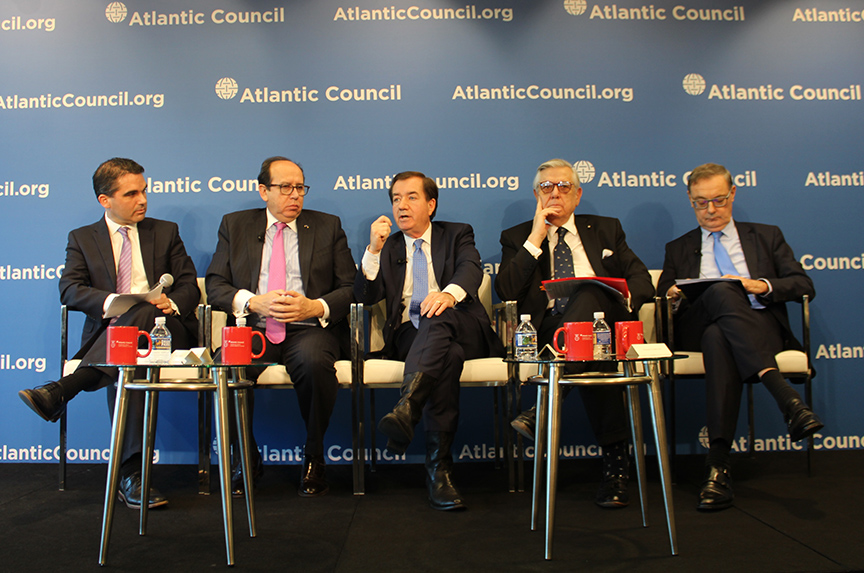 EU foreign ministers are meeting on January 31 to discuss next steps on Venezuela. This weekend also marks the end of the eight-day deadline EU members gave to Maduro to call free elections.
"We have a sense of being at a moment in history," said O'Sullivan.
Noting that the situation in Venezuela is unsustainable, O'Sullivan said the EU is "fully supportive of the efforts of the National Assembly and Guaidó to restore true democracy and free and fair elections."
"We are fully signed up to a coordinated effort of the international community to put maximum pressure into order to produce a real political process, which leads to fair and free elections," he added.
Beware of spoilers
Maduro's backers have rushed to his aid as international pressure has been ramped up on Maduro. A recent report said Russia had sent 400 military contractors to Venezuela; the Atlantic Council found that one of the most popular pro-Maduro hashtags originated in Turkey.
Marczak warned of the actions of international spoilers "who have every interest in not allowing democracy to take hold in Venezuela."
"The reality is that there is a struggle between regimes that believe in authoritarian rule and want to block the idea of a check-and-balance system," said Royce.
"It is important to understand that Turkey, certainly Putin, Beijing under Xi are trying to consolidate all the power," he added. "What's actually in play here is a titanic struggle over the ideal of really guaranteeing individual rights, human rights."
Royce suggested that the fight can be aided by providing a platform for ideas for Venezuelans to hear through radio, where freedom of speech has been controlled by the Maduro regime. "It is going to be a battle of ideas where freedom of speech and independence in the judiciary is essential," he said.
Ashish Kumar Sen is deputy director of communications, editorial, at the Atlantic Council. Follow him on Twitter @AshishSen.