Thu, Dec 17, 2020
The implementation of the national security law has stifled the democratic movement in Hong Kong. This action sparked a series of democratic protests that China quickly attempted to dismantle—alarming observers worldwide. Can democracies mitigate the impact of the new national security laws on Hong Kong? Should Chine face penalties from the international community? Or will aligned democracies fail to defend other vulnerable democratic nations against Chinese malign influence?
Issue Brief by Anna Downs and Ash Jain

Wed, Nov 18, 2020
With Moscow yearning for an alternative to Western technology and the United States on a campaign to throw Huawei out of Europe and East Asia, the Chinese telecom giant sensed opportunity in Russia.
New Atlanticist by Justin Sherman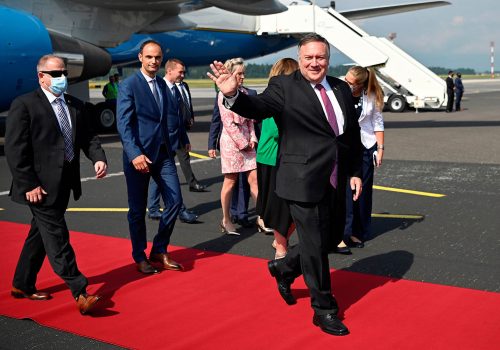 Fri, Aug 14, 2020
In seeking to further roll back China's influence, the US has targeted Huawei during its CEE visit as the Shenzhen-based telecoms-equipment manufacturer competes for a prominent role in the region's cellular network infrastructure and 5G expansion.
New Atlanticist by Frances Burwell, Jörn Fleck, and Eileen Kannengeiser
Programs