Wed, Nov 25, 2020
Once considered unlikely by regional experts, military confrontation along the Nile is a growing possibility, as a diplomatic solution to the Egyptian-Sudanese-Ethiopian stand-off recedes. Outside observers may not understand why Egypt considers the Grand Ethiopian Renaissance Dam (GERD) an "existential threat" to its existence, but, regardless, Egyptian President Abdel Fattah el-Sisi and his advisors see it as such.
In-Depth Research & Reports by Christopher D. Booth

Tue, Nov 24, 2020
On Tuesday, November 24, the Africa Center hosted a private roundtable with Ethiopian Attorney General H.E. Gedion Timothewos Hessebon (PhD), Senior Policy Advisor and Chief Trade Negotiator Mr. Mamo Mihretu, and Ambassador to the United States H.E. Fitsum Arega.
Event Recap by Africa Center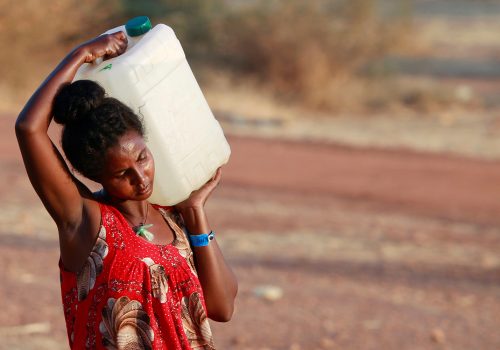 Fri, Nov 20, 2020
A fast-developing crisis in Ethiopia has the crucial US ally edging closer to all-out war, just two years after Prime Minister Abiy Ahmed took office promising democratic reforms and a year after he won the Nobel Peace Prize. So what happened? Today we're turning to Cameron Hudson, an expert on the region and former US diplomat and intelligence officer, for a look behind the headlines.
Fast Thinking by Atlantic Council