Regions in focus
COVID-19 in Latin America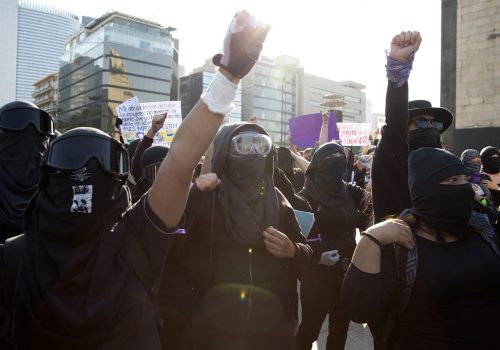 Thu, Dec 10, 2020
In Latin America and the Caribbean, this year's Human Rights Day marks a grim trend as COVID-19 sets back decades of progress for women and girls. And without enlisting everyone, including men, in the fight for women's empowerment, society's ability to achieve gender equality is limited.
New Atlanticist by Valentina Sader and Cristina Guevara

As the COVID-19 coronavirus outbreak continues to accelerate its spread worldwide, the international community is facing a global crisis with public health, geopolitical, and economic repercussions. Go beyond the headlines to access the Atlantic Council's deep expertise in policy areas impacted by this growing global emergency.
Read More
Highlight: Energy in the Americas

The Western Hemisphere is full of potential and we have the opportunity to galvanize it into an energy powerhouse. This new US energy strategy for the Western Hemisphere will help raise the global competitiveness of the hemisphere, advance its shared prosperity, and improve national and energy security as a result.
Read More
Explore the NATO 20/2020 podcast series

NATO 20/2020 is a weekly podcast that explores 20 bold ideas to push NATO to be more visionary, more capable, and more self-evidently valuable to the security of more people.
Read More

Fri, Jan 22, 2021
Assistant Secretary General of NATO for Public Diplomacy joins DFRLab's Lukas Andriukaitis for the latest #DFRLabCoffeeBreak.
Interview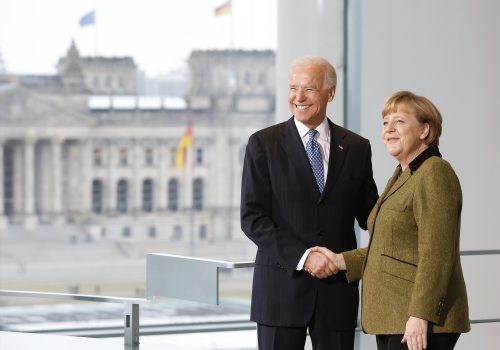 Fri, Jan 22, 2021
Treating each divergence in security policy as an isolated incident may have allowed policymakers on both sides of the Atlantic to ignore the unpleasant fact that the United States and Germany could have increasingly disparate perceptions of threats and strategic cultures.
Issue Brief by Roderick Kefferpütz, Jeremy Stern
Thu, Jan 21, 2021
On the January 21 Net Assessment podcast, Christopher Preble joined co-hosts Melanie Marlowe of CSIS and AEI's Zack Cooper to discuss a recent article by the Heritage Foundation's Thomas Spoehr entitled "The six blind men, the elephant, and the defense budget: differing views on the US defense budget". "How should we assess whether the defense […]
In the News by Atlantic Council
Thu, Jan 21, 2021
On January 21, Emma Ashford and Christopher Preble were quoted in a new Rand Corporation report entitled "Implementing restraint. Changes in US regional security policies to operationalize a realist Grand Strategy of restraint". More about our expert
In the News by Atlantic Council
Thu, Jan 21, 2021
Scowcroft Center deputy director Matthew Kroenig was quoted in a Vox article on President Biden's decision to extend New START for five years.
In the News by Atlantic Council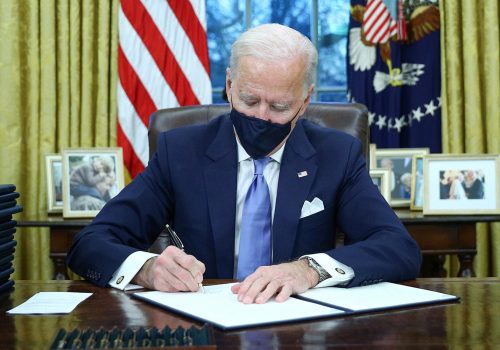 Thu, Jan 21, 2021
Oil and gas will still play a crucial role in the world's economy even as clean-energy "electrostates" rise in prominence, and Biden will prioritize the threat of climate change like no president has before him.
New Atlanticist by Larry Luxner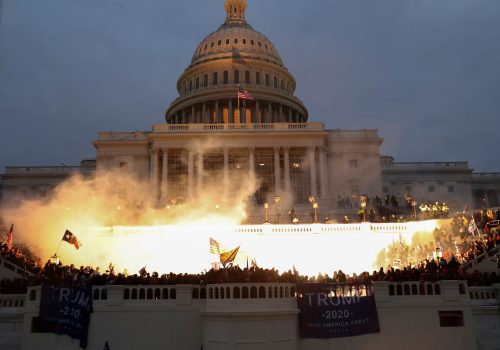 Wed, Jan 20, 2021
President Joe Biden and Vice President Kamala Harris have inherited a country deep in crisis. After the tumult of 2020, the new administration takes the helm amid high unemployment, a sluggish economic recovery, soaring national debt, and a staggering 360,000 Americans dead from a pandemic that shows few signs of slowing before new vaccines can be distributed. At the same time, President Biden has asserted that the United States will regain its mantle of leadership of the liberal order, reset its international partnerships, and, perhaps most importantly, rebuild as a clean, green superpower putting the global community back on track to meet its climate commitments and securing a sustainable trajectory for future economic growth.
Report by David L. Goldwyn, Andrea Clabough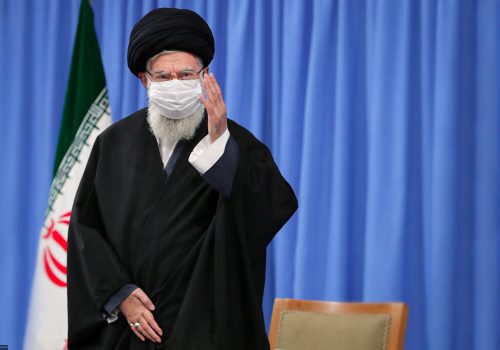 Wed, Jan 20, 2021
Each crisis represents a major US foreign-policy challenge, but all may receive less attention from the new American administration than another pressing issue in the region: Iran's recent nuclear advances.
New Atlanticist by Larry Luxner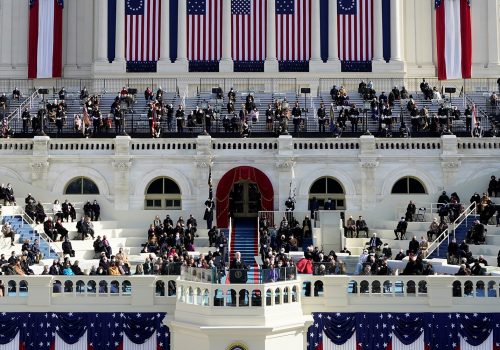 Wed, Jan 20, 2021
Joe Biden's inaugural address was a call for unity—and also resilience. What did the speech signal about where his presidency is headed? Here's key takeaways from five leading experts on international affairs.
Fast Thinking by Atlantic Council
Wed, Jan 20, 2021
On January 20, Emma Ashford was quoted in Mark Landler's article in the New York Times entitled "Will Biden be an activist president on the world stage?" on the prospects for Joe Biden's foreign policy. "'Ambitious foreign-policy goals are completely out of step with the realities of the country's domestic political and economic dysfunction,' Emma […]
In the News by Atlantic Council
Tue, Jan 26, 2021
Online Event The Atlantic Council hosts a public launch of the Harvard Kennedy School/German Council on Foreign Relations report "Stronger Together: A Strategy to Revitalize Transatlantic Power." The report creates a truly transatlantic fusion of ideas and strategy and lays out an ambitious agenda for tackling challenges to the transatlantic community.
8:00am Economy & Business Energy & Environment Europe & Eurasia European Union

Mon, Feb 1, 2021
Online Event Following the inauguration of President Joe Biden and his emphasis on combating the coronavirus, health security experts discuss the effects of COVID-19 on US critical infrastructure and the implications for the future of national security.
2:00pm Coronavirus Crisis Management Cybersecurity Infrastructure Protection

Mon, Jan 25, 2021
Online Event Five of the country's top experts discuss the future of the domestic terrorism threat and strategies to confront white supremacy and domestic terrorism while unifying the nation.