Tue, Sep 8, 2020
By intervening in Belarus to prop up his fellow post-Soviet dictator Alyaksandr Lukashenka, Vladimir Putin risks repeating the mistakes made in Ukraine and fueling anti-Russian sentiment among Belarusians.
UkraineAlert by Taras Kuzio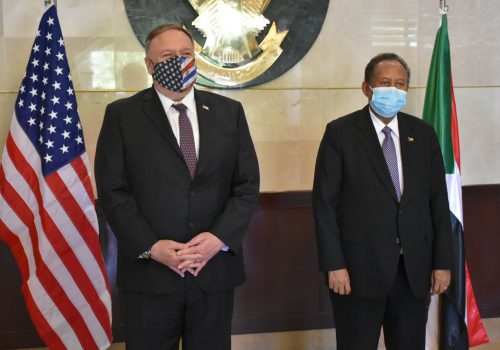 Mon, Aug 31, 2020
Secretary Pompeo's stopover in Sudan last week marked another momentous step forward in the rapidly warming bilateral relationship between Sudan and the United States—the first visit to Sudan's capital, Khartoum, by a US Secretary of State in fifteen years. Unlike Condoleezza Rice's stopover in 2005, aimed at heaping pressure and opprobrium on the country's then-autocratic […]
AfricaSource by Cameron Hudson

Thu, Aug 13, 2020
Ukraine plans to hold nationwide local elections in October 2020, but areas close to the front lines of the conflict with Russia in the east of the country will not participate. How can these regions be best managed?
UkraineAlert by Andreas Umland