Thu, Oct 8, 2020
For the third time in fifteen years, citizens in Kyrgyzstan rose up in protest, as opposition groups took over government buildings amidst charges of vote rigging in the recent parliamentary elections. Atlantic Council experts respond to the recent instability in Kyrgyzstan and what it means for the region and the international community.
New Atlanticist by Eurasia Center

Tue, Sep 8, 2020
By intervening in Belarus to prop up his fellow post-Soviet dictator Alyaksandr Lukashenka, Vladimir Putin risks repeating the mistakes made in Ukraine and fueling anti-Russian sentiment among Belarusians.
UkraineAlert by Taras Kuzio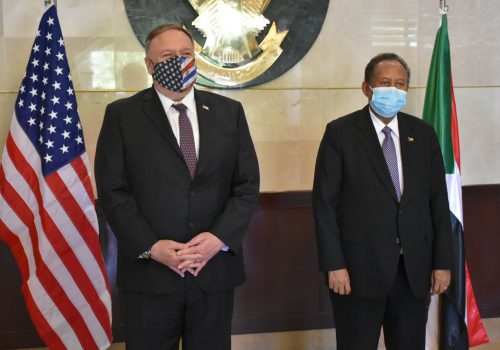 Mon, Aug 31, 2020
Secretary Pompeo's stopover in Sudan last week marked another momentous step forward in the rapidly warming bilateral relationship between Sudan and the United States—the first visit to Sudan's capital, Khartoum, by a US Secretary of State in fifteen years. Unlike Condoleezza Rice's stopover in 2005, aimed at heaping pressure and opprobrium on the country's then-autocratic […]
AfricaSource by Cameron Hudson