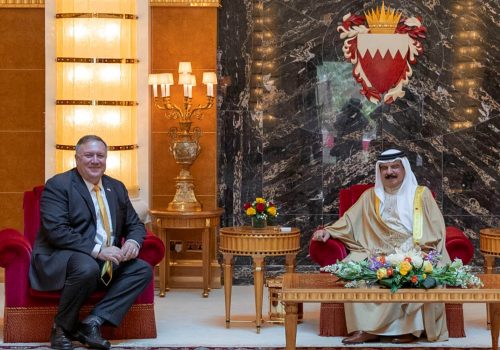 Fri, Sep 11, 2020
Atlantic Council experts react to Bahrain agreement to normalize ties with Israel and what it means for the wider region.
MENASource by William F. Wechsler, Kirsten Fontenrose, Marc J. Sievers, Jonathan H. Ferziger, Barbara Slavin, Carmiel Arbit, Michel Duclos, Richard LeBaron, Mark N. Katz, Thomas S. Warrick, Sina Azodi, Joze Pelayo

Thu, Aug 13, 2020
Vladimir Putin's war in Ukraine is one of the world's worst-kept secrets, but a failure to end the legal ambiguity shrouding Russia's role in the ongoing conflict makes progress towards peace impossible.
UkraineAlert by Wayne Jordash

Tue, Aug 4, 2020
Putin has place eastern Ukraine's Donbas region at the heart of his "Russian World" mythology, but in reality the region has a cosmopolitan heritage that could help to inspire a new era of European investment.
UkraineAlert by Oleksii Reznikov