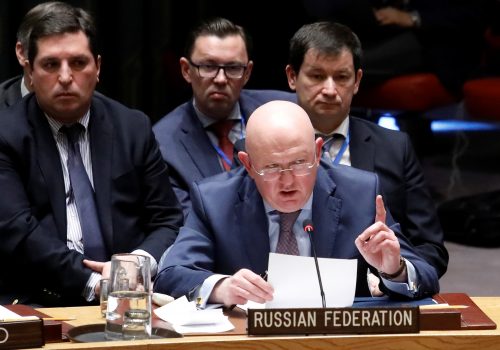 Tue, Apr 21, 2020
The coronavirus crisis has left the United Nations badly exposed. This has not come as a surprise to many in Ukraine, where distrust of the UN has been strong since the start of Russian aggression in 2014.
UkraineAlert by Pavlo Klimkin and Andreas Umland

Tue, Apr 21, 2020
There are plenty of reasons to be underwhelmed with the WHO's performance in tackling the COVID-19 pandemic. The administration's response to halt funding, however, will have the opposite of the intended effect. Rather than beginning a long overdue debate on Chinese influence over multilateral institutions, it will reinforce the very reason why Chinese influence has grown in the WHO and other institutions: US disengagement.
New Atlanticist by Gerard Araud and Benjamin Haddad

Mon, Mar 9, 2020
Brexit has not only cost the European Union (EU) one of its members, but also a coveted permanent seat at the UN Security Council (UNSC). The UK and France often provided a reliable tandem for the European Union at the UNSC, but now London and Paris may start to diverge more prominently, since the UK is no longer obliged to coordinate its positions with EU member states through Article 34 of the Lisbon Treaty. To retain its influence and maintain its global geopolitical ambitions, the EU should look for another permanent seat on the UNSC.
New Atlanticist by Peter Pindják