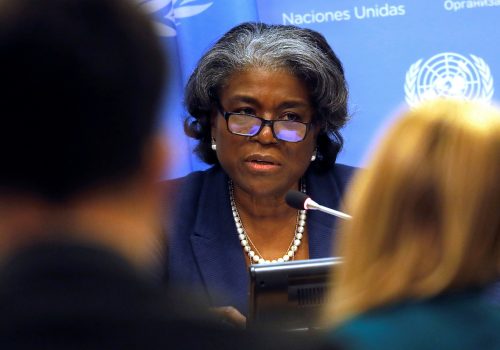 Tue, May 25, 2021
Thomas-Greenfield spoke about US President Joe Biden's outlook on Africa with Ambassador Rama Yade, director of the Atlantic Council's Africa Center, at an event celebrating Africa Day and introducing the Africa Center's new team and mission.
New Atlanticist by Katherine Walla

Fri, May 14, 2021
The Global Sanctions Dashboard aims to inform economic statecraft policies by analyzing sanctions globally and identifying trends across lists in partnership with Castellum.AI.
EconoGraphics by Julia Friedlander, Michael Albanese and Castellum.AI

Sun, Mar 14, 2021
The FSO SAFER and the five miles of subsea pipeline to which it is attached threaten to pour 2.14 million barrels of oil into the Red Sea. Between Yemen's reliance on food shipments to stem a widespread famine, and the wider region's reliance on desalination plants for drinking water, realistic estimates put the potential death toll from the spill in the millions.
EnergySource by Dr. Ian Ralby, Rohini Ralby, and Dr. David Soud