Wed, Jan 29, 2020
Washington has a long history of tacitly supporting the Pakistan Army's unrivaled political power while publicly espousing the ideals of democracy and political pluralism. Such doublespeak only enables corrupt and unaccountable segments of the political and security establishments in Pakistan. It also impedes the United States from achieving its regional goals of democracy promotion and counterterrorism.
New Atlanticist by Harris Samad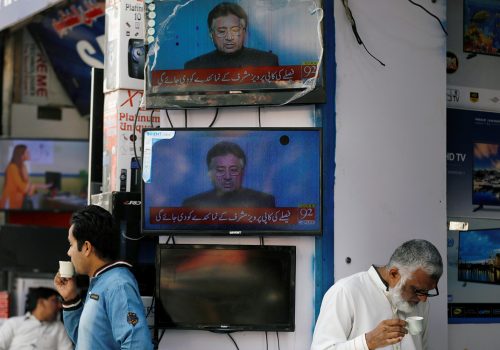 Tue, Jan 21, 2020
The historic sentencing in December of former dictator and president Pervez Musharraf was a blow to the military's image and directly questions its unequivocal authority over shaping Pakistan's political life—even if it is only symbolic. In a rare streak of defiance, the country's courts are pushing back against a traditionally powerful and popular establishment hoping to inch the country from a seemingly illiberal to a more liberal democracy.
New Atlanticist by Fatima Salman

Thu, Jan 9, 2020
As the South and Southeast Asian region faces increasing energy demand due to both population and economic growth, countries like Pakistan must meet that demand while facing and overcoming critical environmental and energy security challenges. How is Pakistan seeking to diversify its energy mix and establish more local and decarbonized power systems, and what are key opportunities for future government and foreign investment?
Issue Brief by Robert F. Ichord, Jr.