Thu, Aug 19, 2021
Long-time diplomat and steadfast women's rights champion Roya Rahmani, Afghanistan's former ambassador to the United States, joins South Asia Center Director Irfan Nooruddin for a special episode of Fast Thinking to share her thoughts on whether the war in Afghanistan was worth it, the crucial role of women in the country's future, and how to evaluate the Taliban's promises.
Fast Thinking by Irfan Nooruddin

Wed, Aug 18, 2021
The crisis on Belarus's borders with the EU continues to escalate as Belarusian dictator Alyaksandr Lukashenka weaponizes illegal migrants as part of his hybrid war against Europe.
UkraineAlert by Brian Whitmore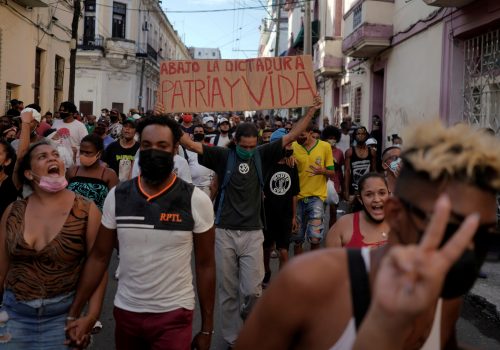 Wed, Aug 11, 2021
The street protests have calmed down, at least for now, but this is still a perilous moment for the island—with the Cuban people in need of continued backing.
New Atlanticist by Jason Marczak, Wazim Mowla