Thu, Oct 8, 2020
For the third time in fifteen years, citizens in Kyrgyzstan rose up in protest, as opposition groups took over government buildings amidst charges of vote rigging in the recent parliamentary elections. Atlantic Council experts respond to the recent instability in Kyrgyzstan and what it means for the region and the international community.
New Atlanticist by Eurasia Center

Sun, Oct 4, 2020
Chinese officials will embrace this period as additional, welcome "breathing space" to escalate their ongoing efforts across a range of fronts to build upon their momentum – from tightening party control over the Chinese private sector, to the accelerated development of a digital currency, to closing remaining technology gaps with the United States.
Inflection Points by Frederick Kempe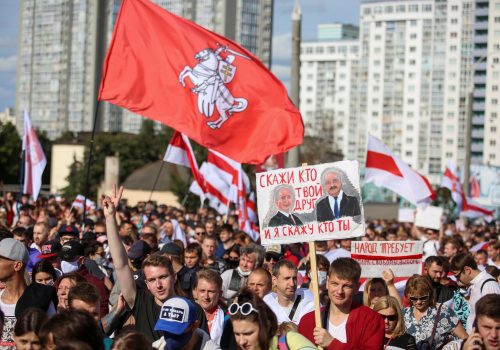 Tue, Sep 15, 2020
The Belarus crisis has exposed the EU's foreign policy limitations, but a tougher European Union response could still succeed in bringing Belarusian dictator Alyaksandr Lukashenka to the negotiating table.
UkraineAlert by Franak Viačorka