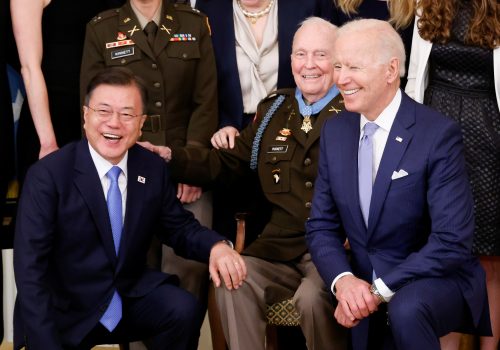 Sat, May 22, 2021
Our experts break down the White House meeting between US President Joe Biden and South Korean President Moon Jae-in on North Korea, space, trade, and more.
Fast Thinking by Atlantic Council

Sun, Mar 14, 2021
Moscow sees its space future with China and not the United States, further underscoring its growing strategic alignment with Beijing. The Biden administration must reflect on how the latest Sino-Russian collaboration should be factored into its emerging approach to Vladimir Putin's Russia.
Inflection Points by Frederick Kempe

Thu, Feb 4, 2021
The Cold War-era paradigm of bilateral arms control between the United States and Russia is becoming increasingly untenable. Including a rising China with a growing nuclear arsenal is essential. This issue brief shows the way forward with options for bringing China into the nuclear arms control fold on a trilateral basis with the United States and Russia.
Issue Brief by Matthew Kroenig, Mark J. Massa