Chaired by former US Chief of Protocol Capricia Penavic Marshall, Ambassador Leadership Council (ALC) members engage in the Atlantic Council's work through private strategy sessions, public events, media outreach, and online and print publications. ALC members also collaborate with the Atlantic Council to host their visiting head of state, head of government, and cabinet ministers to discuss the challenges and opportunities facing the global community.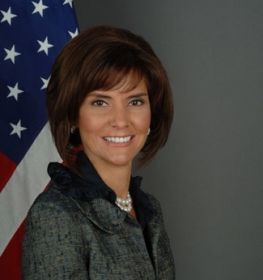 Ambassador Capricia Penavic Marshall
Chairwoman, Ambassador Leadership Council
ALC at the Council
Members of the Ambassador Leadership Council have the opportunity to use the Atlantic Council's unrivaled, nonpartisan global platform to participate in events and present dignitaries and other influential leaders from their home countries.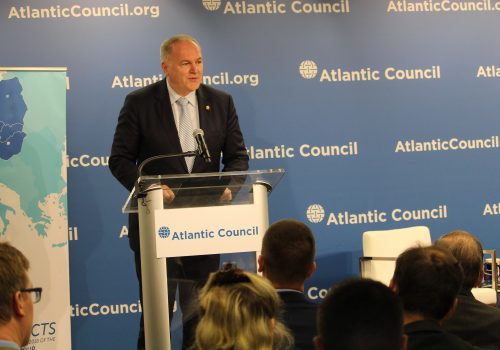 Mon, Jun 25, 2018
On June 25th, the Atlantic Council's Global Energy Center held a half-day conference on "Towards 21st Century Energy Systems in Central & Eastern Europe," which brought together government officials, business leaders, and experts to discuss the progression of the European Energy Union concept, the implications of the changing global liquefied natural gas (LNG) market, and […]
Event Recap by Peter Freudenstein and Herbert Crowther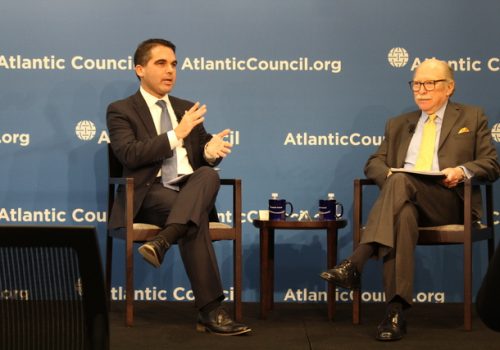 Wed, Feb 21, 2018
Last month, the Venezuelan government fast-tracked the presidential election, announcing April 22 as the official date. To explore the declining electoral conditions and the potential for international engagement, on February 21 the Atlantic Council's Adrienne Arsht Latin America Center hosted a public event and released a new Venezuela poll of 800 in-country respondents that showed […]
2018 Elections in Latin America by Angela Chavez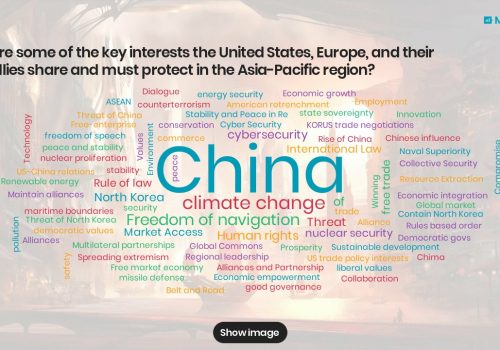 Thu, Oct 19, 2017
The culmination of a full year of analysis by the Atlantic Council's Asia-Pacific Strategy Task Force, A Strategy for the Trans-Pacific Century argues for deeper engagement between the United States' Atlantic and Pacific partners to uphold the liberal rules-based order in Asia and beyond. As the rise of China creates reverberations felt not only within […]
Event Recap by Shaun Ee
Ambassador Spotlight series
The Ambassador Spotlight series showcases ALC members and their countries. Ambassadors share about their mission and how their home countries and the US are cooperating to address global challenges.
July 9, 2018 – The Atlantic Council spoke with Ambassador of Belgium Dirk Wouters ahead of the NATO Summit kicking off in Brussels this week to hear his views on the Summit, Belgium's role in the Alliance, and the new HQ.

June 7, 2018 – Reflecting on the recent EU-Western Balkan Summit, the Atlantic Council spoke with Tihomir Stoytchev, Ambassador of Bulgaria, and Nebojša Kaluđerović, Ambassador of Montenegro, about the path forward.

April 23, 2018 – For this month's Ambassador Spotlight, the Ambassador Leadership Council and the Global Energy Center discussed climate and Arctic issues with H.E. Kirsti Kauppi, Ambassador of Finland to the United States, in celebration of Earth Day.

Ambassador Leadership Council Members
(alphabetical by last name)
His Excellency Kåre Reidar Aas, Ambassador of Norway
His Excellency Salem Abdullah Al-Jaber Al-Sabah, Ambassador of Kuwait
His Excellency Shaikh Abdullah bin Rashed bin Abdullah Al Khalifa, Ambassador of Bahrain
Her Excellency Hunaina Al Mughairy, Ambassador of Oman
His Excellency Meshal Al Thani, Ambassador of Qatar
Her Excellency Hassana Alidou, Ambassador of Niger
His Excellency Sergio Amaral, The Brazilian Ambassador
His Excellency Anatoly Antonov, Ambassador of Russia
His Excellency David Bakradze, Ambassador of Georgia
Her Excellency Martha E. Bárcena Coqui, Ambassador of Mexico
His Excellency Ahmed Binmubarak, Ambassador of Yemen
His Excellency Madjid Bouguerra, Ambassador of Algeria
Her Excellency Wafa Bughaighis, Ambassador of Libya
His Excellency Santiago Cabanas Ansorena, Ambassador of Spain
His Excellency Fernando Llorca Castro, Ambassador of Costa Rica
His Excellency Valeriy Chaly, Ambassador of Ukraine
His Excellency Yoon-je Cho, Ambassador of the Republic of Korea
Her Excellency Vlora Citaku, Ambassador of the Republic of Kosovo
Her Excellency Maguy Doyle, Ambassador of Monaco
Her Excellency Floreta Faber, Ambassador of Albania
His Excellency Robinson Githae, Ambassador of Kenya
His Excellency Fayçal Gouia, Ambassador of Tunisia
His Excellency Joe Hockey, Ambassador of Australia
His Excellency Kurt Jaeger, Ambassador of Liechtenstein
His Excellency Nebojša Kaludjerovic, Ambassador of Montenegro
Her Excellency Kirsti Kauppi, Ambassador of Finland
Her Excellency Dina Kawar, Ambassador of Jordan
His Excellency Erzhan Kazykhanov, Ambassador of Kazakhstan
His Excellency Asad Khan, Ambassador of Pakistan
His Excellency Serdar Kilic, Ambassador of Turkey
His Excellency Hynek Kmonícek, Ambassador of the Czech Republic
His Excellency Ivan Korcok, Ambassador of Slovakia
His Excellency Rolandas Krišciunas, Ambassador of Lithuania

His Excellency Haris Lalacos, Ambassador of Greece
His Excellency Stavros Lambrinidis, Ambassador of the European Union
His Excellency George Maior, Ambassador of Romania
His Excellency Djerdj Matkovic, Ambassador of Serbia His Excellency Ashok Kumar Mirpuri, Ambassador of Singapore
His Excellency Michael Moussa-Adamo, Ambassador of Gabon
His Excellency Daniel Mulhall, Ambassador of Ireland
His Excellency Vasko Naumovski, Ambassador of Macedonia
His Excellency Varuzhan Nersesyan, Ambassador of Armenia
Her Excellency Karin Olofsdotter, The Swedish Ambassador
His Excellency Fernando Oris de Roa, Ambassador of Argentina
Her Excellency Roya Rahmani, Ambassador of Afghanistan
His Excellency Yasser Reda, Ambassador of Egypt
His Excellency Jose Manuel Romualdez, Ambassador of the Philippines
His Excellency Farhod Salim, Ambassador of Tajikistan
His Excellency Francisco Santos Calderon, Ambassador of Colombia
His Excellency Harsh Vardhan Shringla, Ambassador of India
His Excellency Pjer Šimunovic, Ambassador of Croatia
His Excellency Alfonso Silva Navarro, Ambassador of Chile
His Excellency Tihomir Stoytchev, Ambassador of Bulgaria
His Excellency Shinsuke Sugiyama, Ambassador of Japan
His Excellency Elin Suleymanov, Ambassador of Azerbaijan
His Excellency László Szabó, Ambassador of Hungary
His Excellency Bolot Otunbaev, Ambassador of the Kyrgyz Republic
His Excellency Piotr Wilczek, Ambassador of Poland
His Excellency Armando Varricchio, Ambassador of Italy
His Excellency Stanislav Vidovic, Ambassador of Slovenia
His Excellency Jonatan Vseviov, Ambassador of Estonia
His Excellency Domingos Vital, Ambassador of Portugal
Her Excellency Lone Wisborg, Ambassador of Denmark
His Excellency Dirk Wouters, Ambassador of Belgium
His Excellency Fareed Yasseen, Ambassador of Iraq
His Excellency Mohammad Ziauddin, Ambassador of Bangladesh
Honorary Members
His Excellency Pierre Clive Agius, Former Ambassador of Malta
His Excellency Babacar Diagne, Former Ambassador of Senegal
His Excellency Aizaz Ahmad Chaudhry, Former Ambassador of Pakistan
His Excellency Daouda Diabaté, Former Ambassador of Cote d'Ivoire
His Excellency Bakhtiyar Gulyamov, Former Ambassador of Uzbekistan
His Excellency Gerónimo Gutiérrez Fernández, Former Ambassador ofMexico
His Excellency Tim Groser, Former Ambassador of New Zealand
His Excellency Grigor Hovhannissian, Former Ambassador of Armenia
His Excellency Peter Kmec, Former Ambassador of Slovakia
His Excellency Lauri Lepik, Former Ambassador of Estonia

His Excellency Lars Lose, Former Ambassador of Denmark
His Excellency Pisan Manawapat, Former Ambassador of Thailand
His Excellency Hamdullah Mohib, Former Ambassador of Afghanistan
His Excellency Pedro Morenés, Former Ambassador of Spain
His Excellency Leonidas Pantelidas, Former Ambassador of Cyprus
His Excellency Carlos Pareja, Former Ambassador of Peru
His Excellency Vinh Pham Quang, Former Ambassador of Vietnam
His Excellency Camilo Reyes, Former Ambassador of Colombia
His Excellency Kenichiro Sasae, Former Ambassador of Japan
His Excellency Juan Gabriel Valdes, Former Ambassador of Chile
His Excellency Peter Wittig, Former Ambassador of Germany