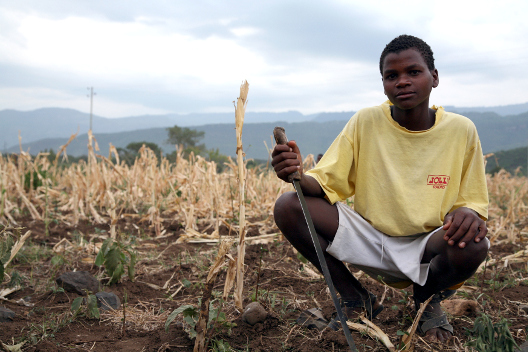 World leaders met this week for the Paris Climate Conference (COP21) with an ambitious agenda to tackle warming global temperatures and reduce carbon emissions.
At the same time, Ethiopian officials revised their predictions of the number of people affected by the ongoing drought upward by nearly two million. They now estimate that more than 10 million people—over 10 percent of the country's population—need emergency food aid. The successive failure of two seasonal rains due to the El Niño weather phenomenon caused massive crop failure, and drought is now straining farmers who depend on the land for their livelihoods.

This year's drought comes despite Ethiopia's commendable strides in economic development over the past decade. The country's GDP growth hovered around 10 percent between 2013 and 2014, ranking it among the fastest growing economies in the world. Visitors to the capital Addis Ababa will be struck by the sheer volume of construction underway, and major infrastructure projects (notably, the $5 billion Ethiopian-financed Grand Renaissance Dam) are ongoing throughout the country. On the human development side, Ethiopia met Millennium Development Goal (MDG) 4 by reducing child mortality by two-thirds in 2012, and posted gains on MDGs related to maternal mortality and extreme poverty.
But the county's economy is heavily invested in agriculture, accounting for 38 percent of Ethiopia's GDP and 80 percent of nationwide employment, and if the drought continues it will undoubtedly affect Ethiopia's economy. The Ethiopian government, for its part, says that the most drought-affected areas are not integral to Ethiopia's agricultural productivity, and it maintains GDP growth estimates for the 2015-2016 fiscal year remain steadfast at 10 percent.
Images of the drought's toll on the land, crops, and agriculture emerging from Ethiopia's most affected regions—Afar and Tigray in the north, Oromia and Amhara in the north-central region, and Somali Region in the east—bring to mind Ethiopia's infamous 1984-1985 famine and, more recently, the 2011-2012 famine in Somalia, which also affected parts of southern Ethiopia.
Ethiopia is more prepared than ever to tackle this drought. Food security is a core tenet of government strategy, which promotes "resiliency" (in humanitarian speak, the ability of a community to resist or adapt to changing environmental conditions and respond to natural disasters such as droughts) among vulnerable communities. The country's Productive Safety Net Program, rolled out in 2005, uses a cash-for-work system to support families living in traditionally food-insecure areas. For the vast majority of Ethiopians who live outside major cities and are involved in agriculture, the program has proved an important tool for getting by in the lean season. Moreover, Ethiopia's commitment to helping families build assets—traditionally sold during food or water scarcity and considered a key family-level "safety net"—is laudable; the promotion of a federal system, while subject to other criticisms, also allows regional and local officials to mobilize resources and respond more quickly.
In the future, improvements in irrigation may also mitigate the effects of weather patterns like those brought on by El Niño, as nearly all Ethiopia's agriculture is rainfed rather than watered by man-made systems. For now, the construction of any such infrastructure remains politically complicated, though the May 2015 accord among Ethiopia, Sudan, and Egypt may signal future cooperation on using the Nile's waters for agricultural purposes.
The government has placed much of the responsibility for implementation of its ambitious agriculture agenda with the country's Agricultural Transformation Agency (ATA), whose goal is to increase, and, as the name suggests, transform agriculture throughout the country. Through its successful network of agricultural "extension workers," the state is able to reach smallholder farmers with information on best practices and distribute seeds or fertilizer to improve crop yields.
But El Niño effects are complex: the phenomenon is responsible not only for ocean warming, scarce rains, and subsequent crop failure, but in an ironic twist, it is also expected to cause massive flooding in other parts of the country early next year. (Ethiopia's western Gambella region, home to the majority of Ethiopia's 350,000 South Sudanese refugees, regularly experiences devastating flooding). And the El Niño phenomenon is having worldwide impact; heavy rain in the Pacific Northwest caused flooding in Oregon, Washington, and California this week.
Ethiopia's drought is expected to be the worst in at least three decades, and has been nearly a year in the making. In November, the World Meteorological Organization noted that this year's El Niño is one of the three most powerful ever recorded, suggesting that while Ethiopia's preparations will mitigate the storm's devastating effects, there was no way to adequately prepare.
Ethiopia recently mobilized $200 million in assistance to food insecure areas to head off the drought, and is importing food for distribution in affected areas. But Save the Children, a humanitarian organization working throughout the country, warned that necessary aid could reach a cost of $1.4 billion by the drought's conclusion—an overwhelming ask for a country still ranked at the bottom of the United Nations Human Development Index.
In his speech at the COP21 this week, Prime Minister Hailemariam Desalegn urged all parties to tackle climate change and take on the factors that threaten Ethiopia's "hard-fought development gains," including his reminder that developing countries are now suffering the environmental consequences from industrialization of the world's richest countries. In the short-term, however, Ethiopia and its international partners must rely on improved prevention and response systems to tackle the drought on their own.
Kelsey Lilley is Assistant Director of the Atlantic Council's Africa Center. Follow her on Twitter @KelseyDegen.