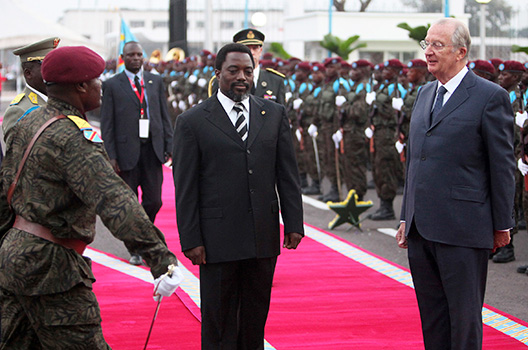 Joseph Kabila continues to underscore the irony of the official name of the country he has misgoverned for more than a decade, the Democratic Republic of the Congo (DRC). As I noted previously, Kabila—in power since 2001 when, at the ripe old age of 29, he succeeded his warlord father after the latter was shot dead by his own bodyguard—continues to narrow the political space as he searches for a way around a strict two-term limit in the constitution that admits no amendment. Things have been growing increasingly tense since the beginning of this year, when at least three dozen people were killed, mostly unarmed students protesting a proposal to delay elections which are supposed to take place next year. Last month, the situation worsened as regime thugs went so far as to arrest a US diplomat along with other participants at a press conference organized for visiting African pro-democracy activists. Now Reuters reports that this Tuesday, police in the eastern part of the country arrested five members of the pro-democracy youth group Lucha for the "crime" of protesting the ongoing detention of their colleagues who were caught in the earlier round up in the capital of Kinshasa.
The first batch of detainees have not been charged with any crime, but nonetheless remain in the custody of the dreaded National Intelligence Agency (ANR). The apparent offense of the group arrested this week was, according to the news service, encouraging residents of Goma, near the Rwandan border, "to participate in five minutes of protest by whistling, honking horns and banging on pots and pans at 5 p.m."
Meanwhile, Congolese officials are at a loss to explain away the discovery of hundreds of bodies which they now admit were secretly buried at night in a mass grave near Kinshasa last month. Human rights advocates and other civil society representatives suspect that the bodies may include those of protesters who have been missing since the January demonstrations against the regime's attempt to legislate a census—which would take several years to complete—before holding elections, a maneuver that pro-democracy activists view as aimed solely to prolong Kabila's tenure beyond his constitutional mandate. The United Nations Organization Stabilization Mission in the DRC (MONUSCO) has announced that it will join in the investigation of the mass grave.
If the run-up to the disputed 2011 election which Kabila declared himself the winner of are anything to go by, the DRC's democracy deficit will only continue to widen in the months ahead as the regime approaches what should be its reckoning at the polls.
J. Peter Pham is Director of the Atlantic Council's Africa Center. Follow the Africa Center on Twitter at @ACAfricaCenter.