The United Kingdom's (UK) vote last week to leave the European Union (EU) has raised questions about the future of the Transatlantic Trade and Investment Partnership (TTIP). TTIP is a trade agreement currently being negotiated by the United States (US) and the EU that will eliminate tariffs, reduce red tape, and set a new standard for international trade agreements. Following the Brexit vote, US Trade Representative Michael Froman and European Commissioner for Trade Cecilia Malmström released statements reaffirming their commitment to TTIP. They met in Washington, DC earlier this week and Malmström spoke at the Atlantic Council yesterday. (Link to event video, transcript of remarks)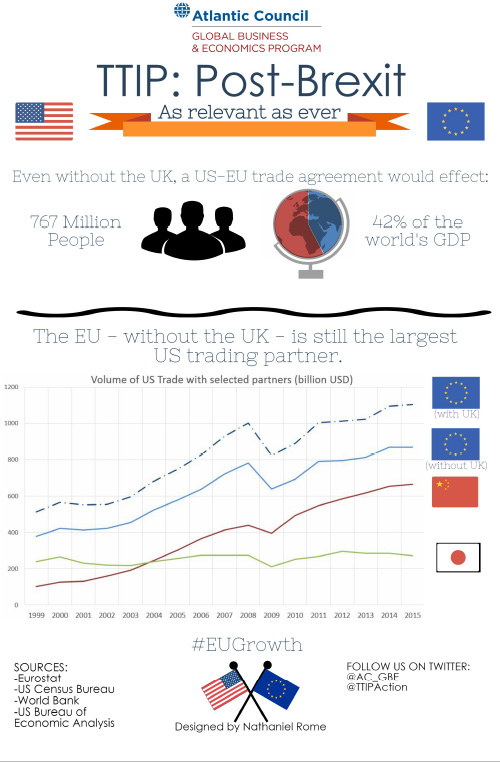 Ambassador Froman reiterated that "the economic and strategic rationale for TTIP remains strong" and Commissioner Malmström restated that "the rationale of TTIP remains as strong today as it was last Thursday." The UK will still be a member of the EU until it invokes Article 50 and begins a long and uncertain process of negotiating its exit from the EU. Until this happens, the UK remains a party to TTIP. Despite the UK's upcoming departure from the EU, a trade deal with the 27 remaining EU countries would still be immensely consequential. It would set a new standard of trade for 767 million people and forty-two percent of the world's GDP. The EU—even without the UK—remains the largest trading partner of the US. $870 billion worth of goods and services cross between the US and the EU, and an agreement to streamline this cross border exchange can boost growth and job creation on both sides of the Atlantic.
Despite the results of the UK referendum, TTIP remains as important as ever. The world is looking at Washington and Brussels to see if they will take the lead in crafting 21st century trade deals. Workers, businesses, and consumers in the US and EU all stand to gain from the successful conclusion of TTIP. The case for TTIP remains strong, but to succeed, political leadership must be strong as well.