On July 22, President Trump met with a group of major tech CEOs to discuss the easing of some restrictions on US companies supplying high-tech parts to Chinese telecommunications company Huawei. In May, the US Commerce Department banned US companies from selling any products to Huawei. The Chinese company's position as the world's leading provider of 5G technology has made it a focal point of the escalating great power competition between China and the United States. This edition of the EconoGraphic explains the US government's move to blacklist Huawei, outlines the ban's potential costs, and describes why US allies are conflicted about banning Huawei.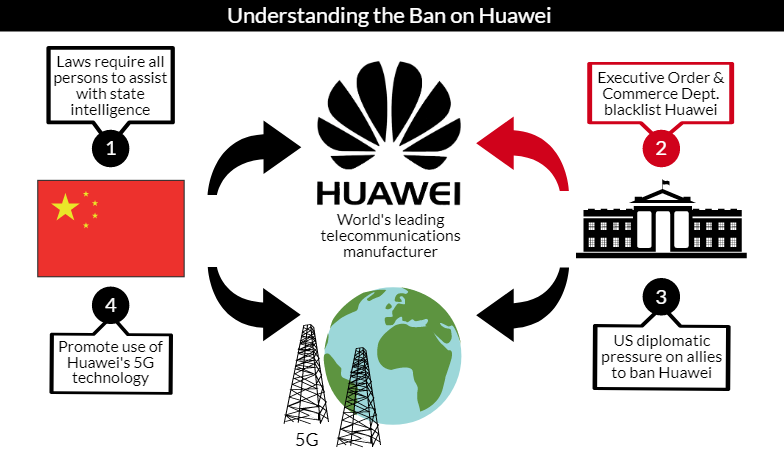 To understand the context behind the Trump administration's decision to blacklist Huawei, it is useful to look back to 2014 and 2017 when Beijing passed a Counter-Espionage Law and a National Intelligence Law respectively. This legislation allows the Communist Party to compel Chinese companies to turn over information and open their systems to the country's intelligence and security apparatus. In addition to the legislation, Huawei's ownership structure also raised red flags. Instead of being an employee-owned company, as Huawei's CEO Ren Zhengfei claims, experts have concluded that the company is "effectively state-owned." These espionage and transparency concerns are compounded by Huawei's growing importance as the largest provider of 5G equipment globally. 5G will constitute the "backbone" for the next generation of telecommunications technology and the digital economy as a whole, including the Internet of Things and autonomous driving. While there is no public, smoking-gun evidence of Huawei using its technology to relay sensitive US national security information to the Chinese government, the company poses a credible strategic threat to the United States' technological and economic primacy. Washington responded in 2018 by prohibiting the US government and any entity that does business with it from using Huawei technology. In 2019, the Trump administration increased the pressure with an Executive Order aimed at technology companies from "foreign adversaries." More importantly, the US Commerce Department added Huawei to its "Entity List," barring any US company from supplying Huawei with components. In short, the US measures cut Huawei off from the US market.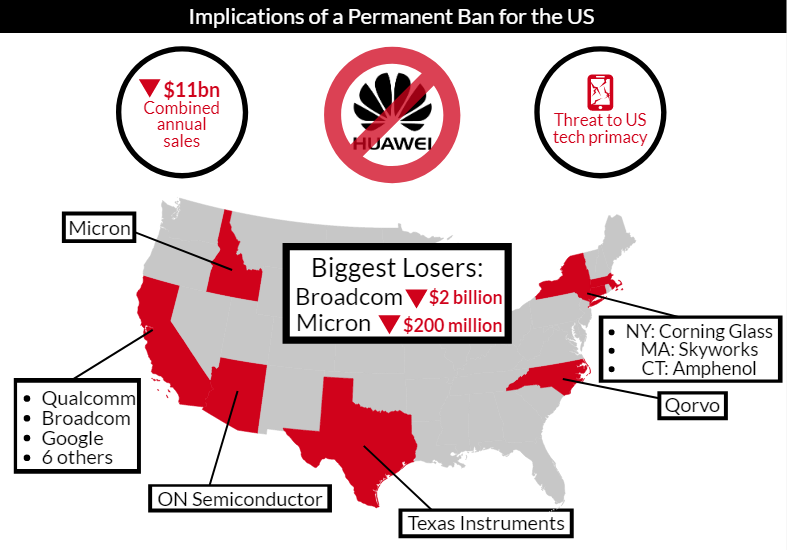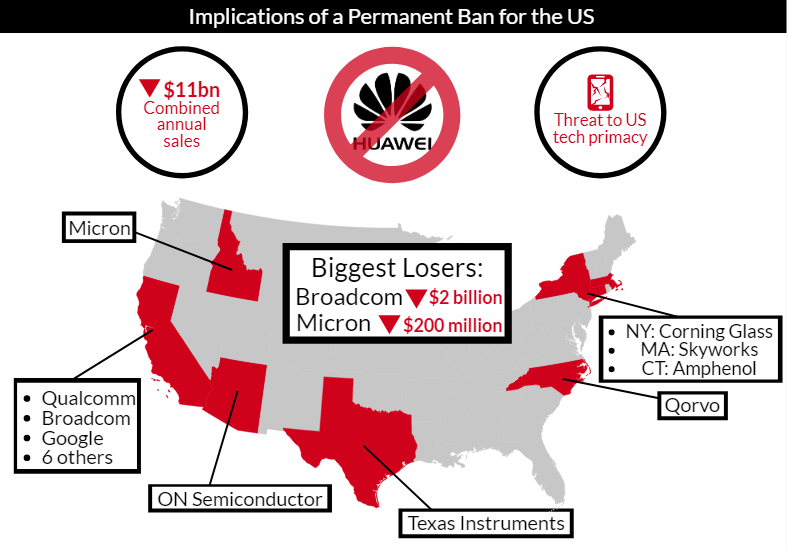 US tech companies, including Broadcom and Google, are bearing the initial costs of blacklisting Huawei. A complete ban of selling equipment to Huawei could deliver a $11 billion hit to those companies' bottom lines. As mentioned above, the Trump administration is planning to ease some restrictions on Huawei by granting licenses to allow US companies to sell certain widely available products, which do not have national security implications, to Huawei. However, the Chinese company will remain excluded from taking part in building the United States' 5G infrastructure. This will likely result in a slower and more expensive rollout of 5G networks across the United States. Experts consider Huawei's only major 5G competitors, the European companies Ericsson and Nokia, to offer less advanced technology at a higher price point. We expect US companies and consumers will have to foot the bill of the higher construction costs. A slower 5G roll-out in the United States could also disadvantage US tech companies that are developing new products, services, and technologies which rely on 5G. A faster roll-out of 5G in China would give Chinese tech companies a head-start over their American competitors and put China in a position to set the standard for 5G technology worldwide.
The US government's national security concerns vis-à-vis Huawei extend beyond the United States to include key allies in Europe such as the United Kingdom and Germany. High-level US officials, including Secretary of State Mike Pompeo, have toured European capitals in the past few months threatening to curtail intelligence sharing should Huawei be allowed to supply components for European 5G infrastructure. If European countries decide to impose a complete ban on Huawei, they would face similar short and long-term costs as the United States. Namely, higher costs for constructing the 5G infrastructure and a slower roll-out of the new technology, which would hurt a European tech sector that has already fallen behind their US and Chinese competitors. Among major European powers, we predict that the UK is the only country that might cede to US demands for a full ban of Huawei. Given the UK's desire to remain a member in the Five Eyes intelligence sharing alliance and sign a trade deal with the United States post-Brexit, we assess that there is a 50/50 chance the UK government blacklists Huawei. By contrast, we estimate that other European powers, such as Germany and France, are likely to use Huawei equipment for at least certain parts of their 5G networks. Unlike the US government, decision makers in Paris and Berlin are not yet ready to label China an adversary. When weighing national security concerns against commercial interests, European countries' cost-benefit analysis will thus likely differ from their American ally. President Trump's decision to ease some restrictions on Huawei to revive the US-China trade talks will not bolster the US administration's credibility with their European partners with regards to the national security risks presented by Huawei's technology.
US coercive economic policy against China, which is redirecting trade flows and changing global supply chains, provides a preview of the cost of decoupling the US and Chinese economies. American tech companies, such as the chipmaker Qualcomm, that are supposed to maintain the United States' technological edge but rely on China for a majority of their revenues are facing difficult choices. In the future, US consumers will likely have to pay more for everyday products and services including their 5G cell phone contract.