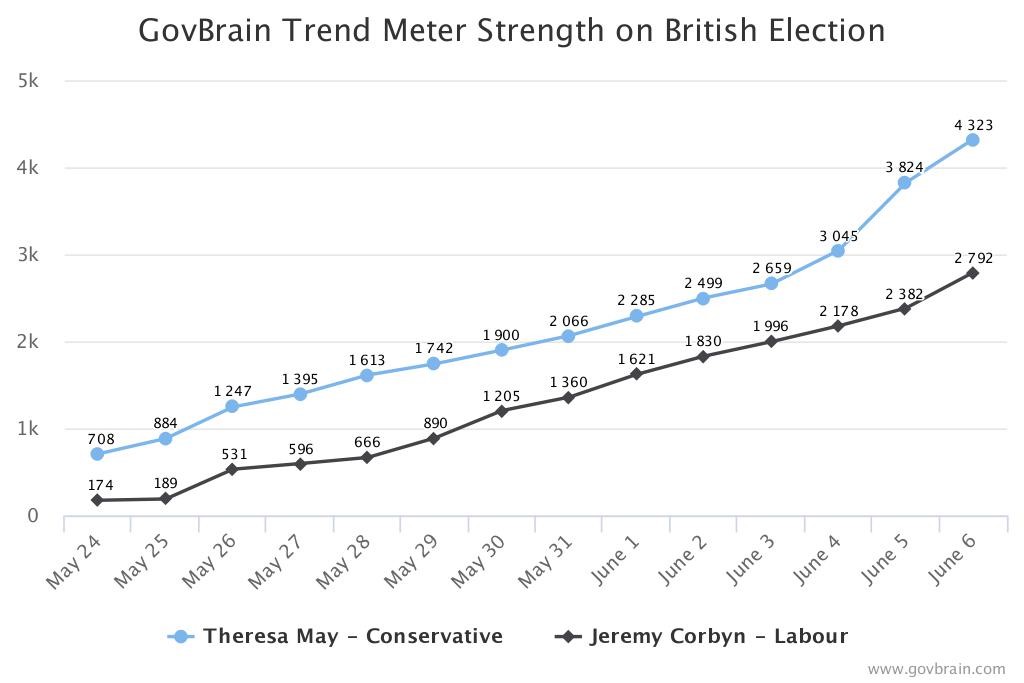 Conservative Prime Minister Theresa May and Labour leader Jeremy Corbyn, the front-runners in the British general election, have endured a volatile race punctuated by two terror attacks that have rocked Britain. With campaigning suspended twice after each incident and British pollsters' failure to predict Brexit, FutureSource queried a data science firm to get its reading on the election that has challenged conventional forecasters.

GovBrain, located in Washington, DC, uses a patent-pending "Trend Meter" inside its machine learning and artificial intelligence system. GovBrain analyzes digital trends from nearly one thousand government, regulatory, and legislative sources along with political, financial, and technology news sites from around the world.
According to the GovBrain Trend Meter, Prime Minister May's Conservatives have forged a strong lead that should be the makings of a comfortable victory for the Tory prime minister. Corbyn's Labour received no bounce on the Trend Meter after both terror incidents, and now Labour lags with too much ground to make up before voting begins Thursday.
Corbyn had a poor start when campaigning resumed after the Manchester arena bombing on May 22. Then Prime Minister May dominated him after the London Bridge and Borough Market attacks on June 3. The Tory prime minister grew 42 percent on the Trend Meter from June 4 to June 6, while the Labour leader only managed 9 percent growth during that time.
Corbyn needed to inspire voters to rally around him in the aftermath of two national tragedies, but it seems many are not ready for him to lead the counterterror fight.
The most disappointing candidate, and party measured by the GovBrain Trend Meter, was Tim Farron and the sluggish Liberal Democrats. With no clear message, the Liberal Democrats have failed to move the needle on the Trend Meter all election cycle. Meanwhile, the populist UK Independence Party (UKIP) and the Scottish National Party (SNP) trended stronger since May 24, with the UKIP finishing better than the SNP.
Despite high-profile issues such as Brexit and the future of the National Health Service, it is safe to say that the British people are not thrilled with the candidates in this election. Anyone looking for political inspiration is likely left wanting.
According to the GovBrain Trend Meter, Prime Minister May's Conservatives have forged a strong lead that should be the makings of a comfortable victory for the prime minister.
She will win the election, but Prime Minister May is no Margaret Thatcher. Thatcher had a talent for turning an uncertain and risky political situation into an opportunity to score a public relations win. Most are familiar with her immediate decisive and muscular response to the Falkland Islands crisis, but there were other political victories in circumstances that would have scared other politicians. Thatcher walked through dangerous Belfast neighborhoods in plain view with only a small number of security guards in an act of defiance against the IRA in 1982 and 1983 during The Troubles in Northern Ireland. In 1984, she gave a raucous speech to party faithfuls mere hours after nearly being killed by a terrorist bombing. She embraced and reveled in the "Iron Lady" moniker, even though Soviet propaganda spinners had originally meant it as an insult they hoped would brand her as an extremist gadfly. Prime Minister May has certainly not developed these political instincts.
On the other hand, Corbyn is no Clement Atlee. Atlee is considered by many historians to be the best Labour prime minister after World War II. Atlee scored the stunning upset over Winston Churchill in 1945 and restored a better sense of normalcy, improved British confidence, and quickly began rebuilding the UK from the devastation of war. Corbyn plays well to his leftist base, but he still strikes many non-ideological voters as wonkish, peculiar, bureaucratic, and brittle. He lacks the star power needed in today's celebrity-obsessed political climate.
When the Trend Meter focused on tracking only the "Labour" key word, the left had clear momentum. However, when the system focused just on the key words "Jeremy Corbyn," the results were extremely low compared to Prime Minister May, with little enthusiasm for the Labour leader over the last two weeks. If the Labour party had fielded a more charismatic candidate in 2017, it might have won this election outright rather than just playing for more seats in Parliament and hoping to prevail in left-leaning constituencies.
Election polling failures in Britain have been well-documented with the misreading of Brexit and the Conservatives' performance in the 2015 general election. Survey results in 2017 have been tumultuous and wide-ranging.
A polling average compiled by The Telegraph on June 6 revealed the Conservative Party was beating Labour 42.9 percent to 37.2 percent. The Tories had a 16-point lead on the same aggregation on March 21. London research firm Opinium's final poll had Prime Minister May by seven points with Conservatives tallying 43 percent and Labour 36 percent. The Guardian gave Conservatives an eleven-point lead on polling done from June 2 to June 4. A survey done by The Mail on June 3 showed the race to be much closer with Conservatives clinging to a one-point lead.
Most polls have the Liberal Democrats, the UKIP, and the SNP polling in single digits with the Liberal Democrats performing better in this second tier at around 8 percent.
This blog post is part of a series analyzing the newest forms of data forecasting. Other blogs in this series include:
---
Brent M. Eastwood, PhD is the Founder and CEO of GovBrain Inc that predicts world events using machine learning, artificial intelligence, natural language processing, and data science. He is a former military officer and award-winning economic forecaster. Brent has founded and led companies in sectors such as biometrics and immersive video. He is also a Professorial Lecturer at The George Washington University's Elliott School of International Affairs.