This blog post is part of a series analyzing the newest forms of data forecasting.
The Iranian presidential election has leapt into the headlines as two candidates feverishly make their final arguments to voters. President Hassan Rouhani and conservative cleric Ebrahim Raisi have burst into the lead after two other hopefuls dropped out of the race this week. With opinion polling scattered and inconsistent, a clear picture of the electorate is difficult to measure. Two data science startups have offered their election analysis before Friday's voting. This blog is part of the Foresight, Strategy, and Risks Initiative's continuing series on data-driven electoral forecasting. Previous pieces looked at data forecasts versus polling predictions in the runup to the French presidential voting in late April and early May, and the recent South Korean presidential election.

Predata, a New York geopolitical risk firm, conducts election predictions using "digital momentum" data it mines from candidate Wikipedia searches, Twitter use, and YouTube comments. Facebook and Twitter are banned by the Iranian government, but many people still tweet after creating aliases to circumvent government controls. Candidates have used Instagram instead of television to post live campaign videos. Voters have flocked to Telegram, a messaging app that has a Farsi language option allowing huge groups to discuss the election.
In a research note on May 14, Predata ranked reformist President Hassan Rouhani and conservative Ebrahim Raisi in fifth and sixth place based on digital conversations. Raisi is a crony of Supreme Leader Ayatollah Ali Khamenei.
Predata said that Raisi had dropped in digital momentum and that Rouhani's final debate performance focused on attacking the conservatives on their civil rights record. Raisi "is having difficulty generating attention to his candidacy," according to Predata. But the data firm also ranks Rouhani low in digital conversation strength.
When Predata broke down their digital momentum metric based on "Conservative" or "Reformist" identification, it showed that the right-leaning sentiment scored higher than the left-leaning sentiment. This Predata chart on May 14 illustrates the ideological divide in Iran.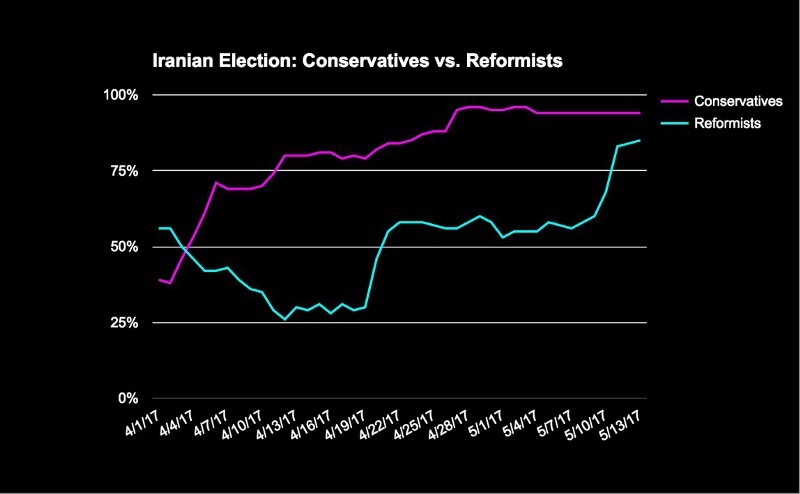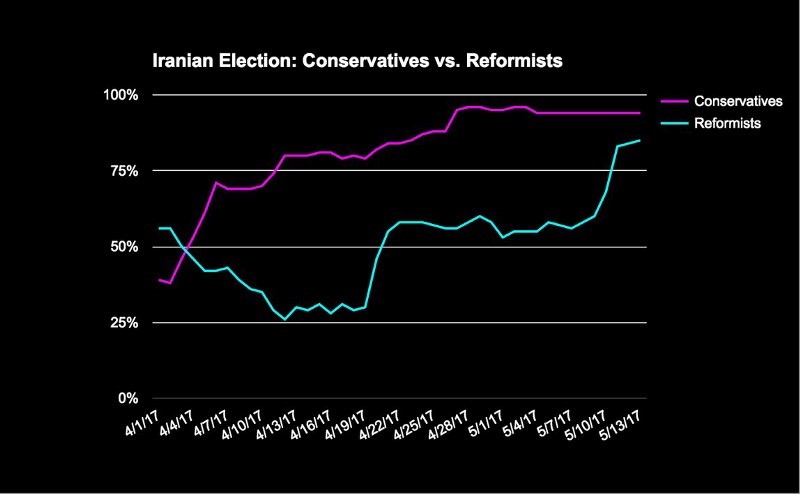 Then the race changed. On May 15, the mayor of Tehran, Mohammad Bagher Ghalibaf, dropped out and endorsed Raisi. On May 16, First Vice President Eshaq Jahangiri, halted his campaign and backed Rouhani. As of May 17, Predata had no further public election guidance that would explain whether its metrics favored Rouhani or Raisi.
GovBrain, operating out of Washington, DC, predicts global events using artificial intelligence, machine learning, and natural language processing. It features a "Trend Meter" inside this patent-pending system that analyzes digital trends from nearly 1,000 government, regulatory, and legislative sources along with political, financial, and technology news sites from around the world.
GovBrain has Rouhani firmly in control, according to its Trend Meter. Rouhani trended strongly after the final debate on May 12. He also grew steadily despite Ghalibaf's exit and endorsement of Raisi on May 15.
Conservative Raisi benefitted from Ghalibaf's endorsement. While Raisi's trend strength looks low in the chart below, he has lately made a notable move upward heading into Friday's first round of voting. Raisi did not do well in the last debate, even though right-leaning voters have united around him. But he flatlined in the days before the endorsement, allowing Rouhani to take a large lead on the Trend Meter.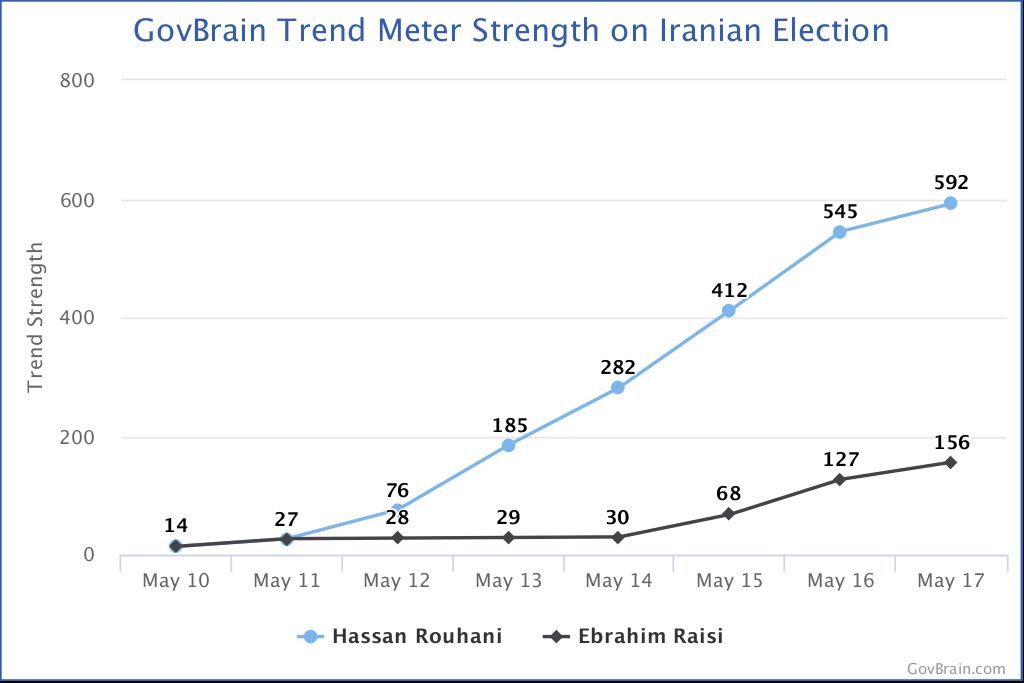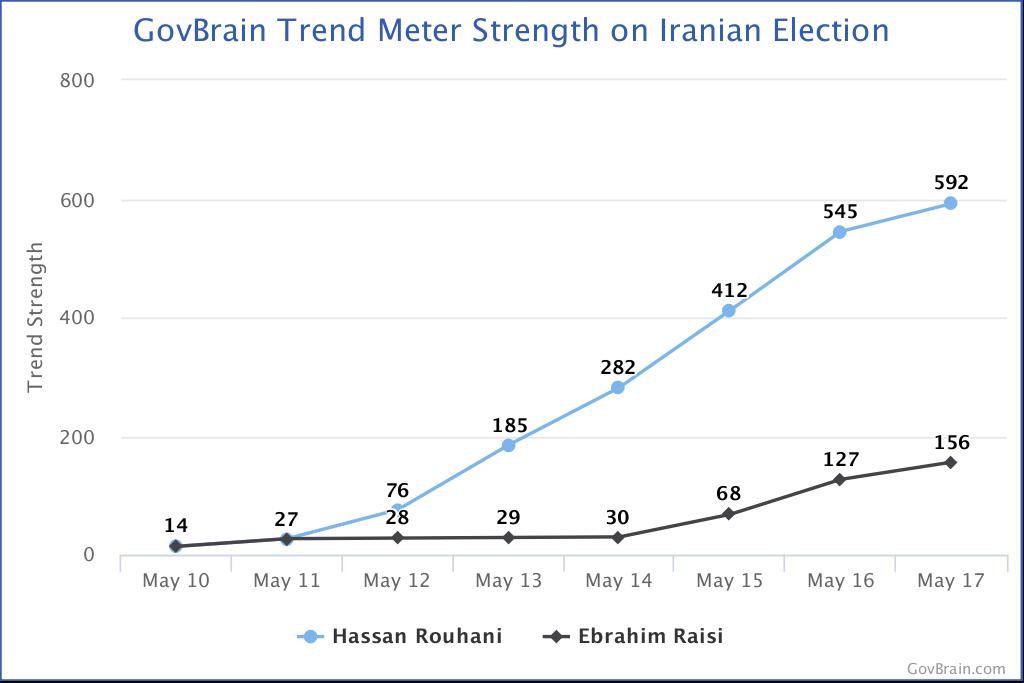 Raisi's trend strength grew 87 percent in the twenty-four hours after Ghalibaf's exit. When Jahangiri quit to endorse Rouhani on May 16, the Iranian president grew only 52 percent during that time. Meanwhile, Raisi grew another 23 percent against 9 percent for Rouhani the next day. That spells trouble for the reformist's hopes for a second term. If Raisi continues his trend growth, he should be able to cut into Rouhani's lead over the last fourty-eight hours.
"Rouhani is the favorite to win, but we don't think he will eclipse the 50 percent threshold needed to avoid a runoff," GovBrain said. "Raisi is poised to win the late-breaking enthusiasm battle for undecideds. If he has a strong showing in this first round, he can parlay that momentum to the second round on May 26. With this extra campaign time, he will then have the opportunity to overtake Rouhani. Look for Raisi to continue banging the drum on the sluggish Iranian economy with its 11 percent unemployment that has left many conservative lower-income voters looking to the cleric for change. Rouhani will have to rally younger and urban voters to sweep him back into office."
Polling has been limited. US-based International Perspectives for Public Opinion said Wednesday that Rouhani was leading Raisi 30 percent to 13 percent. The Iranian Students Polling Agency had Rouhani leading 47 percent to 25 percent, but this poll was held before Ghalibaf dropped out. Two other candidates, Mostafa Mir-Salim and Mostafa Hashemitaba, are barely registering in the polls.
Other blogs in this series:
---
Brent M. Eastwood, PhD is the Founder and CEO of GovBrain Inc that predicts world events using machine learning, artificial intelligence, natural language processing, and data science. He is a former military officer and award-winning economic forecaster. Brent has founded and led companies in sectors such as biometrics and immersive video. He is also a Professorial Lecturer at The George Washington University's Elliott School of International Affairs.