Global China Newsletter: Xi stiffs the G20, turns to the Global South
Subscribe to the Global China Hub
Much ink has already been spilled on questions coming out of US Commerce Secretary Gina Raimondo's trip last month to China – Will the visit build momentum towards a Biden-Xi summit at APEC this November? How meaningful are newly proposed bilateral dialogues on export controls and commercial relations? Was Beijing trolling Secretary Raimondo by releasing a new Huawei phone containing advanced chip technology during her visit?
Good questions, all. But perhaps the most critical question out of the visit is whether a growing number of U.S. and foreign companies are, as the Secretary put it, starting to view China as "uninvestable". Beijing has been trying to convince the world to continue investing in China while, at the same time, raiding U.S. companies, imposing arbitrary fines, and placing limits on access to information critical to making informed bets on the China market.
As if there were not enough complications for businesses operating in China, Dakota Cary and Kristin Del Rosso document in a new Atlantic Council report, "Sleight of Hand", how China's 2021 Data Security Law requires foreign companies operating in China to divulge sensitive cyber vulnerabilities directly to the Ministry of State Security. As Andy Greenberg of Wired writes , the law forces foreign businesses to make a harsh choice: "Either leave China or give sensitive descriptions of vulnerabilities in the company's products to a government that may well use that information for offensive hacking."
The law has also raised the risk of cyber attacks. As the chart below demonstrates, the requirement that all sensitive cyber vulnerabilities be funneled to the MSS has given the spy agency the final say on whether to make them public, producing a dramatic reduction in the public dissemination of vulnerabilities which used to afford companies the opportunity to patch them up.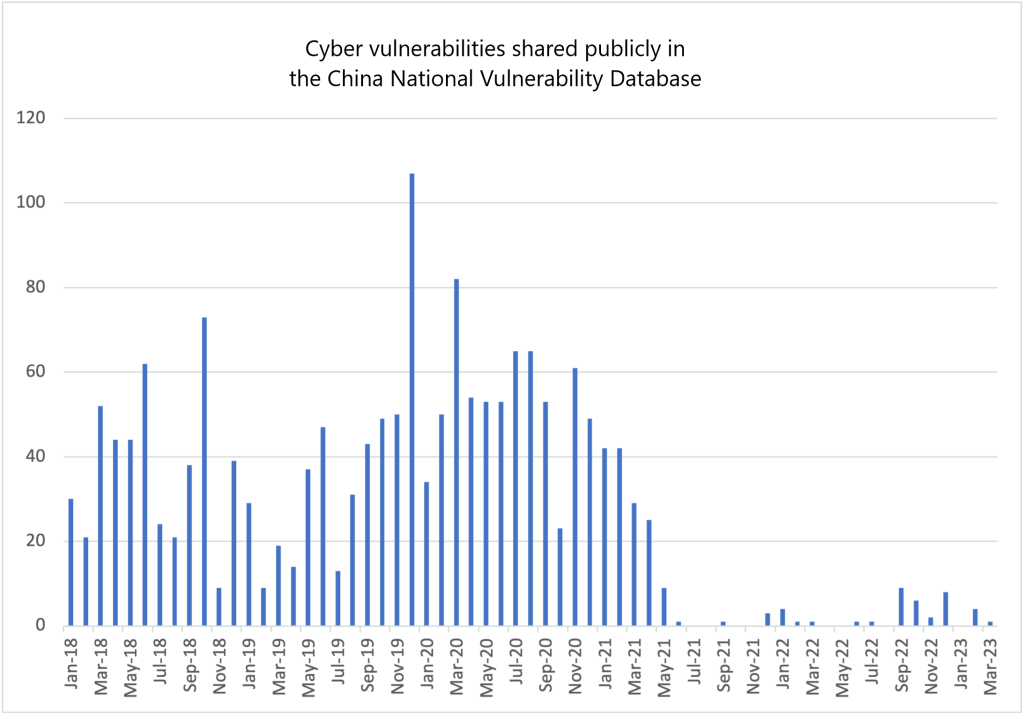 The combination of such directives for foreign companies to divulge proprietary information at the potential cost of their own security with mounting government secrecy around data critical to investors' ability to make informed decisions about China risks is disrupting operations and, indeed, adding fuel to the burning question of whether it's now worth the trouble to invest in China.
Our Editor in Chief Tiff Roberts covers this growing culture of secrecy and much more below. Over to You, Tiff!
-Dave Shullman, Senior Director, Global China Hub
Thank you, Dave! As the new editor-in-chief of the Global China newsletter, I aim to provide my readers with some of the most important China news and analysis every month. My take is informed by my earlier experience working as a journalist in China for almost a quarter century and the research and writing I do on China today. I hope you find our newsletter valuable.
The Year of Living Secretly
When I was a foreign correspondent in China, it was an open secret that one could not trust the economic numbers published by Beijing. But in the years following China's entry into the World Trade Organization in 2001 it seemed as if real effort was being made to improve their reliability, as Beijing sought to draw more foreign investors. As I wrote in 2012, policymakers were "trying to address the government's statistical shortcomings." No longer…
Call it 'The Year of Living Secretly': Beijing has chosen opacity over openness. It is doubling down on more state control over the economy under Xi Jinping and restricting access to all kinds of information. Everything from land sales, currency reserves, bond transactions, official biographies, academic information, COVID deaths, and most recently soaring youth unemployment, is being treated as akin to a state secret.
What is behind the trend? The economy is rapidly deteriorating and Beijing has no desire to publicize that fact. As GeoEconomics Center associate director Niels Graham points out in " The Chinese economy's moment of macro weakness—in charts", property, manufacturing, employment, and trade are all rapidly declining while deflation worrisomely grows. "Taken together they point to serious, structural issues within China's economy that go well beyond the cyclical problem caused by COVID," Graham warns.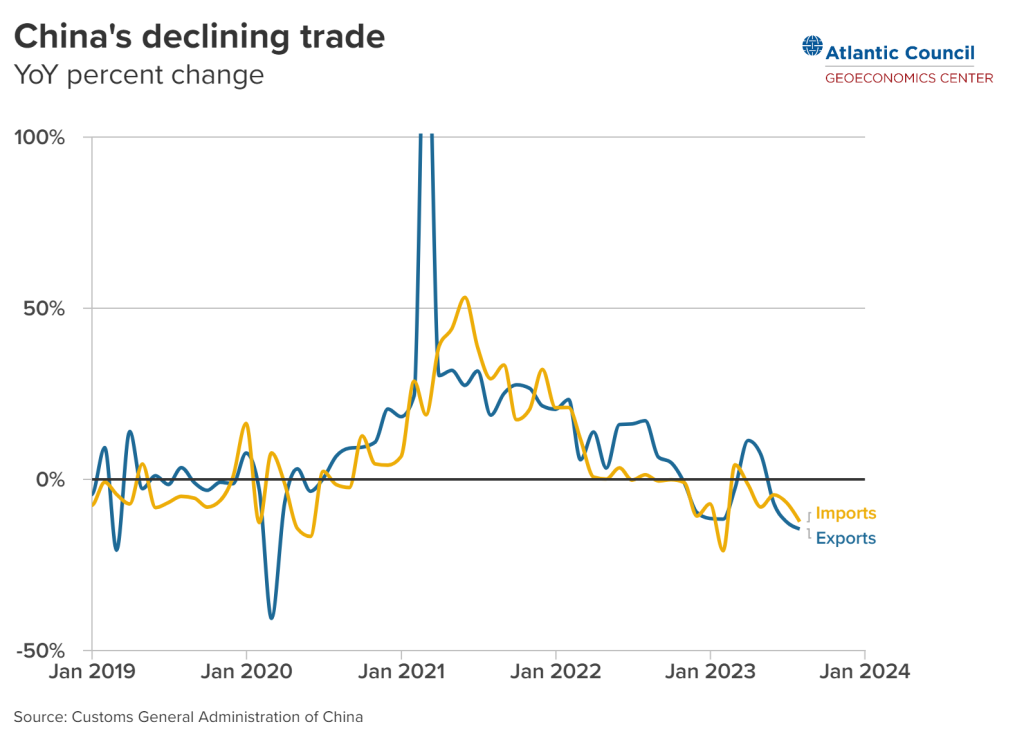 And there is the mystery surrounding the disappearance of former foreign minister Qin Gang that I wrote about in our last newsletter (it now appears that Li Shangfu, China's Minister of National Defense, may experience a similar fate). Global China Hub nonresident senior fellow Michael Schuman recently explained in an article in The Atlantic why this obfuscation matters: Beijing's policies affect the "welfare of billions of people, the health of the planet, and war and peace itself. Yet policymakers and diplomats around the world are too often left guessing."
Taiwan and a two-front war
Speaking of war and peace, a delegation led by the Atlantic Council travelled last month to the place probably most likely to be at the center of any future US-China conflict – Taiwan. The group, which included former president of Lithuania Dalia Grybauskaitė and former US defense secretary Mark Esper, met with President Tsai Ing-wen, her National Security Council leadership, and visited Taiwan's largest naval base. Tensions across the Strait are continuing to rise, with a record 103 PLA warplanes operating near the Island in just a 24-hour period between September 17 and 18. Europe Center visiting fellow Petr Tuma wrote about the rising challenge and similarities he saw while there, between Taipei and pre-2022 Kyiv.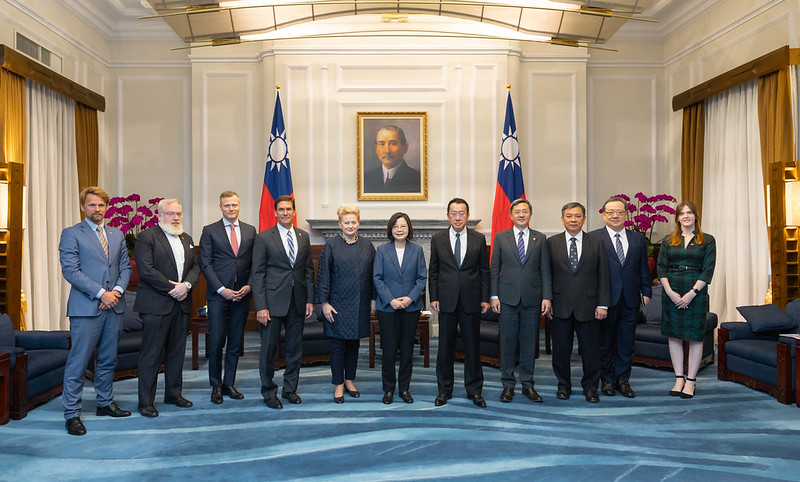 In a report from the Indo-Pacific Security Initiative, "The United States and its allies must be ready to deter a two-front war and nuclear attacks in East Asia," director Markus Garlauskas argues that the US could have to face China and North Korea simultaneously: a US and South Korean counteroffensive against aggression by Pyongyang would "likely prompt the PRC to intervene to protect its interests," while "any major US-PRC conflict—for example, if the PRC attacks Taiwan—is likely to escalate horizontally and engulf Korea" and could prompt "preemptive aggression from North Korea—particularly because the conflict's outcome would have immense implications for Pyongyang."
Shift towards the Global South
While a host of senior US officials have trooped to Beijing (Hub nonresident senior fellow Gabriel "Gabo" Alvarado wrote about the late August visit by Commerce Secretary Gina Raimondo, the fourth cabinet official in recent months), China's top leader has shown a shifting political calculus when choosing where he travels: emphasizing the Global South rather than the wealthier developed west.
So, while Xi skipped the G20 meeting, bringing the heads of the world's largest economies including the US, Japan and the EU to New Delhi, India in early September–he went to every other G20 since becoming top leader—in late August he attended the BRICS Summit in Johannesburg, South Africa. Taking it a step further, Xi hosted Zambian President Hakainde Hichilema and Venezuela's Nicolás Maduro in Beijing – two nations heavily in debt to China – shortly after snubbing the G20 (The Johannesburg meeting is discussed by Atlantic Council experts here).
The expanding BRICS is trying to "cement its position as a platform for and champion of the Global South. This aligns particularly closely with Beijing's vision," writes Global China Hub deputy director Colleen Cottle, who was also featured in the German Marshall Fund's China Global Podcast. The role of Africa in the new geopolitical landscape was discussed by experts brought together by the Atlantic Council's Africa Center, following the meeting in Johannesburg.
And China has made abundantly clear its intent to revise the current system of global governance with the Ministry of Foreign Affairs' release on September 13, " Proposal of the People's Republic of China on the Reform and Development of Global Governance." This intent is explained in a new China-MENA podcast episode, with the Hub's Tuvia Gering and Michael Schuman along with Middle East Program's Jonathan Fulton (also covered in their report from June), in which they describe how China paints the Global Development Initiative, Global Security Initiative, and Global Citizen Initiative as the solutions to a "world of uncertainty" created by the US-led West. Further, China made clear at the G77 + China Summit that China aims to present itself as the champion of this changing world order by claiming that it will "always be part of the developing world and a member of the Global South."
Whether it's growing secrecy or the turn to the Global South, China's latest moves – and US pushback – are reverberating around the world.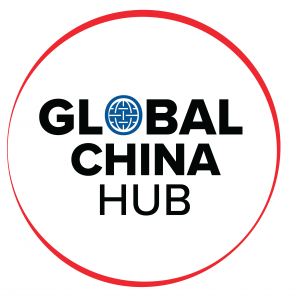 The Global China Hub researches and devises allied solutions to the global challenges posed by China's rise, leveraging and amplifying the Atlantic Council's work on China across its 15 other programs and centers.