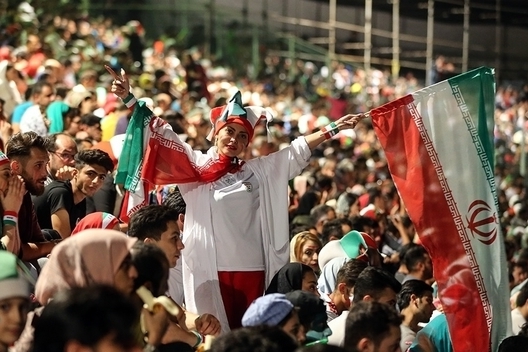 The 2018 World Cup is over after a whirlwind month of matches, with France claiming the title. There was no shortage of engrossing stories from the tournament, with political drama undergirding the action. In Iran, for example, beyond the national team's relatively impressive display, the country grabbed headlines off the pitch for allowing women to attend viewings of the men's national team soccer matches.
On June 20, the Iranian government allowed women to watch Team Melli's World Cup match against Spain in Tehran's Azadi Stadium, reversing a ban on women attending male sporting events that has been in place—though not necessarily uniformly enforced— since 1981. After Islamic Revolution, women were prohibited from attending male sporting events as part of a broader cultural shift toward gender segregation and "public decency," such as protecting women from hearing men swear. However, with soccer a hugely popular sport in Iran, women long have used disguises to sneak into games and also protested outside stadiums, leading to arrests by security forces. Over the years, civil society groups like OpenStadiums and Women in White Scarves—not to be confused with White Wednesdays, a campaign against the headscarf law—have campaigned for the right to attend sporting events, using op-eds in Western newspapers and social media to draw attention to their causes. FIFA has emerged as a target for activists aiming to apply pressure to the Iranian government.

The government decision came at a fractious political moment for Iran, with economic fears and domestic posturing set amid ongoing protests over the environment, corruption, economy, and foreign policy adventurism. Though officials like President Hassan Rouhani, Interior Minister Abdolreza Rahmani Fazli, and Vice President for Women and Family Affairs Masoumeh Ebtekar have spoken in support of lifting the ban, it remains unclear if the government will permanently remove it in the face of hardline opposition. As one activist pointed out, Iran is the only country in the World Cup not allowing women into stadiums, even after neighbor and rival, Saudi Arabia.
Below is a selected timeline of events around Iran's stadium ban for women.

Women's Stadium Ban Timeline
1981: Women are banned from attending men's soccer matches.
June 2005: Presidential candidate Ali Akbar Hashemi Rafsanjani, a former president from 1989 to 1997, says he prefers allowing women to attend soccer matches while on the campaign trail.
June 8, 2005: Women in White Scarves protest outside of Azadi stadium during a 2006 World Cup qualifying match between Iran and Bahrain, with President Mohammad Khatami in attendance.
February 17, 2006: Influential Iranian filmmaker Jafar Panahi releases Offside, a film about young women who try to sneak into a World Cup qualifying match at Azadi Stadium but are arrested. The film is banned in Iran.
April 23, 2006: President Mahmoud Ahmadinejad lifts the ban on women in stadiums, saying, "The presence of women and families in public places promotes chastity"; A few weeks later, the Supreme Leader reinstates the ban.
2012: The ban on women attending men's soccer matches is extended to volleyball.
June 20, 2014: Ghoncheh Ghavami, a British-Iranian woman, is sentenced to one-year in prison after trying to attend a men's volleyball game. She spends over one hundred days incarcerated, mostly in solitary confinement, and stages a hunger strike to protest her detention.
July 2014: Iranian graffiti artist Black Hand debuts street art of a young woman wearing a Team Melli jersey and raising a bottle of "champion" dishwashing liquid—a showing of solidarity with the women protesting the stadium ban.
July 3, 2015: Three prominent human rights advocates pen an op-ed in The Guardian calling on FIFA to tackle the ban on women attending soccer matches.
February 2016: Iran hosts the Beach Volleyball World Championship and promises to allow women to watch the games, but does not act.
May 13, 2016: Persepolis' Croatian coach Branko Ivanković receives a permit for his wife and daughter to attend a soccer match at Azadi Stadium.
June 15, 2017: Team Melli captain Masoud Shojaei tweets a message asking President Rouhani to allow women into stadiums following the country's World Cup qualification.
July 10, 2017: Retired Iranian soccer star and current coach Ali Karimi expresses hope that women can attend matches in-person soon, saying, "This important issue is not impossible, this dream of female sports fans can be achieved through correct planning."
September 5, 2017: A World Cup qualifier between Syria and Iran takes place in Tehran. Syrian women attend, but Iranian women are barred from entry—though some purchased tickets online due to a "glitch"—and are threatened with arrest. Iranians are outraged on social media over the double standards.
November 29, 2017: The captain of Thailand's female kabaddi team wears a headscarf to accompany his players at the arena during the Asian Kabaddi Championship in Iran. The photo goes viral on social media.
March 1, 2018: FIFA President Gianni Infantino visits Iran to meet with President Rouhani. He attends the Tehran derby between domestic football teams, Esteghlal and Persepolis. Infantino claims President Hassan Rouhani told him that women soon would be permitted to attend matches in the stadium, but thirty-five women are arrested at the match for attempting to sneak in. Infantino does not condemn the arrests, but releases a statement. He is confronted by a female journalist who says "we need a guarantee" the ban will be lifted; An activist starts an online petition seeking 100,000 signatures—the number of seats in Azadi Stadium—"demanding FIFA use its power to call for an end to Iran's stadium ban for women."
April 28, 2018: US-based Iranian band Abjeez releases new single, "Stadium," calling on Iranian men to support women protesting the stadium ban.
May 1, 2018: Iranian women garner international attention after sneaking into Azadi Stadium disguised as men and posting photos to social media.
June 12, 2018: Retired Iranian soccer legend and current coach Ali Daei tells German broadcaster ARD, "I think women should be allowed into stadiums. Then the men have to behave."
June 14, 2018: The 2018 World Cup commences in Russia.
June 15, 2018: Iran plays Morocco in its first 2018 World Cup match; Plans to allow women to attend a mixed-gender viewing in Azadi Stadium are cancelled; After controversy surrounds an all-male Tehran billboard supporting Team Melli, it is replaced with a mixed-gender version; Activists from OpenStadiums attending games in Russia bring protest banners to Iran's match, and are harassed by security; Hashtags including #NoBan4Women and #OpenStadiums spread on social media.
June 19, 2018: Backtracking his previous comments from 2017, Iranian soccer captain Shojaei tells reporters in Russia that the World Cup is not the place to discuss the women's stadium ban; The deputy head of security at the Tehran governor's office sends a letter to the Tehran police chief general allowing women to attend the Iran-Spain World Cup viewing the next day. Over 20,000 tickets are sold.
June 20, 2018: At the Azadi Stadium, women are initially turned away by police. The resulting protests outside the stadium and on social media lead to a direct order from the president to the interior minister to allow women to enter the grounds, though only 7,000 fans attend after the initial cancellation; Spanish captain Sergio Ramos tweets his support for Iran's women, drawing international soccer fans' attention to the issue.
June 22, 2018: Eighteen influential women of Iranian origin living abroad, including Nobel Laurate Shirin Ebadi, pen an open letter calling on FIFA to hold Iran accountable for the stadium ban.
June 24, 2018: An Iranian journalist tweets a video of women watching the 2018 FIVB Volleyball Nations League match between Iran and Germany.
June 25, 2018: Women are permitted to attend a viewing of Iran's final World Cup match against Portugal.
June 26, 2018: Vice President for Women and Family Affairs Ebtekar tweets a video of women attending the final Team Melli match viewing: "Thousands of Iranian families have watched live broadcasts of #WorldCup2018 games in Azadi Stadium in Tehran. Restrictions on women's entrance have been lifted. This has led to a new era of hope & optimism."
July 2018: Artist Black Hand debuts street art of a male and female soccer fan with the message, "This derby we're with you in any situation without any condition."
July 16, 2018: Azadi Stadium manager Nasser Mahmoudifar is dismissed. Mahmoudifar speculates it is because he allowed women and families into the stadium to watch two World Cup screenings.
Owen Daniels is an associate director with the Middle East Security Initiative in the Atlantic Council's Scowcroft Center for Strategy and Security. Follow him on Twitter: @OJDaniels.
Phoebe Amend is an intern with the Middle East Security Initiative in the Atlantic Council's Scowcroft Center for Strategy and Security.