An Iran opposition coalition was long overdue. It's an important step forward on the rocky road to change. 
"The year 2022 was a glorious year of solidarity for Iranians of every belief, language, and orientation. With organization and solidarity, 2023 will be the year of victory for the Iranian nation. The year of freedom and justice in Iran," read a series of simultaneous social media posts on New Year's Eve in support of the revolutionary protests in Iran.
The solidarity post was shared by an unofficial Iran opposition coalition that consisted of key public figures and civil society activists outside of Iran: former Crown Prince Reza Pahlavi, women's rights activist and journalist Masih Alinejad, 2003 Nobel Peace Prize laureate Shirin Ebadi, actress and Amnesty International Ambassador Nazanin Boniadi, actress and activist Golshifteh Farahani, football legend and pro-revolution activist Ali Karimi, and dentist and president and spokesman of the Association of Victims' Families of Flight PS752 Hamed Esmaeilion (and was later followed by the Secretary General of the Komala Party of Iranian Kurdistan, Abdullah Mohtadi, and many other prominent individuals). Many of these figures, due to their pro-democracy activism and reputation, have been widely expected to be part of such a coalition outside of the country, which was also captured in a cartoon recently.
Such a coalition is an important step forward to grant the millions-strong Iranian diaspora, whose combined net worth is believed to reach roughly $2.5 trillion—placing it as high as the GDPs of Canada or France—a unified and, thus, more effective voice to push the international community—above all, Western governments in countries they reside—to increase pressure on the Islamic Republic and further isolate it as a way to support the revolutionary movement inside Iran.
The need to focus on class issues more thoroughly
Yet, the coalition's impact on domestic dynamics, especially the protest movement, is unclear. In particular, the challenge regarding a heavier involvement of the working class, whose strikes in key hydrocarbon sectors, if turned permanent, could help break the regime's economic lifelines, remains. After all, the said coalition, upon its unofficial proclamation, does not include voices that are seen as representing the interests of Iran's working classes, who disproportionately suffer from conditions in the Islamic Republic—although this does not necessarily mean the coalition members are oblivious to them. Such integration is especially crucial, since some labor activists have told me that their interests might not be necessarily guaranteed by an exiled opposition that may tend to neglect issues of class, and in the worst case, abandon them in a post-Islamic Republic system.
However, despite such potential shortcomings about the initial composition of the group, outright condemnation of it as a neoliberal or even right-wing project from allegedly detached figures is likely to be misplaced at this point. At the end of the day, arguably all social groups inside Iran, including the workers, suffer from the Islamic Republic's prolonged rule and would fare much better in a democratic Iran.
Moreover, there is strong evidence that large parts of Iranian society have moved beyond the age of ideology and dogmatism—one that had dominated political debates in the run up to the 1979 revolution. Instead, the revolutionary movement's insistence that women's rights are inherently linked to human rights in general, as well as democracy, can indeed serve as a basis for the interests of various social groups to be guaranteed in a future Iran. Yet, given the Islamic Republic's neglect of the Iranian population's political as well as economic rights, the latter two should be discussed in tandem by those seeking positive change in Iran. Thus, taking labor rights seriously could embolden reluctant elements to fully join forces with the revolutionary movement.
Moreover, a political manifesto or program that would guarantee not only political but also economic rights, strategizing, and concrete coordinating steps for Iran's protest movement— ideally coordinated with and primarily drafted by social forces inside Iran—would be indispensable to help what I call the revolutionary process in Iran take a significant step forward. These forces inside Iran would ideally include representatives from the three major components of Iranian civil society—namely the women, labor, and student movements—but also the youth and marginalized ethnic groups, which are the driving forces of the current protest wave, as well as professional associations (teachers, bus drivers, truck drivers, lawyers, doctors, and so forth).
For Iran's revolutionary process to become successful, lessons ought to be learned from such processes in the Arab world. Here, the case of Sudan's pre-revolution could serve as a model for Iran: the driving force of the revolutionary movement there was the Sudanese Professionals Association (SPA), an underground, grassroots civil society network of associations of teachers, journalists, doctors, lawyers, and other professions. Of course, the formation of such a civil society network in Iran is heavily hampered by the regime's repression. However, this does not mean there will be no way to work around these immense challenges.
A coalition cognizant of the challenges ahead?
On New Year's Day, a day after the coalition had announced its existence, London-based Iran International invited some of its members—namely Mohtadi, Alinejad, Esmaeilion, and Ebadi—to comment and offer reflections about the coalition and its purpose. The following perusal reflects the points made by them during the show, which can provide a first glance into their thinking in the context of that coalition:
Acknowledging their failure in omitting the protest's main slogan: "Woman, life, freedom" in their initial announcement on New Year's Eve.
The need to expand the coalition members' diversity to also include figures inside Iran.
The need to be open and responsive to harsh criticism that is voiced against this coalition and its work, so that historical mistakes aren't repeated when Iranian political entities may not have offered such open spaces for constructive criticism. 
An understanding that this coalition is merely a beginning, not an end—a de facto work in progress.
That they are all unified against the Islamic Republic, for the creation of a secular democracy, the restoration of human dignity and equality among all citizens of Iran regardless of their gender, ethnicity, and beliefs. In other words, unity in diversity and the need to end various forms of discrimination.
That the coalition has no desire to assume power in Iran, but wants to work toward abolishing the Islamic Republic and the transition to democracy.
Stressing that legitimacy primarily emanates from the people inside Iran and not from the diaspora, albeit the latter is not seen as insignificant.
The need to forge a strategy and build structures to overcome the Islamic Republic and pave the way for a democratic Iran, while being organically linked to the people inside. This should include workers' interests, which Ebadi explicitly mentioned the need to account for.
This long-awaited and unprecedented unity from prominent opposition figures abroad can be seen as primarily a consequence of the same kind of unity to be witnessed inside the country, at least since mid-September. The common denominator is the call for regime change in Iran by peaceful means and creating a democratic future for the multifaceted mosaic of the Iranian nation.
Dr. Ali Fathollah-Nejad is a political scientist and author of The Islamic Republic of Iran Four Decades On: The 2017/18 Protests Amid a Triple Crisis, where he suggested the start of a long-term revolutionary process in Iran. Follow him on Twitter: @AFathollahNejad.
Further reading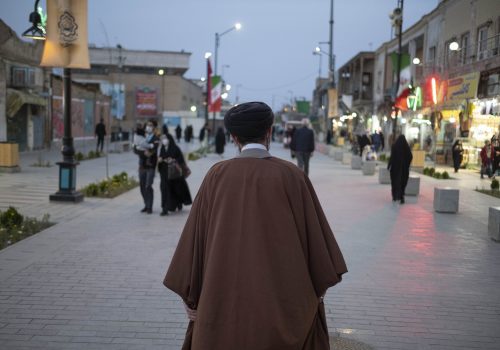 Wed, Dec 14, 2022
IranSource By Fardad
Even before the outbreak of nationwide protests following the beating death of Mahsa Jina Amini, voices within the seminaries have been calling for a reduction of the role of the clergy in political affairs.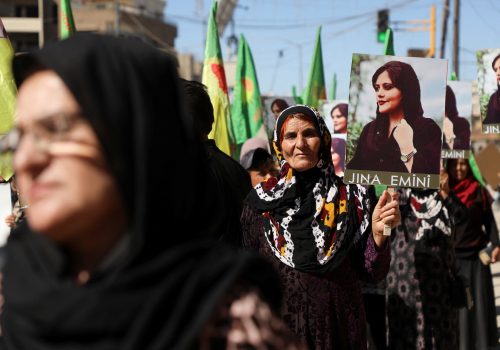 Mon, Sep 26, 2022
IranSource By Sayeh Isfahani
Women, young and old, have been at the forefront of the uprising, just like every other protest in Iran over the past decades.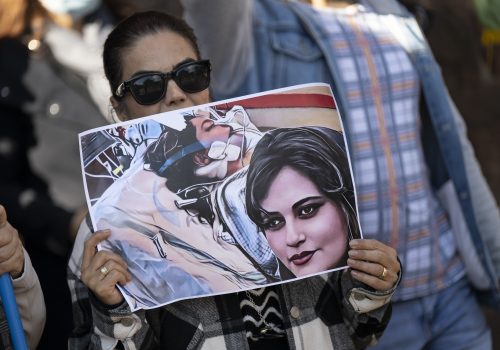 Tue, Sep 27, 2022
IranSource By Borzou Daragahi
In Iran, the momentum is there. It just needs direction and a helping hand.