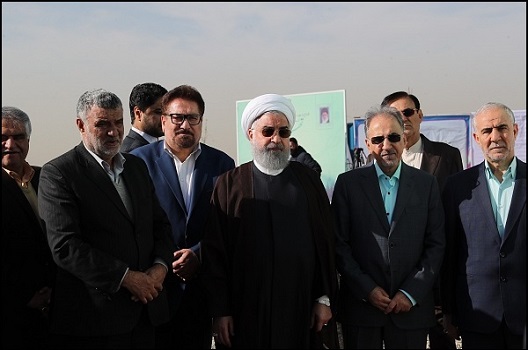 The intelligence branch of Iran's Islamic Revolutionary Guard Corps (IRGC) has often targeted dual nationals in an effort to find scapegoats for Iran's many problems. Its recent assault on environmentalists is particularly wrongheaded and cruel at a time when Iran faces unprecedented environmental challenges.
Kavous Seyed-Emami, a Canadian-Iranian and respected advocate for endangered species in Iran, died in detention in Evin prison in suspicious circumstances last month. Seven others, including an Iranian-American, Morad Tahbaz, remain in prison. All are associated with the Persian Wildlife Heritage Foundation (PWHF), the most respected conservation and environmentalist NGO in Iran.

Adding more cruelty to the situation, the IRGC intelligence branch earlier this month prevented Emami's widow from leaving the country. She was to accompany her two sons, who had returned to Iran for their father's memorial service, to Canada.
David Laylin, an American environmentalist whose late father advised the Iranian government on matters including Iran's 1946 case against Russia's occupation of Iranian Azerbaijan and the negotiation of a landmark water treaty with Afghanistan, told this author that Emami and those detained "are patriotic scientists, dedicated to helping Iran recover from the environmental damage that occurred" after the 1979 revolution.
Laylin, who has himself been the target of false attacks in Iranian media, added, "Although the Iranian security forces must protect Iran against domestic and foreign enemies, they have been fooled by ignorant people who are jealous of PWHF and arrested these people by mistake. Iran needs to have them back at work."
Iranian officials have legitimate concerns about spying given the hostile relationship between the Islamic Republic and a few powerful nations, most notably the US, Israel and Saudi Arabia. Security officials have pointed to the fact that PWHF placed small camera traps in wildlife preserves to check on the status of the dwindling Asiatic cheetah population. Contrary to claims in hardliner media, however, the cameras have a range of only 15 meters and have no ability to monitor Iran's ballistic missile program, Laylin said.
That Iran has created a scandal over these environmentalists comes at a particularly sensitive time. In Washington, Secretary of State Rex Tillerson has been fired and a harsh opponent of the nuclear deal with Iran, CIA director Mike Pompeo, has been nominated to take his place. The next deadline for waiving US nuclear-related sanctions on Iran is May 12 and President Trump has threatened not to do so unless Europe agrees to unilaterally renegotiate the terms of the deal.
Meanwhile, Iran's environmental problems are worsening by the day as a result of climate change and mismanagement, including the overbuilding of dams to divert water to industries and other locales favored by the IRGC.
Protests against such water diversion figured heavily in anti-government demonstrations that spread through provincial towns and cities earlier this year. Many of the protesters were farmers forced off their land by lack of water.
Just a few days ago, Iranian farmers in Isfahan province clashed with security forces, demanding that the government demolish a pipeline that takes water from their region and transfers it to the neighboring province of Yazd.
Hadi Ghaemi, who directs the New York-based Center for Human Rights in Iran, said the IRGC intelligence branch has gone after innocent environmentalists to undercut efforts by the government of President Hassan Rouhani to rectify mismanagement in the environmental field. Rouhani's policies "threaten the interests of the IRGC," Ghaemi said.
More broadly, Ghaemi said, the IRGC intelligence branch seeks to undermine Rouhani's government as a whole by concocting a false "nexus between spies and Rouhani's advisers" on the environment. That this will only make Iran's environmental and geopolitical situation worse doesn't bother the IRGC, Ghaemi said. "They just want to promote conspiracy theories to satisfy their base."
Laylin, who has been called a spy for visiting Emami's home during several trips to Iran in recent years, told this author, "I have no connection with the CIA or any other intelligence agency. Kavous was a personal friend who three times invited me as a guest to dinner parties at his house."
Laylin spent many years in Iran as a young man and his late sister, Louise, married the brother of Eskandar Firouz, the creator of pre-revolutionary Iran's Department of the Environment, and she is known for having re-discovered the small Caspian horse and having done much other work with Iranian horse breeds. Laylin has been helping Iranian environmentalists and facilitating US-Iran scientific cooperation since a visit to Iran in 2007 – cooperation that is now also threatened by the Trump administration's restrictive visa policies.
On trips to Iran since 2008, Laylin said he inspected the Hamouns, an endangered wetland on the border with Afghanistan, and went to Hormozgan province in the south to help create a wildlife sanctuary for the endangered Laristan sheep. "In all cases, I travelled with the knowledge and protection of the Department of the Environment," Laylin said. He also attended two conferences in Tehran on wetland areas and sand and dust storm challenges.
Laylin said he had sent a letter in English and Farsi to the head of Iran's judiciary, Ayatollah Sadegh Larijani, with copies to President Rouhani, Foreign Minister Javad Zarif and UN Ambassador Gholamali Khoshroo, refuting false charges against him and seeking the release of the jailed environmentalists. Laylin offered to meet with Iran's UN legation. He said he has so far received no answer from Ayatollah Larijani.
Meanwhile, Emami's sons visited New York this week to meet the Canadian foreign minister at the UN and to press for the release of their mother, who Ghaemi said, was being held as a hostage to convince the family not to continue to demand an independent investigation of Emami's death.
Ghaemi said he was fully aware that hawks in and close to the Trump administration would try to use the situation as more ammunition to destroy diplomacy with Iran.
"This is not a rallying cry for war and attacks," Ghaemi said, but an effort to bring justice and help Iran deal with real, not imagined threats.
Barbara Slavin directs the Future of Iran Initiative at the Atlantic Council.