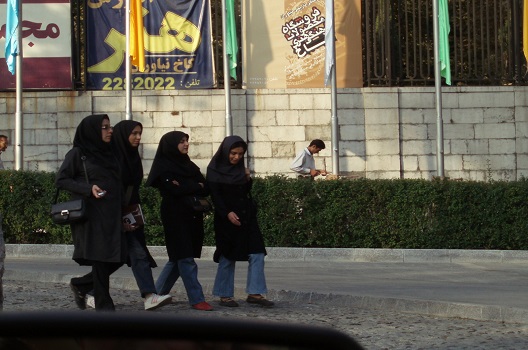 The day before widespread protests broke out in Iran last December, Vida Movahed, 31, stood on a utility box in Tehran, took off her white headscarf and waved it before a crowd.
In the weeks since then, dozens of other women have done the same, earning the nickname the "Women of Enghelab [Revolution] Street." Their acts of disobedience against compulsory veiling in the Islamic Republic have been conflated with the economic protests that convulsed Iran for several weeks and that continue sporadically. But the economic demonstrations were largely by young men in provincial cities and towns; the hijab protests, mostly confined to Tehran, should be seen as a parallel movement and not an extension of the economic protests.

The women protesting the Islamic dress code are addressing a law that impedes freedom of dress. The main issue at stake is cultural and religious. It is not clear whether these protests reflect a wider dissatisfaction with a lack of rights for women or are specifically targeted against compulsory hijab.
In the past, women's rights activists have focused on other issues including legal discrimination and lack of rights within the family, while downplaying concerns over dress. According to some conservative women's rights activists, the Islamic dress code does not limit women's freedom but actually makes it easier for them to function in an Islamic society.
Valentine Moghadam has explained the division among women right's advocates in Iran as follows: "The success of the revolution and the return of Islamic values depended on the appearance and comportment of women—a responsibility that some women gladly assumed but which others found extremely onerous." Hence, the "Women of Enghelab Street" protests address women's freedom of choice in regard to religion and appearance in society.
Women's rights, of course, encompass far more than the freedom to dress as one chooses, including rights within the family, equal access to higher education, presence in the job market, positions in the government at high levels and equal wages for equal work. In Iran, women comprise 63 percent of those who attend university at graduate levels, but often face difficulty finding work commensurate with their qualifications. Still, women in Iran can be found in high-ranking positions in government – although they are still barred from being president or supreme leader. Massoumeh Ebtekar is vice president for woman and family affairs and a former head of Iran's Department of the Environment. Marzieh Afkham is now Iranian ambassador to Malaysia and is the former spokesperson for the foreign ministry. The governor of Sistan-Baluchestan province is also a woman, Homeira Rigi. Deputy ministers and director generals of many ministries are women as is the head of Iran's national airline, Iran Air. Iran also has distinguished female filmmakers, writers, poets, and scientists.
While the protests against compulsory hijab have been centered in Tehran, the demonstrations over the economy started in Mashhad, a conservative religious city, and later spread to many provincial cities including Isfahan, Bandar Abbas, Ardabil, Qazvin, Hamedan and Yazd.
The methods employed by the protesters also differed. The "Women of Enghelab Street" used non-violent civil disobedience. Some analysts referred to Mohaved and the other anti-hijab demonstrators as the Rosa Parks of Iran, comparing them to the African American woman who refused to sit in the back of the bus in 1955 in Alabama and catalyzed the US civil rights movement against enforced segregation.
Iran's economic protests, in contrast, featured big groups rather than individuals and often veered into violence including arson, attacks on police and vandalizing public places. Iranian State media reported that one member of the government security forces was shot and killed during the protests, as well as more than two dozen protestors.
In contrast, the "Women of Enghelab Street" were uniformly peaceful, but the security officials were not. They employed beatings and other harsh measures to discourage the campaign. Around 30 women have been arrested in Tehran for refusing to wear a headscarf.
The two protests were also distinguished by age and class differences. More than 90 percent of those arrested in the economic protests were under age 25 while the women demonstrators ranged in age from young to old. The majority of economic protestors were unemployed youth or students. Many came from rural areas that have suffered from drought and where farmers have been forced from their land. The women protestors, on the other hand, were mostly middle class.
In one way, however, the two protest movements are similar. While some outside analysts have seen these movements as a harbinger of regime change, most of the protestors are seeking evolutionary change within the system. In the case of the "Women of Enghelab Street," they are demanding an end to compulsory hijab; in the economic protests, the objective is to reverse price hikes, provide jobs and end economic inequality and social injustice.

Tahereh Hadian-Jazy is seeking her PhD and writes on women's rights in Iran and the Middle East. She holds a masters degree in modern Middle Eastern studies from Oxford University.