Letters from women protesters inside Iran: One year after #MahsaAmini's death 
"Break the pen that writes," commanded the founder of the Islamic Republic, Ayatollah Ruhollah Khomeini, a few months after the 1979 Islamic Revolution. He heralded an age of silence in Iran, which his successor, Ali Khamenei, has struggled to maintain. But the people in Iran have refused to be silenced, particularly one year after twenty-two-year-old Kurdish-Iranian Mahsa Jina Amini died at the hands of the so-called morality police for allegedly violating mandatory hijab. Since her death, Iranians continue to call for the Islamic Republic's demise.
Here are three open letters from women in Iran who have risked arrest, torture, and even jail to share their vision of a better future for their motherland. Their first names have been changed out of consideration for their safety.
From the day Jina was killed, the Kurdish city of Saqqez [her hometown in northwestern Iran] was brimming with rage. The city was blanketed with the smell of fire and blood, but hope was also galloping among us. A year has passed since those days—a year in which we shed tears of blood over the killing of our people and died with each of them.
I was among the sea of protesters the day my people marked the fortieth day since Jina's passing—a day that I will never forget; a day I felt freedom closest to home; a day when security forces blocked the roads on our land but were waved aside with the glory of unity. I expect a day as glorious as that on the anniversary of Jina's killing, but this time everywhere in Iran.
Only a few days are left until the anniversary—a day we chanted "Woman, Life, Freedom"; a day that I vowed to be a daughter of Jina's revolution.
To me, Jina's anniversary is a day of hope—a day when I can tell myself, "the suffering will be over soon."
I won't forget the days when everything was painted in colors of revolution; when headscarves were burning in bonfires; when walls of the city were scribbled with slogans; when the rage that we had swallowed for years turned into chants of Woman, Life, Freedom from every corner of Iran; and, yes, when families waited outside regime jails—a pain that continues until this day.
But we are no longer afraid. It is them [the regime] who are afraid—fearful of Jina's anniversary, of us, and of the faithful day of liberty. They know well that there will be no turning back. There will be no way to undo the changes sowed. We will not forget our martyred youth, our friends who still breathe, and the suffering of our people.
The regime is afraid of the spark of hope we have preserved in our chests. And, yes, as a Kurdish woman, I have not lost hope despite all the distress I have suffered and all the loved ones I have lost. We will never put back on the headscarves we burnt. We will keep fighting for all the dreams they took from us.
—Hataw, twenty-one-year-old, a Kurdish woman from northwestern Kurdistan province
---
A clear memory from my early childhood is watching the news about the suppression of the 2009 [post-election protests known as the] Green Movement on satellite television. Last year, I was on the streets participating in the Woman, Life, Freedom uprising, experiencing the crackdown firsthand and feeling the pain of oppression in my bones.
I participated in the protests, hoping that, after the Islamic Republic's fall, I would no longer have to risk arrest and torture and fear for my life just for being a trans activist.
I participated in the protests to end the economy's collapse, so I would no longer struggle to make ends meet. I participated in the protests, dreaming of a tomorrow where I could freely fight for my rights and the rights of my people.
But we faced a violent crackdown, and now we are being suffocated by regime oppression, economic collapse, and cultural strife, including rampant queerphobia.
I am writing this to you while most online censorship circumvention tools (VPNs) have been rendered useless thanks to a regime crackdown. On multiple occasions over the past year, we have even faced total internet shutdowns, which is all part of the Islamic Republic's strategy to cut access to the Internet.
Over the past years, whenever street protests have surged, the regime has imposed total internet shutdowns, cutting all links between people within Iran's borders and the outside world. Internet shutdowns deprive the people of the right to tell the story of their lives under the Islamic Republic's oppression and document the extent of regime suppression.
Marginalized people like me—including women, transgender people, religious minorities especially followers of the Baha'i faith, disabled members of the LGBTQI community, oppressed ethnic groups, dissidents, and environmental activists—are affected even worse by Internet shutdowns when compared to the rest of the society, since online spaces are the last pockets of freedom that we have access to—pockets of freedom where we can express ourselves and participate in political and social discourse.
Following the protests, the Islamic Republic has imposed absolute political repression. It has jailed all critics, protestors, and dissidents, keeping them in conditions in stark violation of basic human rights.
Over the past year alone, many people have died in regime detention due to inhumane prison conditions, dozens of children and teenagers have been killed in the streets, and hundreds of activists and journalists have been arrested and imprisoned multiple times.
At the same time, discriminatory policies are being implemented in the fields of gender, ecology, and economics, which cause serious and sometimes irreversible damage.
All of this shows how urgently voices from Iran need to be heard by the international community. Under the harshest conditions and facing violent suppression, people in Iran have not relented and are still fighting against the Islamic Republic. With eyes set on equality and liberty, we are preserving the flame of hope for a better future after the regime's fall.
As a member of this community struggling with political suffocation and as a trans woman fighting against trans misogyny, I proclaim to the world that this regime is as illegitimate as any other totalitarian regime.
The people of Iran want to overthrow this regime. If you believe in freedom, equality, and human rights, remember that this regime stands against these values.
Any negotiation with the leaders of this regime is a negotiation with our murderers and jailers. Hear the voice of the Iranian people.
—Darya, twenty-five-year-old, a trans woman from southwest Fars province
---
I wasn't much older than Mahsa Jina Amini when I was violently arrested by the morality police and threatened with rape by prison guards just because I wore a long skirt. I could easily imagine the same thing happening to me the day Jina was killed.
I, just like millions of others in Iran, have decided to stand for Woman, Life, Freedom.
It's been almost a year since the first protest on Jina's burial day on September 17. And we are still standing for what we believe are our innate rights.
The young population of Iran is not even close to what the state wants us to be: we are loud and fearless and demand equality, freedom, secularism, and democracy.
We leave our headscarves at home in closets where they belong. We dance on the streets. We kiss our partners in public. We enjoy each other's company regardless of gender, sexual orientation, race, religion, and beliefs. And we cry and care for the ecosystem, which Mullahs are destroying every day.
During the protests, I was beaten up and arrested by police forces almost a year ago just because they didn't like the way I looked at them. In detention, I witnessed what happens behind the closed doors of the regime's prisons and how powerful and fearless my people are behind those doors.
I saw kids as young as twelve being tortured for singing "Baraye" (For the sake of)—a song by [Iran-based singer] Shervin Hajipour that has turned into the anthem of the protests—on the streets. I saw jailed women almost dying because they were denied medical care. But, even in those situations, they were dancing and singing "Bella Ciao" [the Italian anti-fascist song]—a hymn to our certain victory.
I strongly believe that the Woman, Life, Freedom uprising is the beginning of the end for the Islamic Republic. We, the young population of Iran, have had a taste of a free and fair world. By no means are we going to stand back and surrender. We will be victorious.
—Dorsa, twenty-six-year-old, a woman from north-central Qom province

Khosro Sayeh Isfahani is an advocate, journalist, and Internet researcher with years of experience working in Iran, including work related to the LGBTQI community.
Further reading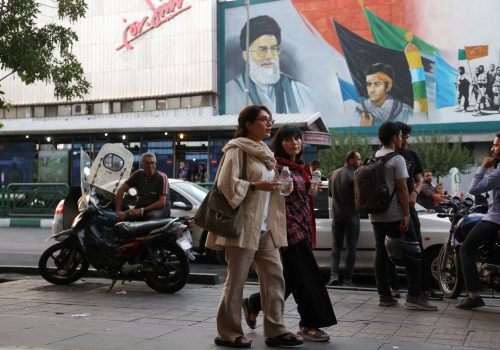 Tue, Aug 15, 2023
IranSource By Khosro Sayeh Isfahani
"I will not return to that cage. I will not bow before bondage."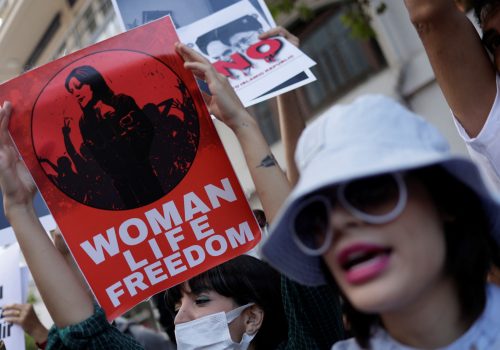 Thu, Sep 7, 2023
IranSource By Jack A. Goldstone
To draw in the majority of Iranians, the protests in Iran need to have a leader or organization that people trust.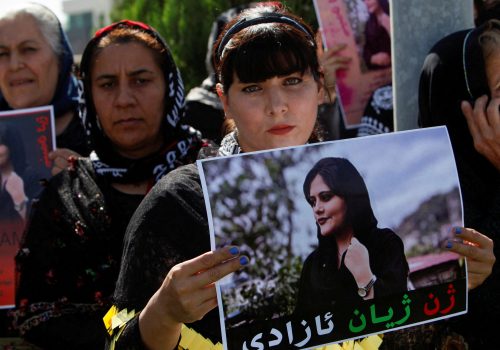 Wed, Sep 6, 2023
IranSource By Khosro Sayeh Isfahani
Over the past weeks, the Islamic Republic has harassed, threatened, detained, and exiled relatives of the victims of state violence.