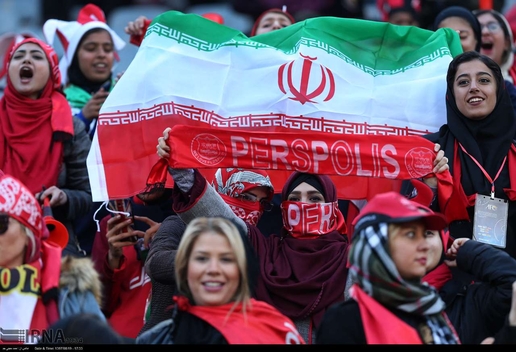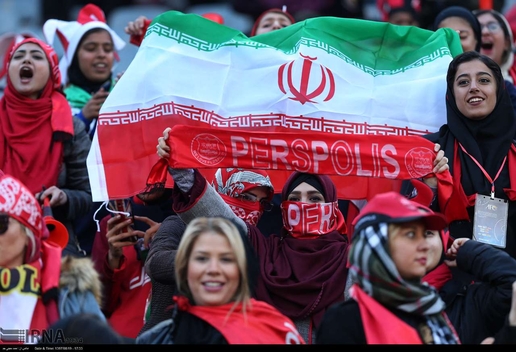 In a country where football was traditionally seen as a man's sport, I was a passionate football fan. For Iranians, it was considered not just strange but taboo that a young Iranian girl be into football the way I was while growing up.
It hurt whenever people mocked me, "Girls know nothing about football, they just love footballers." But nothing could stop me and many other Iranian girls from following sports in the newspapers and football matches on television.

I remember when Team Melli—Iran's national football team—was on the path to the 1998 World Cup in France, we were crazy about them. I was only a teenager back then and Iranians had just elected reformist President Mohammad Khatami. It was a sign that the atmosphere of our country was changing.
When Team Melli returned to Iran after a qualification match, they went to Azadi stadium for a ceremony. Passionate male and female football fans greeted them. Security forces were taken aback by the presence of women and didn't know what to do. They couldn't stop the women and after a call from the president's office, the security forces allowed women enter Tehran's forbidden temple for the first time after the 1979 revolution.
Images from Azadi stadium that day awakened many female fans. Iranian girls started to play football and soon club after club started opening for women—yet we still couldn't watch a football match.
Then Iran qualified for the World Cup for the first time in decades. I remember when we took to the streets to celebrate. Up until then, I couldn't remember Iranians being happier than that day.
For us children of the revolution—those born during or after the 1979 revolution—it was first time that we felt a nationwide happiness and glory because of Team Melli. Yet, every time there was a football match in Iran, my heart would hurt and I'd ask myself, "Why can't I go to stadium and watch a game?"
Then in 2004, there was a friendly between Iran and Germany. It was one of those matches that you know will never happen again. A few female journalists stood outside of Azadi stadium because they wanted to watch the game. German passport-holding women were allowed to watch the match, but Iranian women in their own country couldn't enter the stadium and were beaten by security forces. This habit continued any time Team Melli had a home match.
Under Khatami's presidency, women's rights groups flourished. It was also a time when the internet and blogs became a popular tool for Iranians. In 2005, activists used their online presence to campaign for Iranian women to be allowed in Azadi stadium to watch Iran's final World Cup qualification match against Bahrain.
Despite the police presence, Iranian women came prepared with banners, slogans and white scarves. It was the run-up to the 2005 presidential election and the sport minister Mahmoud Soltanifar was one of the candidates. He wanted to win support, so Soltanifar brought some female actresses to the stadium, yet ordinary Iranian women were outside and being beaten by security forces once again. A woman's leg was broken, which didn't look good in front of all the foreign journalists who were present to cover the qualification match. Eventually, security forces gave in and allowed the women to enter—the first time to watch a match under the Islamic Republic.
We were so happy after that. We thought that was a first big step and if we push for more, the Iranian government would open stadiums for everyone.
But it never happened. For another two matches, women protested in front of Azadi stadium and weren't allowed to enter.
A few months before Mahmoud Ahmadinejad ended his first year of presidency, he announced that stadiums will be open to women. We were worried because suddenly Ahmadinejad showed interest and wanted to take the credit. We were also concerned with the reactions. Soon after the announcement, Supreme Leader Ayatollah Ali Khamenei said stadiums are not suitable for women.
Now we were in a conundrum. When women went to protest a match, they were disobeying the Supreme Leader's order. After Team Melli's match against Bosnia in 2006, which ended in the brutal beating of female protesters, it made the protesters rethink ways to protest against the stadium ban. They chose the name "White Scarves" because they wrote their slogan—half of Azadi (freedom) is my share—on their white scarves so police couldn't rip them up like banners.
The White Scarves started collecting evidence of the women's ban and sent it to FIFA and the Asian Football Confederation in order to bring attention to international sport organizations and their own statutes. The group also published articles online because discussing about women entering stadiums in state newspapers was forbidden.
We also sought to talk to clerics because they were strong opponents of women entering stadiums. They argued that watching half-naked men in stadiums is forbidden for women. We thought perhaps if we provided evidence we could convince the clerics but they didn't accept us.
Over the years, stories have emerged of girls who dressed like men and passed security to watch the matches. There was even a famous movie made about it in 2006 called, "Offside." When the 2009 post-election protests known as the Green Movement kicked off, there was a crackdown on civil society. Most White Scarves activists left the country, while others went back to being silent again. They couldn't even discuss the ban because of all the other problems that activists and Iranians were going through.
After those gloomy years, it wasn't until FIFA President Sepp Blatter visited Tehran in 2013 that we reached out and raised the issue. Blatter ended up mentioning it during his meeting with President Hassan Rouhani. The president was hopeful that Iran would end the ban. But less than year later, the government banned women from volleyball and basketball matches, which were once seen as an example of how families could be in stadiums.
It wasn't until the 2018 World Cup in Russia that the stadium ban received attention again and made headlines around the world. Journalists wrote about the women's ban and how Team Melli was the only World Cup team whose female citizens couldn't watch matches in their home country.
It's believed that the negative media attention surrounding Team Melli caused some internal debates between parliament, the Sport Ministry, and the Islamic Revolutionary Guard Corps. After Iran played against Spain during the World Cup, rumors circulated that the government was setting up a big screen in Azadi stadium.
Iranian authorities denied the rumors, but it didn't stop female fans from going to Azadi stadium with their families. After much back and forth, the gates were opened and the most amazing photos and videos were shared on social media of men and women cheering Iran together as they watched on a big screen. This happened again for Iran's last World Cup match against Portugal.
Since the World Cup, a couple of matches have allowed Iranian women to enter stadiums, including in October when 100 women watched a friendly between Iran and Bolivia. Then on November 10, some 800 Iranian women watched the Asia Champions League final in Tehran. It's a testament to how far we have come.
Looking back, the main achievement of the Open Stadiums campaign was to educate and bring awareness to the Iranian people. Now Iranians don't make fun of female football fans and the stadium campaign has many advocates who learned that it's a women's absolute right to watch male sporting matches.
Open Stadiums is a movement of Iranian women seeking to end discrimination and let women enter stadiums. Follow them on Twitter: @OpenStadiums.