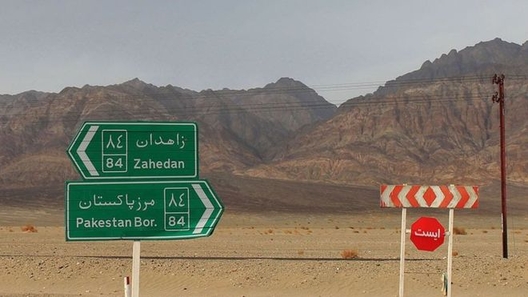 A recent abduction of border security forces along the Iran-Pakistan border in southeastern Sistan and Baluchistan province is testing Iran-Pakistan relations.
Iran has suggested that Saudi Arabia was behind the abduction, which it believes was aimed at sabotaging its relationship with Islamabad. Pakistan needs Saudi money more than ever as it struggles economically. So just how resilient are Iran-Pakistan ties?

Iran says "infiltrators" facilitated the abduction of fourteen members of its border security forces—two of whom were members of the Islamic Revolutionary Guards Corps (IRGC) —on October 16. The armed group Jaish al-Adl, an al-Qaeda affiliate, is believed to be behind the incident.
A Pakistani Foreign Office statement on October 17 quoted Foreign Minister Shah Mahmood Qureshi as saying, "Such incidents [abductions at the border] are the handiwork of our common enemies [who are] unhappy with the existing close friendly relations between Pakistan and Iran."
He did not elaborate on who those "common enemies" might be. But General Mohammad Pakpour, commander of IRGC ground forces, blamed "terrorist-trainer countries in the region" for hiring, assigning and supporting terrorists, an apparent reference to Saudi Arabia and the United Arab Emirates (UAE), Iran's chief regional foes. General Pakpour said a "third party" aims to sabotage Iran-Pakistan relations and therefore, "we have to be alert to prevent their success."
Saudi Arabia is not shy about supporting Iranian separatists and fomenting ethnic tensions in certain regions of Iran, which it accuses of exploiting grievances among Arab Shiite populations. A London-based TV station that broadcasts into Iran and is reported to be funded by a Saudi businessman close to Crown Prince Mohammad bin Salman sparked an uproar recently when it gave air time to separatist groups, including the spokesperson for the National Liberation Movement of Ahwaz. The spokesman defended a September terrorist attack on a military parade in the Iranian city of Ahvaz that killed more than two dozen people. Some have questioned whether the recent border abductions were a Saudi-supported operation, as General Pakpour said, aimed at weakening Iran-Pakistan relations. But no evidence has been given.
Pakistan currently finds itself in a deep financial crisis. Prime Minister Imran Khan, who entered office in August, inherited what he called "a very difficult economic situation."
Since 2017, the Trump administration has suspended hundreds of millions of dollars of military aid to Pakistan, in retaliation for what it says is Islamabad's sheltering and support for terrorists in Afghanistan and India. Pakistan has turned to the International Monetary Fund (IMF) for $12 billon to prevent an economic implosion.
There is concern, including from the United States, that Pakistan may use an IMF bailout to service its debt to China for more than $60 billion worth of infrastructure projects as part of a China-Pakistan Economic Corridor (CPEC). The average annual repayment to CPEC is estimated to be $3 billion.
Khan said he has admiration for "China's phenomenal achievements" in fighting poverty and corruption and is counting on Saudi Arabia to reduce the sum Pakistan needs to borrow from the IMF.
Meanwhile, the UAE may be considering a $6 billion package to Pakistan, which could make the IMF bailout even smaller. At the Saudi investment conference in Riyadh on October 23, a memorandum of understanding was signed between Pakistan and Saudi Arabia for a $6 billion deposit from the Kingdom and deferred payments for oil imports. The summit was boycotted by many prominent figures over the brutal murder of Saudi journalist Jamal Khashoggi. But Prime Minister Khan was there, signifying that Pakistan isn't in a position to confront Saudi Arabia.
This isn't the first time an Arab ally of Pakistan expected Islamabad's loyalty in return for financial support. The Saudis were unhappy when Pakistan refused to be part of the coalition fighting in Yemen, and the UAE even threatened it with punishment. Foreign Affairs Minister Qureshi has said the Saudis made no demands in return for the $6 billion loan. But what choice would Pakistan have, if there were demands?
However, Pakistan also has to pay attention to its neighbor, Iran. Tehran was unhappy when Pakistan's former army chief, General Raheel Sharif, was appointed to lead the Saudi-organized Islamic Military Alliance to Fight Terrorism in 2017. Iran has in the past accused "elements" within the Pakistani military and Inter-Services Intelligence agency of supporting or going easy on insurgents infiltrating the Iran-Pakistan border.
Unlike Saudi Arabia and the UAE, Iran is not a source of billions of dollars of remittances for Pakistan, an essential contribution to the Pakistani economy. But the security of the Iran-Pakistan border has long been a source of comfort for Pakistan. Iran has, however, threatened to enter Pakistani territory if the Pakistani government doesn't prevent terrorist attacks on Iran. Tensions rose in June 2017 when an unmanned Iranian drone went down deep inside Pakistani airspace.
While Iran and Pakistan both supported the campaign against the Soviet invasion of Afghanistan in the 1980s, their priorities have diverged over the years. Pakistan remains focused on India and Afghanistan. Iran worries more about the Persian Gulf. Still, Iran's national security requires that it keep a stable relationship with nuclear-armed Pakistan, with which it shares a 900-kilometer border.
Pakistan has had trouble reconciling the interests of Iran and Saudi Arabia. A gas pipeline—the so-called "Peace Pipeline" that would transfer Iranian natural gas to some parts of Pakistan in dire need of energy—was halted due to objections from the United States and Saudi Arabia. It would benefit Pakistan if Riyadh and Tehran could find common ground. Hopes that Pakistan might be able to mediate between Iran and Saudi Arabia are fading, however, given Pakistan's financial troubles and dependence on Saudi assistance.
Iran's Arab neighbors are believed to be major funders of insurgency groups in the border regions of Iran, including Baluchistan. More insurgency in the highly volatile region could have a devastating effect on both Iran and Pakistan.
Both Iran and Pakistan are in deep trouble, socially and economically. Both are confronting US attempts to isolate them. Pakistan is prone to insurgency, terrorist attacks and ethnic tensions. Iran is facing renewed draconian sanctions on its oil industry and banks and rising domestic discontent. More than ever, they need stable relations, but external players may make that harder than ever to achieve.
Fatemeh Aman is a nonresident fellow in the Atlantic Council's South Asia Center. Follow her on Twitter @FatemehAman.