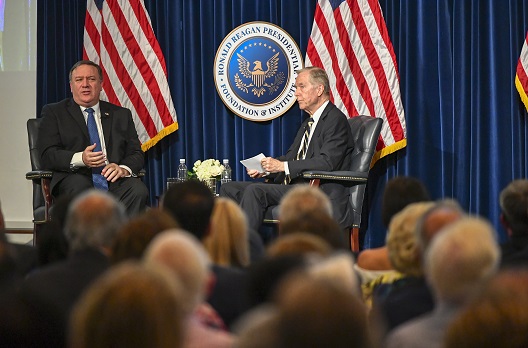 On July 22, US Secretary of State Mike Pompeo addressed an audience that included many members of the Iranian diaspora. The speech focused on the Iranian regime as a danger to its own people and to US interests—kleptocratic, terroristic, and totalitarian. The accusations were specific and the language was strong which could indicate a harsh new anti-Iran policy, especially given the broader context of the US administration's belligerence toward Iran. Secretary Pompeo's speech was followed shortly by US President Donald Trump's social media threats directed at the Iranian leadership.
Given this harsh rhetoric on Iran and the demands that it withdraw from Syria and end support for Hezbollah among other capitulations, it is unclear whether this language is meant to deter. It could also signal the start of a meaningful anti-Iranian pushback after eight years of de-escalation under the Obama Administration. However, this approach does not meet the criteria for effective deterrence, and there is no sign of a robust rollback strategy. Instead, it just looks confusing.

To be clear, Pompeo's characterization of the Iranian regime is largely accurate. This author also does not see 'regime change'—which, if we are to be honest, is what US demands amount to—as taboo. It is a policy goal that should be judged on the merits of the strategy employed and a cost-benefit analysis. Rather, there is a worrying tendency for the United States to define the Iran problem in a matter that highlights the urgency of confrontation, boast about its own capabilities, make demands amounting to regime change, and issue threats (including public ones)—all of which amount to the so-called 'roll back' strategy—without backing these up with effective policy.
Insofar as he alluded to specific US action, Secretary Pompeo announced:
The re-imposition of sanctions on Iran's banking and energy sectors
The terrorist designation of the Bahraini Shia militia organization Saraya al-Ashtar
The disruption of a currency exchange network transferring millions of dollars to the IRGC
The launching of a new 24/7 Farsi-language TV channel
Constantly raising concerns over the Islamic Republic's dire record of human rights abuses each time we speak at the UN
Of course, these measures are merely the ones Secretary Pompeo chose to make public. But they indicate a broader strategy that relies heavily on economical, legal, and public diplomacy measures. These are simply not enough to meaningfully change Iranian behavior. These measures ignore key Iranian equities that must be targeted as part of any strategy that matches the aggression in administration rhetoric.
Read the rest on the SyriaSource blog.
Faysal Itani is a Resident Senior Fellow at the Rafik Hariri Center for the Middle East.