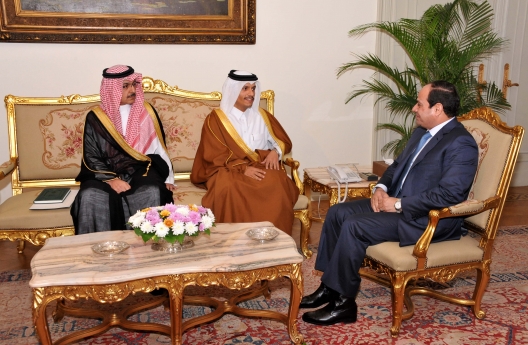 Chances for reconciliation between Egypt and Qatar have faded quickly amid renewed charges in Cairo that the oil-rich Gulf state is back to its regular policy of supporting the currently outlawed Muslim Brotherhood group. Egypt has gone so far as to accuse Qatar of supporting the recent terrorist attacks against the army in Sinai.
Reports on an expected downfall in already thorny relations between Egypt and Qatar surfaced only hours following the death of late Saudi King Abdullah on January 23. Egypt-Qatar relations soured in July 2013 with Doha's opposition to the army's forced removal of former President and Muslim Brotherhood Mohamed Morsi. The late Saudi King had personally sponsored a reconciliation initiative between Egypt and Qatar shortly before his death, hoping to unite Arab ranks against growing threats by extremist terrorist organizations in the region—namely in Syria, Iraq and Libya.
Egyptian President Abdel-Fattah al-Sisi couldn't reject the late Saudi King's initiative, considering the tremendous political and financial support he provided after Morsi's removal. Saudi Arabia had practically replaced the funding that Qatar offered to the former Muslim Brotherhood regime during their short one year in power. With Qatar asking Egypt to return a $6 billion loan, Saudi Arabia, the United Arab Emirates, and Kuwait provided over $20 billion to keep Egypt's economy afloat, and supplied much needed oil and gas imports.
Soon after Abdullah announced his initiative, a member of the Qatari ruling family, accompanied by former Chief of the Saudi Royal Court, Khaled Tuwaijri, visited Cairo in December to meet with Sisi. Cairo also announced that it planned to invite Qatar's ruler, Sheikh Tamim bin Hamad al-Thani, to the major economic conference it plans to hold in Sharm al-Sheikh in March.
However, the most significant step Doha took to prove its serious intentions to mend ties with Cairo was the closure of Al-Jazeera's Egypt-specific channel, Al-Jazeera Mubasher Misr. While the mainstream Al Jazeera Arabic channel is known in the region for its support of the Muslim Brotherhood and political Islamic groups, the Egypt-focused channel has faced accusations of being a mouthpiece for the Muslim Brotherhood, even from within its own staff. The channel often hosted speakers who either welcomed or justified the terrorist attacks taking place in Egypt since Morsi's ouster. The Brotherhood also launched several other satellite television channels based in Turkey, allegedly with Qatari funding. Qatar has, however, always claimed that its most influential propaganda tool, the Al-Jazeera network, has no relation to the Qatari government, and that it had its own "independent editorial policy." That was clearly not the case when the channel was yanked off the air, in a matter of hours following the meeting between Sisi and the Qatari top-level envoy.
As soon as Abdullah passed away, however, the new King Salman Abdel-Aziz, removed the Chief of the Royal Court, Tuwaijri, and western reports noted that Riyadh might be heading towards cooler relations, and less support for Cairo.
As Egypt marked the fourth anniversary of the 25 January revolution against former President and long-time dictator Hosni Mubarak, it wasn't difficult to miss the shift in Al-Jazeera coverage. The satellite channel provided wide coverage of the numerous protests that took place, in which twenty-seven people, mostly Brotherhood supporters, were killed in clashes with riot police.
However, the straw that broke the camel's back came when Al-Jazeera was the first channel to air pictures of simultaneous terrorist attacks on January 29 in which more than thirty army and police officers were killed. Several Egyptian media outlets claimed Al-Jazeera aired live video of the attacks as they were taking place. While Al-Jazeera refuted the claims, it was not seen as a coincidence in Cairo that it was the first to air videos of shells launched by Ansar Bayt al-Maqdis (ABM) against army and police camps and installations in al-Arish and other cities in Northern Sinai. While ABM was quick to claim responsibility for the attacks, Sisi placed the blame on the Muslim Brotherhood, saying that the attacks were funded by a foreign country.
In the wake of the Sinai attacks, Foreign Minister Sameh Shoukri said, "Anyone who followed Al-Jazeera's coverage of Egypt will have serious doubts that Qatar truly wants to improve ties with Egypt." He added, "Egypt had always showed good intentions towards its Arab neighbors, and avoided offending anyone. Nevertheless, we will continue working to fulfill the demands of our people, and will not be influenced by such coverage Al-Jazeera provides."
Attacks against Qatar in privately-owned, as well as state-run media, are back in full force, mocking its young leader and renewing charges that Doha supports terrorist organizations throughout the region. When a new Qatari-funded, London-based satellite channel, Al-Arabi Al-Jadid, put up billboards in Cairo last week announcing its launch on January 25, several prominent presenters in local channels expressed shock, and accused Qatar of attempting to replace Al Jazeera Mubasher Misr with a new channel. Local municipality officials in areas where the billboards were placed immediately had them removed. Also accused of Brotherhood bias, Al-Arabi al-Jadid's CEO is a former member of the organization, while the director, Ahmed Zein, is the former head of Al Jazeera Mubasher Misr.
Egyptian officials were also keen to stress that the release of an Australian journalist, Peter Greste, who worked for Al-Jazeera's English satellite channel on Sunday was not linked at all to relations with Qatar, but more out of a desire to improve ties with Australia. Greste was arrested with two other journalists, Mohamed Fahmy and Baher Mohamed, who worked for Al-Jazeera English in December 2013 and charged with conspiring with the Brotherhood to threaten stability in Egypt. Following the verdict, Fahmy's lawyers conceded that the three journalists were victims of deteriorating relations between Egypt and Qatar. His family also insisted on hiring their own lawyers, refusing those hired by Al-Jazeera.
As part of the renewed escalation in attacks against Qatar, the head of Egypt's state-owned television, Essam al-Ameer, announced this week that he would fire any employee who was on unpaid leave and went to work for Al-Jazeera in Qatar. The leader of the well-known Tamarod movement, Mahmoud Badr, also announced he would organize a peaceful march in front of the Qatari embassy in Cairo on Friday, 6 February, to denounce Doha's "support for Muslim Brotherhood terrorism."
As the new Saudi King is busy putting his house in order, the Egyptian-Qatari reconciliation does not seem to be a priority for Riyadh. It is unlikely any major changes will be seen in the Egypt-Qatar relations, as the rapid deterioration in relations between Cairo and Doha as soon as King Abdullah passed away reflects that neither side was never really genuine in the desire to mend the strained ties.
Khaled Dawoud is currently Assistant Editor-in-Chief of Al-Ahram Weekly, an English language weekly published by Egypt's oldest news establishment, Al-Ahram. He is also the official spokesman of social-liberal Al-Dostour Party established by Nobel Peace Prize Winner Dr. Mohamed ElBaradei.