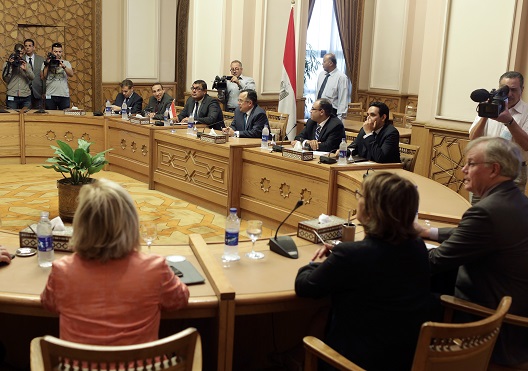 The two major international election observation delegations present for the 2014 Egyptian presidential election, the European Union's Election Observer Mission (EUEOM) and the US-based Democracy International (DI), released their preliminary statements at press conferences in Cairo today, May 29, the day after the polls closed. Both groups plan to prepare a final report in the coming weeks.
For the vote, the EUEOM fielded more than 150 international observers in twenty-six of Egypt's twenty-seven governorates. DI fielded eighty-six international observers in all but two of the governorates. DI delegates observed only the originally-scheduled two days of voting, May 26 and 27; the EUEOM delegation also observed the third day of balloting on May 28, which the Presidential Election Commission (PEC) announced late on May 27 in a controversial decision that was widely seen as an effort to boost turnout numbers, initially reported to be low. The EUEOM noted that obstruction of equipment by Egyptian customs officials in April and May prevented it from carrying out long-term observation as originally planned.
Both statements note that significant restrictions on rights and freedoms negatively affected the electoral environment. Overall, the EUEOM preliminary report strikes a relatively more positive tone than that of DI, evident most immediately in the title of each group's statement.
EUEOM: "Presidential election administered in line with the law, in an environment falling short of constitutional principles" (العربية)
Excerpts: "While the new Constitution sets out a wide-ranging catalogue of fundamental rights, the respect for these rights falls short of these constitutional principles. Freedoms of association, assembly and expression are areas of concern, including in the context of this election."
"With limited space for dissenting voices and activities of civil society organizations often restricted or harassed, scattered protests by diverse groups continue…. There was a general climate of limited freedom of expression, reportedly resulting also in self-censorship of journalists."
On the issue of extending voting to a third day: "While the PEC administered the election professionally and overall in line with the law, in the late afternoon on 27 May, it decided to extend voting for a third day, contrary to earlier statements. This unpredictable act of the PEC, while not against the law, caused unnecessary uncertainty in the electoral process. Both candidates appealed against the extension and both appeals were expeditiously rejected."
On the issue of turnout, the EU statement reported preliminary turnout numbers provided by the PEC ("47.3 percent at the time of writing") but without comment on the reliability of the data. DI's statement did not refer to turnout levels.
In contrast to the more cautious assessment offered in their statement, the head of the EUEOM delegation was reported in the Egyptian press to have said the vote was held in a "democratic and free" environment, stating that the media provided "fair" coverage space for both contenders. The delegation head added, however, that "our work is only to observe, not to give an assessment."
DI: "Disregard for Egyptians' Rights and Freedoms Prevents Genuine, Democratic Presidential Election"
Excerpts: "Democracy International has serious concerns about the repressive political environment in which this election took place. A robust electoral process requires freedom of assembly and association as well as the right to peacefully express diverse political views. Although Egypt's constitution provides for these rights and freedoms, suppression of dissent has severely compromised the broader electoral environment and undermined possibilities for free political participation."
"Specifically, the protest law adopted in November 2013 severely restricts public gatherings through burdensome notice and permission requirements and disproportionate penalties that have curbed peaceful public assembly and expression. Selective application of the law, systematic suppression of opposition protests, and rapid escalation of force by security forces have discouraged participation in the political process."
"Citizen enthusiasm was dampened by the widespread perception that this election was not meaningful and that its results were predetermined."
On the decision to extend voting to a third day, DI's statement was strongly critical. "Throughout this election process, both state and private media have engaged in a relentless campaign to bolster turnout, often equating abstention with treason and stigmatizing those with opinions differing from the state narrative. DI found no impediments to voting that would justify the decision of the Presidential Election Commission late on the second election day to extend voting for a third day. As Democracy International said in a statement on May 28, last-minute decisions about important election procedures, such as the decision to extend polling by an additional day, should be made only in extraordinary circumstances."