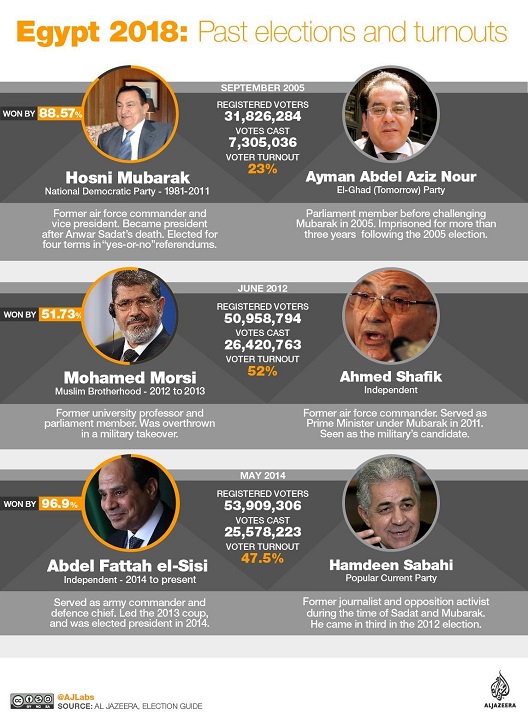 Polls opened at 9am local time on Monday, March 26th, in the first of three days of expected voting for the next president of Egypt. With Abel-Fattah El-Sisi projected to win against his only challenger, Moussa Moustafa Moussa from the al-Ghad Party, the incumbent government is pushing for the highest possible voter turnout to bolster the legitimacy of the election – Egypt's third since its 2011 revolution. This will prove to be a challenge, however, as Sisi's victory is so safely secured that he hardly campaigned, and "it is viewed by many in Egypt as a referendum rather than an election," according to Egypt expert Mirette Mabrouk.

Since 2005, elections in Egypt have been contentious. Below is a brief overview of the past three elections courtesy of al-Jazeera.


Click to enlarge photo.
Follow our Twitter Moment on the Egyptian elections here.
Day 1: Monday, March 26
Polls have opened in Egypt's presidential election. Incumbent President Abdel Fattah el-Sisi is expected to win, with only one other candidate, Mousa Mostafa Mousa, remaining in the race https://t.co/CfqYWX94px pic.twitter.com/CgDFsI8buY

— CNN International (@cnni) March 26, 2018
Special military and police forces have been stationed at polls across the country to ensure voters' security

Incumbent president Sisi has cast his vote shortly after the opening of the polls 3:00am EST
High-profile votes from Coptic Pope Tawadros II and Prime Minister Sherif Ismail have been cast 4:30am EST
Egypt's incumbent president Abdel Fattah al-Sisi, has cast his vote in an election which is widely expected to return him to power.

Incumbent President Abdel Fattah al-Sisi is widely expected to return to power.

Read more: https://t.co/hwGHMqG1dN pic.twitter.com/XJ64mjL6px

— euronews (@euronews) March 26, 2018
The National Election Authority has released a hotline number to field voters' concerns and reports during the ongoing election 5:20am EST
Women and senior citizens have shown significant turnout during the first morning of voting
Both of Egypt's Presidential candidates have cast their votes in #EgyptElection2018! Ghad Party chairperson Moussa Mostafa Moussa cast his ballot at Abdeen High School's polling station in central Cairo; President @AlsisiOfficial also voted this morning: pic.twitter.com/mAx4qGWFc5

— Embassy of Egypt USA (@EgyptEmbassyUSA) March 26, 2018
"The act of voting for a president who could, ostensibly, be voted out was a novelty. Hosni Mubarak served five six-year terms before stepping down in February of 2011, and Egyptians were keen on taking advantage of their new rights. This election, however, is likely to see a low turnout at the polls." Read more of Mirette Mabrouk's analysis of the election in her article 'The President's Scorecard' on MENASource.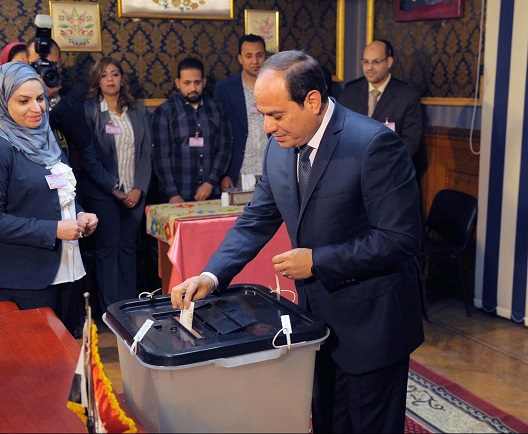 Prime Minister Sherif Ismail publicly stated on Monday that only the National Elections Authority (NEA) was responsible for the electoral process and did not face interference from the state. 11:00am EST
Ali Haridi, chief of the Egyptian cabinet's operations room, has said that as of Monday there has been "moderate turnout" for the presidential elections.
#AMAY | No sanctions on Egyptians choosing not to vote in elections: officialhttps://t.co/uLU5DkDzvD

— Egypt Independent (@EgyIndependent) March 26, 2018
Parliament Speaker Ali Abdel Aal denied rumors that citizens would be sanctioned if they choose not to participate in presidential elections. The rumor claimed that people who choose not to cast their ballots for a "non-compelling excuse" would be subjected to a fine.
One head of a polling station in Beni Seif interviewed on @CBC_Extra said turnout thus far about 10% and the largest turnout has been from seniors and women which we'd expect

— Timothy E Kaldas (@tekaldas) March 26, 2018
#Egypt's presidential "election" is going on now. Here's our quick synopsis of how serious challengers to current President Abdel Fattah al-Sisi were forced out of the race: https://t.co/mDdIndrHUA pic.twitter.com/gVdlipltra

— POMED (@POMED) March 26, 2018
Polls closed at 9pm local time on Monday, March 26th, with low voter turnout reported throughout the evening.
Day 2: Tuesday, March 27
Follwing low to moderate voter turnout on Monday, voting got off to a slow start on the second day of Egypt's presidential elections. Authorities continue to encourage people to show up to polling stations in high numbers, while opposition groups have called for a boycott of the elections. Election monitoring bodies have estimated that of the 59 million eligible voters, only 13.5 percent showed up to the polls on Monday. While it is unlikely that that rate will remain consistent through Tuesday and Wednesday, if replicated, overall voter turnout would close at 40 percent.
As the presidential elections kicked off in #Egypt, the Egyptian Cabinet's Information and Decision Support Center rebuffed seven rumors that have preoccupied the public and the media #EgyptElection2018 @walaahuseen https://t.co/PekI3nR2jK

— Al-Monitor (@AlMonitor) March 27, 2018
Day two of #Egypt's presidential elections running smoothly: NEA https://t.co/ePmlsG48bU pic.twitter.com/bldwqcyBTP

— Ahram Online (@ahramonline) March 27, 2018
#AMAY| Egypt's first lady participates during elections in rare public appearance https://t.co/fpAGYrIiYp

— Egypt Independent (@EgyIndependent) March 27, 2018
Officials state today that the highest numbers of votes have been reported at polls in the Cairo, Giza, Alexandria, Qaliubiya, Assiout and Aswan governorates on Monday
Women still showing high turnout on Tuesday compared to other demographics
Egypt election: At this polling station in Cairo's Dokki neighborhood, the judge in charge said roughly 500 of 2,880 eligible voters participated. When we arrived there wasn't a single voter in the place. pic.twitter.com/3s8ETkmPKB

— Jared Raphael Malsin (@jmalsin) March 27, 2018
Update: we saw similar scenes repeated in four other polling stations. The highest turnout reporter at any of them was one third. There's still one day of voting to go.

— Jared Raphael Malsin (@jmalsin) March 27, 2018
In North Sinai some polling stations saw just a single voter, official there said, after ISIS threatened voters and amid ongoing military operations. Elex commission meanwhile said turnout 'very good'
Egyptians in Sinai queue for bread, not ballots https://t.co/dYwWECVXEJ

— Eric Knecht (@EricKnecht) March 27, 2018
"I went to vote because I was waiting in line to pick up bread" being handed out by the army, a school teacher told Reuters by phone from his town of Sheikh Zuweid.
Busy day in Cairo #EgyptElection2018 pic.twitter.com/Mf4KqmrGx1

— Amr Khalifa (@Cairo67Unedited) March 26, 2018

As the election has neared, officials have used a mixture of rewards, bullying and cajoling to boost turnout. This concerted drive has been undertaken by regional governors, community leaders, police, schools, clerics and businessmen, according to interviews conducted by The Associated Press.
Polls closed at 9pm local time on Tuesday, March 27, with officials from the State Information Service (SIS) praising foreign media for their objective reporting

Day 3: Wednesday, March 28
Following disappointingly low voter turnout on Tuesday, Egyptian authorities allocated incentives, such as financial payments and boxes of food, for eligible voters in hopes of attracting higher turnout. Government authorities in certain provinces, such as the governor of the Beheira province, offered to fix basic infrastructure shortfalls for whichever municipality had the largest voter turnout.
Authorities have also issued numerous threats to increase voter turnout. Egypt's state news agency reported that those who boycott the vote would be fined 500 EGP. Board members from the street vendors' union in Cairo were also threatened to ensure that their union members went to the polls, or increased government raids and confiscation of their goods by government officials and police would occur.

It's interesting to see the reasons being:
a) usual 'this is a national duty, shame on you for not fulfilling it',
b) the regular instrumentalisation of religion for partisan politics, so that non-voting becomes sinful (Muslims & Christians)
c) Egypt's international image.

— ??. H.A. ℌ???y?? د.إتش ?? (@hahellyer) March 28, 2018
#عالم_الظهيرة مع @NouranSallamBBC : مراسلتنا في المنوفية سالي نبيل: "حث المواطنين على التصويت عبر مكبرات المساجد، وفرض غرامة على من لا يدلي بصوته، ونسبة الاقبال نحو 20%." pic.twitter.com/taqQ0DBZt6

— BBC Arabic بي بي سي (@BBCArabic) March 28, 2018
Hours before polls close – #Egyptians vote in final day of presidential elections https://t.co/3ruFiPFetg pic.twitter.com/4Ea71Jlu7S

— Ahram Online (@ahramonline) March 28, 2018
An international delegation including US congressmen visiting Egypt to observe the controversial presidential elections were filmed smoking shisha and dancing in the Nile Delta governorate of Monufiya. The election has been dismissed as a sham by opposition leaders and rights groups, and a call for a boycott by the opposition was criticised by government supporters as tantamount to treason… The delegation however reportedly praised the vote.
With major election observation missions staying far away from Sisi's plebiscite, Egypt appears to have recruited a random band of clueless foreigners pic.twitter.com/9FfRYotvW5

— Evan Hill (@evanchill) March 28, 2018
BREAKING: #Egypt's election authority extends voting till 10pm on final day of 2018 presidential elections https://t.co/jPwcxeOnXw #EgyptElection2018 pic.twitter.com/lRtTyXItjB

— Ahram Online (@ahramonline) March 28, 2018
While figures for the third and final day of voting are not yet available, reports indicate that voter turnout has fallen. So far, following only the first two days of voting, voter turnout is estimated to be at about 21 percent, well beneath the 47 percent turnout in 2014.
We will hold media accountable for publishing rumours about election: NEC#Egypt #EgyptElection2018 https://t.co/qWACYXkhBs

— Daily News Egypt (@DailyNewsEgypt) March 28, 2018
Polls have closed at the end of the third day of Egypt's presidential election, bringing all voting to an end. 4:00pm EST

Sisi is still projected to win by an unquestionable margin, but official records of the election's turnout, the real measure of his win, have yet to be released.

Final Results: April 2, 2018
In a widely expected result, President Abdel Fattah al-Sisi won the presidential election and secured another four- year term with 97 percent of the vote.


Sisi's final official margin of victory is 97.08% of valid votes. He received 96.9% of valid votes in 2014. Once again his sole opponent came in 3rd in a two person race as spoiled ballots came in 2nd with over 7% of the vote. https://t.co/vY0b9sFyBB

— Timothy E Kaldas (@tekaldas) April 2, 2018
The U.S. State Department weighs in on Egypt's presidential election: pic.twitter.com/7jqVO50DR4

— Jared Raphael Malsin (@jmalsin) April 2, 2018
Last Updated 1:02pm EST

Audrey Bolus is an intern at the Rafik Hariri Center. Yousuf Eltagouri is an intern at the Rafik Hariri Center. Follow them on Twitter at @audreybolus and @yousufeltagouri