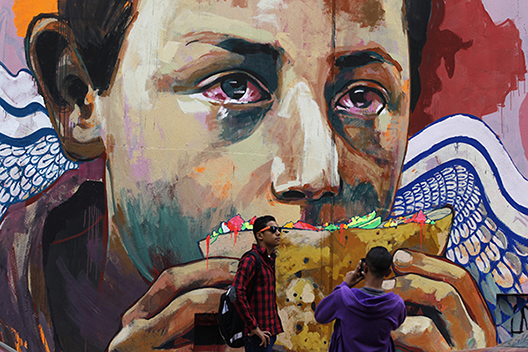 Two-thirds of Egypt's population is under 30, and youth unemployment for 15-24 year-olds is around 42 percent, according to World Bank figures. After the January 2011 revolution, unemployment rose sharply from 9 percent in 2010, reaching 12.7 percent in 2016. Ahmed, a 24-year-old business administration graduate, currently working for a stock trading company in Cairo, says youth want to leave Egypt in search of a better job with a better salary. They want to "get married, start a family, and have a flat and a car," he explains.
Migration figures show that the majority of Egyptian migrants are from among the youth. According to a recently published report by Egypt's statistics agency CAPMAS, based on a 2013 survey, 70 percent of migrants were aged 20-39, and almost exclusively male. The most common reason given for leaving was to improve living standards. The majority of migrants left for other Arab countries, notably Libya and the Gulf, and returned after a few years. Another CAPMAS report showed that over half of Egypt's youth were willing to emigrate due to unemployment.
Amr, a 26-year-old accounting graduate, is overqualified for his job as a security guard. Prior to the revolution, he worked for a bank, but was fired in the wake of the uprising. "In Egypt we don't have options. No option to choose your job," he says. "Every single day of my life I think of leaving Egypt."
Amr worked in the United Arab Emirates for two years, which he describes as the best years of his life. While there, he earned over 10 times his current salary, but his contract was not renewed. He is seriously considering returning and trying to find another job there, but it's a risky venture, and one which requires that he saves enough to travel to the Emirates, and support himself while he searches for a job.
Challenges in the Education System
Ahmed has a different goal for moving abroad: Education. "I have a lot of dreams and goals. In order to achieve these I want to study abroad."
Ahmed has applied for scholarships in the United States, Europe, and Russia. However, with a degree from an Egyptian public university, he says his chances of acceptance are slim. The World Bank lists several challenges facing Egypt's higher education system, among them poor education quality, a lack of opportunities for graduates in the labor market, and under-developed university research capability. Acceptance at a university also does not guarantee a visa, as some applicants have found in past years.
Between 2003 and 2013 the number of Egyptians studying abroad more than doubled from over 9,000 to almost 20,000, according to UN data, but this represents a fraction of the population. In comparison to other countries in the region, Egypt, albeit the most populous country in the Middle East, ranked lowest in 2013 for the percentage of youth studying abroad.
Mahmoud Mostafa, a 26-year-old Egyptian journalist who himself is seeking to study abroad, says that for many Egyptians the challenge lies in properly explaining their research goals. "They struggle to explain how an advanced university degree could help them advance in their professional career, as in Egyptian public universities they are not taught a lot about research methodologies and how to write research papers."
A Lack of Opportunities in Egypt
Ahmed describes the problem in Egypt as a lack of 'hope.' "The revolution renewed hope inside ourselves, but after a year, or two, it became clear Egypt had returned to its old state, and hope was killed." Ahmed believes an 'invisible wall' separates the people from the decision-makers, and for youth it's impossible to break through that wall. "Ministers, managers, people in high positions, are old men without vision for the future," he says, adding that there are no youth in leadership positions.
This feeling of disenfranchisement was reflected in the turnout rate in Egypt's recent elections. During the 2015 parliament elections, local media reported an extremely low turnout, particularly among youth.
Despite that, among the parliamentarians themselves, 54 members are under the age of 35, with the youngest aged 25. In 2011, Egypt's caretaker government reduced the minimum age for parliamentary candidates from 30 to 25, and the current parliamentary elections law stipulated an extremely modest youth quota of 8 in all party lists. More recently, President Abdel Fattah al-Sisi has repeatedly addressed Egyptian youth in his public speeches, even declaring 2016 as the 'year of the youth.' He promised that 20 percent of a total of EGP 200 billion in loans to be given out over the next four years would go to youth. He also ordered the formation of committees to develop national educational curricula.
Among the projects that have already launched is the Knowledge Bank—an online library for academic publications available to all Egyptians providing free access to publications with subscription fees. According to officials, 8 million Egyptians signed up on the day of its launch. The service, however, has been met with mixed reactions, with some saying the money would have been better spent elsewhere.
Illegal and Irregular Migration
Egyptians who have the chance to obtain short-term visas to Europe have increasingly sought to do so. Applications at European Schengen embassies in Egypt show an upward trend over the past five years. In 2010 a total of 127,300 applications for short-term visas were processed, in 2011 the number went down to 121,000, but ever since it has been steadily rising up to almost 157,000 in 2014, according to EU statistics. According to a Dutch embassy official, the 2015 numbers also show an increase.
Further CAPMAS figures dating from 2013 show that around 80 percent of youth who have previously migrated did so without a contract and 68 percent without a work permit.
Ahmed has considered applying for a short term Schengen visa, in the hopes of finding a job in Europe that would allow him to fund his studies without a scholarship. Strict requirements however, including a stable job, a good salary, and a large sum of money in the bank, are in place to avoid these kinds of ventures.
There has also been a slight increase in Egyptians attempting irregular migration across the Mediterranean. According to Heba Abdel-Latif, National Project Coordinator for Egypt at the International Organization for Migration, migration dynamics in Egypt are divided into two main categories. On the one hand, unskilled laborers mainly from Upper Egypt travel to Libya and the Gulf to work, returning after a few years. On the other, there are small numbers of Egyptians choosing the path of irregular migration to Europe.
"It's not a phenomenon yet," she says, as only 4,000 to 5,000 Egyptians annually make the treacherous trip by water to Italy.
If they stay in Egypt, Abdel-Latif says, their prospects are bleak. The Egyptian economy is not ready to cope with the influx of young Egyptians into the labor market, she explains. "Egypt has to provide alternatives for youth entering the labor market," she says. An alternative would be facilitating regular migration of Egyptians to work abroad, but in order to achieve this, laborers in Egypt need to become better skilled. "We keep advocating to discuss development of the workforce as a solution [to irregular migration]," she adds.
Currently Egypt counters irregular migration by raising awareness about the dangers and difficulties, and by new legislation to combat smugglers. But Abdel-Latif says this should go hand in hand with better training for Egypt's workforce, to decrease the push factors of migration. IOM works on the voluntary return of Egyptians. "But in order to do so we have to offer them something," she says. "That is, better education and more opportunities."
Ahmed does not consider irregular migration an option. "I don't want to take a boat to Italy, I want to take a legal route," he says. He sees irregular migration as something people from villages would do.
"I don't need to be rich, but I want a wife and children, a regular family," Amr sums up his hopes. "And a small, tiny car."
Eduard Cousin is a freelance journalist based in Cairo, formerly managing editor of Daily News Egypt. He writes about political and social developments in Egypt. Twitter: @EduardCousin