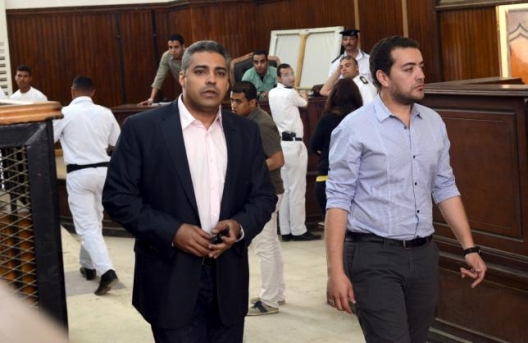 In a Monday press conference, Egyptian-Canadian journalist Mohamed Fahmy announced he has filed a lawsuit against his employer, Al Jazeera. The journalist is suing the Qatar news network for 100 million Canadian dollars ($83 million) for negligence.
Fahmy's lawyer Joanna Gialason said the lawsuit was filed in Canada on May 5, telling journalists at the press conference that they are asking for $100 million in "punitive and remedial damages for [Al Jazeera's] role in Fahmy's conviction and subsequent imprisonment." According to Fahmy's Egyptian lawyer, the lawsuit could not be filed in Egypt because Fahmy is perceived negatively in his home country.
Fahmy was sentenced to seven years in prison last June, alongside Al Jazeera colleagues Baher Mohamed and Peter Greste, as well as fifteen other defendants. Fahmy's charges included spreading false information and supporting the outlawed Muslim Brotherhood. He was granted an appeal in February of this year, and was released on $33,000 bail.
During Monday's press conference, Fahmy accused Al Jazeera's Egypt-specific channel, Al-Jazeera Mubasher Misr, of supporting the Muslim Brotherhood. "Al-Jazeera Mubasher was a sponsor for the Muslim Brotherhood and its equipment was used by Muslim Brotherhood activists across the country," he said. He also accused the network of acting as "one of the foreign arms of Qatar."
A 2014 report by Egyptian journalist Mohannad Sabry questioned whether or not Al Jazeera upheld its responsibility towards its journalists, both during and after the trial. According to the report, Fahmy said Al Jazeera aired translated reports compiled by his team on Al Jazeera Mubasher Misr, despite his objections. In a letter written from prison last October, Fahmy stated that he had placed conditions on his working with Al Jazeera, including his insistence that none of his teams' reports would be aired by the Egypt-specific channel. Fahmy has said that, while their Arabic channels have been accused of bias, its English counterpart provided independent reporting.
Al Jazeera also failed to secure accreditation for Fahmy, Greste, and others, despite Fahmy's insistence that they do so, the report said. "A week before his arrest, Fahmy wrote the letters that should have been stamped and filed by Al Jazeera's HQ in Doha to the Egyptian authorities, his letters were once again ignored. The letters were for himself and his team," a source close to the case told Sabry. Al Jazeera has, in the past, said, "We've never made any secret that the crew did not have their full individual paperwork. None of this justifies criminal proceedings and jail time. In countries that require accreditation, it's an administrative matter, not criminal."
Al Jazeera's decision to sue Egyptian authorities for $150 million in damages while the trial was ongoing was also widely criticized. The journalists' then-lawyer, Farag Fathi, resigned in protest to what he said was Al Jazeera's attempts to use the trial and the publicity surrounding it as a marketing tool. At the time, with his family tweeting on his behalf, Fahmy was quoted as saying, "It angers me that Qatar raised a $150 million suit against Egypt while I was hanging on a thread in the cage." Fahmy was also critical of the lawyer, accusing Fathi of "handing his clients to the gallows."

In response to Fahmy's lawsuit, Al Jazeera issued a statement saying, "It's sad to see Fahmy and his lawyer repeating criticisms of Al-Jazeera made by the Egyptian authorities. It's what his captors want to hear at this stage of the retrial. All governments have news outlets that they don't like, but they don't use spurious grounds to put journalists in jail. If Fahmy wants to seek monetary compensation from anyone, it should be from his jailers."
This past February, Fahmy had told AP, "I am not losing sight of who put me in prison," referring to Egyptian authorities. He also, however, said of Al Jazeera, "They should have provided a security umbrella and put the security of their staffers ahead of getting the story, because it was framed as Al-Jazeera and Qatar are challenging the Egyptian government." Al Jazeera has been accused in Egypt of acting as the Brotherhood's mouthpiece, which the network denies.
Fahmy has since secured the support of Egyptian tycoon and a vocal opponent of the Muslim Brotherhood, Naguib Sawiris. The businessman testified in support of Fahmy in April. "I can be absolutely certain that Mohamed Fahmy, based on my knowledge of him, doesn't belong to the Muslim Brotherhood, and according to my information he participated in the January 25 Revolution and was supportive of the 30 June revolution that toppled the Brotherhood," Sawiris told the court.
The ongoing retrial of Fahmy, and his co-defendants, meanwhile, has been postponed to June 1, when closing arguments will be made.