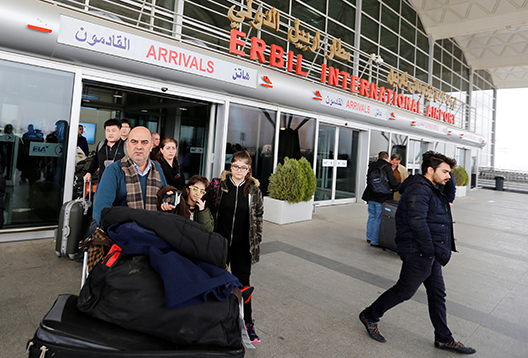 US President Donald Trump signed an Executive Order (EO) on January 27, barring refugees and immigrants from seven Muslim-majority countries—Syria, Libya, Somalia, Yemen, Sudan, Iran, and Iraq—from entering the United States for at least 90 days, leaving refugee and immigrant communities in limbo. Trump's Executive Order also suspends the US refugee resettlement program for 120 days, indefinitely suspends Syrian refugee resettlement to the United States, and caps the number of all refugees admitted at 50,000 per year. On February 3, a Seattle federal judge temporarily blocked the travel ban, after which Cairo Airport issued a statement saying it will allow travelers from the seven countries to board flights to the United States. As the case makes its way through the courts, the future of Iraqi, Syrian, and Sudanese refugees in Cairo expecting to resettle in the United States, has now been called into question.
Fouad Sherif, an Iraqi Kurd from Erbil who worked for a US-based non-profit that partners with USAID, tells MENASource that he is now in the United States with his family, but he was among the first refugees in Cairo impacted by the order. Fouad and his family were due to board a flight to New York's JFK airport on January 28, but instead, Cairo Airport authorities deported him and his family back to Iraq. Fouad—who had waited two years for the resettlement—had sold his car, quit his job, and took his children out of school.
"We had to wait the entire time in the terminal, we had no visa to get into Cairo, so we were just stuck there; it was very uncomfortable," Fouad said, explaining how he and his family had to spend the night in the Cairo airport before they were deported back to Erbil the next morning.
"It was a very difficult and humiliating experience, especially for my children," he said recounting what happened to them at the airport.
According to Sherif, Egyptian security officials at the airport said the US embassy in Iraq had sent airport authorities an email stating that Iraqi nationals are banned from travel. The officials, Sherif says, provided no further explanation.
"Security watched over us and kept our passports with them. A police officer boarded the plane that deported us back to Erbil, and the officer accompanied us until he handed us over to another police officer in Erbil," Sherif explained. "It was as if we were criminals."
Abu Firas, together with his wife and five children, left the Syrian city of Lattakia for Damascus in 2012, and later moved to Egypt's coastal city of Alexandria at the beginning of 2013. Abu Firas made three failed attempts to take the dangerous journey across the Mediterranean to Europe's southern border from the Beheira governorate, and later from Kafr El Sheikh in May, August, and September of 2014, before losing hope in the endeavor.
In April 2016, the United Nations High Commissioner for Refugees (UNHCR) called Abu Firas and told him that he and his family were being considered for resettlement in the United States. They then faced three interviews in May, August, and December of 2016. He explained to MENASource that different people conducted each interview, but often asked similar questions. They asked him about his life in Syria, his life in Egypt, and what his family thought of the United States. "It felt like hope came, promising me a new life and a future for my children. Then suddenly it left and took everything with it like the wind," Abu Firas told MENASource.
On January 29, two days after the EO was signed, Abu Firas received a phone call from UNHCR telling him his trip was cancelled. His flight had not yet been booked, and UNHCR told Abu Firas that he would have to wait 120 days before receiving any further updates. He said in that moment he felt his luck had betrayed him, compounded by the fact that—when he and his family began this process—UNHCR gave them the option to choose between resettling in the United States or Canada. They chose the United States.
After hearing of the recent temporary suspension of the Executive Order, Abu Firas called UNHCR to find out if he could travel to the United States after all. They told him he would have to wait for them to check with the US embassy. At the time of publication, it remained unclear if Abu Firas and his family would be resettled in the United States. "I don't know what I am going to do or what I should be doing," he says. "My family and I got ready and embraced the idea that we were travelling. Can I ask the UNHCR to resettle me in a different country?"
On January 28, UNHCR issued an official statement saying it will "continue to engage actively and constructively with the US Government." The statement offered no clarity on the fate of refugees who had already planned their resettlements. UNHCR did not respond to a request for comment.
A subsequent statement by UN High Commissioner for Refugees, Filippo Grandi, put the number of refugees expecting to travel to the United States this week at 800, and estimating that the 120-day ban could impact a total of 20,000 refugees. Of approved refugees to the United States, this 120-day delay could mean their background checks will expire, and they will have to go through the vetting process once again—which lasts anywhere from 18 to 24 months.
According to UNHCR data, there are over 4.8 million registered Syrian refugees in the MENA region, and approximately 884,400 Syrian asylum applicants in Europe. The United States accepted the resettlement of approximately 18,000 Syrian refugees between October 2011 and December 2016.
Ashraf Milad, a lawyer specialized in refugee rights and a lecturer at the Netherlands-Flemish Institute, says he expects the number of refugees being resettled worldwide will decrease as a result of the Executive Order. He says other countries are unlikely to make up for the 120-day pause in the US refugee resettlement program.
"The UN negotiates with embassies on an annual basis on a certain quota of refugees for resettlement, and there's nothing binding these countries to take more people. The UN cannot force them," Milad said.
Professor Ibrahim Awad, the director of the Center of Migration and Refugee Studies at the American University in Cairo, explains that the vetting process is in fact already long and difficult. According to the White House under President Barack Obama, less than 1 percent of the 65.3 million refugees worldwide are resettled in the United States. Awad says that many of those interviewed are rejected, often with no reason provided.
"This is a decision that has been met with resistance from inside the United States and from outside it," he said referencing the African Union's statement that the United States would take its people "as slaves but not as refugees." The EO has also been criticized domestically by Republicans and Democrats, as well as by many in the international community including the United Nations, UK, Turkey, Germany, and France. Not all have been critical. UAE's Sheikh Abdullah bin Zayed Al Nahyan defended the Executive Order, and Czech President Milos Zeman praised the move.
Dania, a Syrian refugee living in Egypt with her family says most refugees wait years for a phone call that "may or may not come." Before the EO was announced, she was optimistic. "Just recently the UN announced that the US was open for resettlement," she said. After the ban was announced, she says, "A lot of people were really devastated; they were hoping they would go."
Sarah Yahya, a single mother to three children, who did not wish to use her real name, fled to Egypt from South Sudan four years ago. Given the economic turmoil and inflation plaguing Egypt, she has had a difficult time providing for her children. She said she secured a resettlement interview with UNHCR, but nearly a year and a half later her case was rejected. "They said that the rejection was because one of my family members belongs to the rebel group in Sudan, but that's not true," Yahya told MENASource.
Yahya filed an appeal against the rejection, but says she is no longer necessarily interested in going to the United States. Appeals may take anywhere from six months to a year to process, and there is no guarantee that they will be accepted for resettlement in a different country. "If they consider this [appeal], then I want to go to a different, peaceful country not a country where they will discriminate based on race or religion," Yahya said.
She is not the only one who feels this way. Syrian refugee Abu Firas says, "If I had known the future I would have told [the UHNCR] that [I am] okay with Canada. We can accept the cold."
Jihad Abaza is a freelance journalist and anthropologist in Egypt. Muhammed Al Kashef is a researcher on refugee and migrant issues with the Egyptian Initiative for Personal Rights