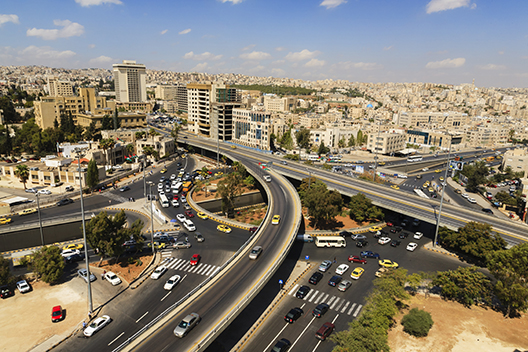 The results of a new comprehensive public opinion survey released by the International Republican Institute (IRI) in Jordan show an increasing sense of dissatisfaction among citizens. Jordan, a Sunni Muslim-majority constitutional monarchy wedged between Syria, Iraq, Saudi Arabia, Israel, and the West Bank is a key strategic ally of the United States and a recipient of a tremendous amount of American aid. The resource-deprived Kingdom plays an important stabilizing role in the region and is also a vital partner in the fight against the Islamic State (ISIS) and other extremist groups working to establish power and influence throughout the Levant.
Jordan's security and stability is critical to US interests in the region but the newly released poll suggests economic pressures are mounting and the government is struggling to cope with the impact.
According to the poll, 68 percent of Jordanians describe the economy as bad or very bad compared to 49 percent last year with high prices, low incomes, and unemployment most often cited for the poor economic performance. Compounding the economic woes is an increasing lack of confidence in the government and legislative institutions. Just 29 percent of Jordanians believe the recently dissolved parliament was effective compared to 59 percent in 2015.
The findings highlight the challenges facing the Jordanian government and the need for a greater emphasis on good governance practices, an effective execution of the political reform process, and a more modern, inclusive economic system.
What is causing the unfavorable results?
The economic strains have been caused by a mix of both uncontrollable forces and unforced errors. The most potent force has undoubtedly been the ongoing conflicts in Syria and Iraq. The rise of ISIS and the bloody war in Syria have driven away visitors to both the region and to Jordan's spectacular tourist sites. The Kingdom has also lost two major trading partners driving up the cost of products that must now be imported from more distant sources. Meat prices, for example, have tripled as a result in parts of Jordan. Additionally, the real estate market has been destabilized and housing costs have increased considerably in many low-to-middle income areas due to the influx of well over a million Syrian and Iraqi refugees.
The Jordanian government has also failed to avoid a number of the pitfalls currently contributing to their economic stresses and subsequent unfavorable poll numbers. Archaic economic and tax policies stifle innovation and discourage entrepreneurship resulting in a ranking of 113th out of 189 (the regional average is 56) in the World Bank's Doing Business index. As a result, many entrepreneurs setting up shop in Jordan are said to have moved their businesses elsewhere in the region – opting for the Gulf or Egypt as a base. Opaque and inconsistent tariff regulations, meanwhile, scare away investors and inhibit small business growth. Everyone from manufacturers to chocolatiers to artisan craft makers struggle to plan or budget for the full cost of importing raw materials or critical machinery replacement parts as the customs fees are inconsistently applied by customs officials. Restaurant owners are subject to a frequent, costly, and unpredictable operating license reissuance process. Nepotism within the government, as well as the parliament, remains extensive and corruption (real or perceived) is viewed by the citizenry as a key driver of social injustice. Jobs are divvied out based on patronage rather than merit, the public sector is bloated at 42 percent of the labor force, and youth unemployment is consistently above 30 percent – even higher in rural areas.
Finally, Jordan's abysmal 16% labor participation rate for women ranks the Kingdom 142nd out of 145 countries, according the World Economic Forum's Gender Gap Index. The lack of women's economic equality significantly restricts political and economic development, as well as stunting its competiveness in the region and globally. However, acceptance of women's participation in decision making and politics has a foundation on which the building blocks of social change can be established. The IRI poll revealed 63 percent of citizens believe women should be equally represented in decision making and 54 percent say they would either prefer a woman political candidate or say it makes no difference. Women now even outnumber men in university enrollment in Jordan, but many do not enter the workforce upon graduation as there remains an expectation to get married and start a family rather than establish a career or launch a business.
Societal and cultural barriers faced by women in business or politics remain extensive but are, in fact, removable through principled leadership and political will. Strengthening women's empowerment principles within school curricula, tax incentives for businesses hiring women, and political and community leaders challenging the stigma of women in the workforce are all avenues to reducing the barriers to women's empowerment and increasing Jordan's competitiveness in the regional and global economy.
These and other unforced errors have created a Jordanian system over-reliant – at more than 20 percent of the national budget – on foreign aid and debt to keep pace with spending. With a debt-to-GDP ratio now at 90 percent, the Kingdom is struggling to generate indigenous growth. However, Jordan has an opportunity to reverse these negative trends and secure its stability and prosperity for decades to come.
An opportunity to seize
King Abdullah II, Jordan's powerful and popular monarch, appears to understand the need for reforming the public sector, attracting investment, and focusing on domestic job creation. He recently issued a decree dissolving parliament and appointed a new prime minister who in turn established a new government to get the country to parliamentary elections on September 20 of this year. Additionally, the government passed a series of laws which lay a foundation for a new system of governance emphasizing decision-making power at the governorate level.
The new government and the soon-to-be-elected parliament have an opportunity to turn the economic and political tide in Jordan. Given the country's current direction, based on this latest public opinion poll, and the perils that have befallen other governments in the Middle East in recent years, the stakes are high. However, a modernized Jordanian government that responsibly stewards the financial and human resources of the country will rebuild the trust of the citizens. In turn, citizens who believe their government is working in their best interest are less likely to engage in civil unrest and more likely to focus on growth and empowerment opportunities. A parliament focused on holding the government accountable and proposing better economic and social policies instead of prioritizing constituent service delivery for political expediency would transform the way Jordanians are represented.
Bold leadership at all levels of government breaking down social and cultural barriers by emphasizing the important role of women in their society, and encouraging young Jordanian women to get engaged in business and politics, will make the country stronger, smarter, and more prosperous. This transformation is an uncompromising prerequisite to political empowerment and economic growth in Jordan.
Jordan's top priority has been, and continues to be, maintaining security and stability throughout the Kingdom. While ISIS represents a real threat to that security, another concern can build if citizens don't believe their government officials and elected representatives are working to improve the lives of the next generation. Such a situation would be fertile recruiting grounds for extremists. But if Jordan can seize the opportunity presented by a new government and make the necessary commitments to ensure a more modern and inclusive political and economic system, the country can lead on both stability and good governance.
Ramsey Day is currently the Country Director for the International Republican Institute (IRI) based in Amman, Jordan. Mr. Day has also served as the Country Representative for the United States Agency for International Development (USAID) in Montenegro as well as the Chief of Public Liaison and the Chief of Staff for the USAID Europe and Eurasia Bureau in Washington, D.C.