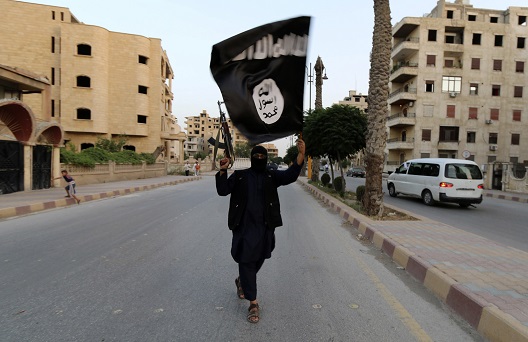 Judging from the Islamic State's (ISIS or ISIL) recent killing spree, the terrorist organization has demonstrated its ability to maintain it operational capacity to target the West. This week's coordinated attacks in Brussels claimed by ISIS resulted in over 31 deaths and 200 injured attacks, taking place against the backdrop of threats by the organization against the West, including the United Kingdom threatened with a Doomsday attack. The Brussels bombings come four months after the infamous attack in Paris. ISIS's latest violent spout is symptomatic of two new realities: it aims to reassure its supporters and the world that it remains unfazed in face of adversity (mostly in the form of a US-led coalition in Syria and Iraq), despite facts on the ground—especially at the heart of its caliphate. It also shows that ISIS can maintain a nuisance capability, with a growing autonomy of its cells in the West. Yet it also shows desperation as it suffers tremendous losses in Syria and Iraq.
The first two blasts in Brussels took place at Zaventem airport; a third went off at Maelbeek metro station on the rue de la Loi, close to the European Union headquarters. The attack comes on the footsteps of others in Turkey, Paris, and Lebanon last year. These onslaughts were dovetailed with threats against Europe and the United States. In January, ISIS uploaded "A Message to David Cameron," during which jihadist Siddhartha Dhar claimed that the terrorist group would eventually invade the United Kingdom. In November 2015, another ISIS video warned the United States it would strike "America at its heart." These attacks and threats are three ponged: it downplays defeat on its Iraqi home turf, maintains the illusion of momentum that initially made its narrative so appealing to international jihadists, and (in the words of its supporters) punishes the West "as it bombs Syria and Iraq".
In reality, ISIS faces serious obstacles in its Iraqi and Syrian bastions. Data published by IHS this month showed that since January 2015 the militant group has lost 22 percent of its territory in Iraq and Syria—and 8 percent of the losses took place in the past three months. Colonel Steve Warren recently declared that the group lost 40 percent of its territory in Iraq since May 2015. Major losses include the capture of the Baiji city center of Tikrit, followed in December by the fall of Ramadi. Coalition and Iraqi forces are also paving the way for an attack on Mosul, severing supply lines between the organization's centers, such as the latest strike on a bridge connecting Hit in Ramadi to Hawija. According to the Institute for the Study of War, ISIS had to withdraw its forces from Hit, "its first withdrawal from a major urban center in Iraq."
ISIS also lost significant manpower over the past months, mostly killed in coalition airstrikes. Recently, an ISIS judge was killed by coalition strikes in Ramadi. Ten other ISIS leaders, some of whom were linked to the Paris attacks, were also the target of air strikes. The Iraqi Air Force also attacked and killed Abu Ahmed al-Samarrai (nephew of ISIS leader Abu Bakr al-Baghdadi) and Adel al-Bilawi (the military commander of the Albu Bali area). The military commander of al-Jazeera and Aasi Ali Nasser al-Obeidi, second deputy to al-Baghdadi, were also killed. The organization's key figures overseeing operations in both Iraq and Syria have been decimated: top ISIS leader, known as Omar al-Shishani, was killed in a US airstrike in northeastern Syria this month. In mid-May of last year, US coalition air strikes also killed the ISIS oil emir Abu Sayaf in a raid in Syria. In December, ISIS financial minister Abu Salah and a senior leader responsible for coordinating the group's extortion activities and another leader who acted as an executive officer were killed by coalition strikes.
Such strikes have significantly impaired ISIS capability to generate revenue by damaging refineries and oil collection points and hindered the organization's capacity to produce and sell oil. ISIS has lost control of the oil fields of Himrin and Ajil northeast of Tikrit and the Baiji refinery, considered the largest in Iraq and covering the third of the country output. The extremist group nonetheless retains control of the Qayara oilfield near Mosul. Even with the remaining resources, coalition strikes succeeded in destroying millions in an air strike on a Mosul money cache in January.
These attacks have translated to a decline in the organization's revenue stream. In 2014, experts such as Luay Khateeb estimated that the organization generated about $3 million a day in Syria and Iraq. Estimates of revenue today are impossible, but signs point to a massive decline in the flow of money, which has affected ISIS's capacity to govern. In January, media reported that it had slashed fighters' salaries by half. "Food and medication have become impossible to find in Mosul, the situation is simply catastrophic," says Mosul-born political activist Ghanem Abed in a phone interview with the Atlantic Council. Increasingly difficult living conditions also resulted in clashes between al-Mahamda and al-Juraisat tribes against the ISIS-affiliated al-Hisba group at the end of February. A recent attack by ISIS on Abu Ghraib in Bagdad is believed to have been a disguised attempt by the organization to seize wheat silos in order to feed residents in the encircled areas of Falluja and Garma.
Significant losses on the part of the organization have translated in declining morale. This month, ISIS executed 35 of its fighters because they refused to be redeployed on Mosul frontlines; 21 others were killed after fleeing from the ongoing battles in Makhmour, Waski Mosul, Khazar, Nuran and Bashiqa, according to Iraqi media. In Syria, at least 40 ISIS fighters defected from the organization in the Aleppo area.
There is no doubt that the organization is under pressure and exhausted by the US-led coalition. Its degraded capability will force the organization to revert to its usual playbook. First, the organization will resort to terrorist campaigns against civilians whether in the West or in its so-called caliphate. The Brussels attacks aims at polarizing Western societies and triggering an indiscriminate backlash against Muslims living what it terms the "far abroad." The organization's objective is to weaken Muslims' identification with their countries of citizenship and reinforce the "us versus them" narrative. The return of fighters to countries of origin—over 400, according to media reports—grouped in cells trained for bombing and counterintelligence operations herald the establishment of a network largely autonomous from its mother organization in Iraq and Syria.
A similar strategy of terror campaigning has been applied by the organization in Iraq where the organization launched a series of attacks between February 25 and February 29. Two bomb blasts killed at least 70 people at a market in the Shia neighborhood of Sadr City, just north of Baghdad. In Abu Ghraib, a number of policemen were kidnapped after an attack there while a nearby village was also raided by ISIS. In the town of Amiriyat al-Fallujah, 18 policemen were killed in an ISIS assault on military barracks. The group launched another attack on Muqdadiya in Diyala province on February 29. Similar to the Brussels attacks, the Iraqi bombings aim at sowing sectarian divisions and promote revenge killings, such as those that took place in Muqdadiya followed by Shia militia attacks on Sunni mosques. This ultimately feeds the ISIS narrative that for Sunnis there is nowhere to run, keeping the population reliant on the group in areas under its control.
The ISIS giant may have been significantly degraded over the past year, but in the face of a highly unstable environment in Iraq and Syria, it still has room to maneuver. As pressure increases, signs point to a move away from its previous centralized approach to more autonomous terror franchises.
Mona Alami is a Nonresident Fellow at the Atlantic Council's Rafik Hariri Center for the Middle East.