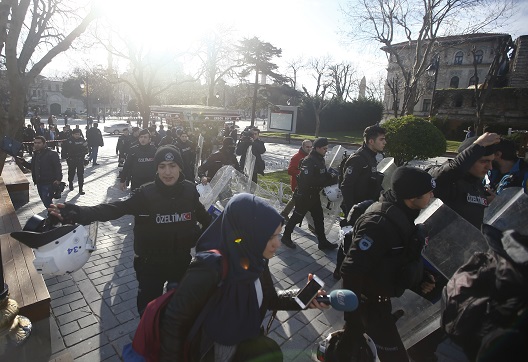 At 10:00am Tuesday morning, a 28-year-old Saudi national, identified as Nabil Fadli, crossed into Turkey from Syria and reportedly detonated a suicide vest near the Diliktaş (Egyptian Obelisk) in a small square next to Sultanahmet mosque, also known as the Blue Mosque. The blast reportedly killed 11 foreign nationals (the vast majority of which are German), most probably on holiday visiting Istanbul's most popular tourist destination. Details remain sketchy and no doubt more will be reported in the coming days, but Turkish Prime Minister Ahmet Davutoğlu has indicated that bomber is linked to the Islamic State (ISIS or ISIL).
Since March 2015, Turkey has faced a wave of ISIS linked attacks, but this attack appears to have a different motivation than the previous four bombings. A Turkish-based ISIS cell, established in Adıyaman, carried out the previous four attacks in Adana/Mersin, Diyarbakır, Suruç, and Ankara. In each of these cases, the attack was aimed at Kurdish or leftist nationalist groups tangentially linked to the Syria-based Democratic Union Party (PYD), the Kurdish group linked to the PKK that controls a large portion of the Turkish-Syrian border. The Adıyaman cell bombers had previously lived in Turkey, but left for Syria in or around March 2015 to join with the Islamic State while it battled the PYD's militia, the YPG, near the Syrian border town Tel Abyad.
After fleeing for Syria, members of the Adıyaman cell were reportedly sent back to Turkey, crossing the border illegally near the town of Elbeyli, then registering as a refugee and linking up with ISIS members in Turkey to help with logistics. In at least one instance—the Ankara attack—a Turkish citizen (Yunus Emre Alagöz) traveled with a Syrian national (identified only as EU). Both men then carried out the attack.
A lone ISIS-affiliated Saudi national reportedly carried out this latest attack, although the route from Syria most probably began with him crossing the Turkish border illegally and meeting up with local ISIS middle men. Indeed, after the Ankara bombing, Turkish security officials conducted a number of raids in Gaziantep, where ISIS members manufactured suicide vests used in the previous attacks. These raids appear linked to disrupting the Turkey-based ISIS networks that helped facilitate the movement of men and material to and from the self-declared caliphate.
In January 2016, Turkish police have continued to raid suspected ISIS safe houses. These latest arrests have clustered around Istanbul, rather than in and around border towns and opposite the border town of Kilis. Since the start of Ankara's crackdown against ISIS in March 2015, the authorities have conducted numerous raids around Istanbul. This recent surge suggests that authorities were keen to further disrupt the group's presence around Turkey's largest city. Despite these efforts, Turkish media reported in December that up to six suspected suicide bombers had entered Turkey before the New Year.
On New Year's Eve, Turkish police arrested two Turkish ISIS members, Musa Canöz and Adnan Yıldırım, reportedly while en route to Ankara to attack Kızılay. According to the Turkish press, the plot was hatched in Raqqa by "Ebu Enes"—the reported code name of a Syrian ISIS member. There are no reports as of yet linking these two ISIS members and the Sultanahmet bomber, outside of the Raqqa connection.
In yet another failed plot, three other suspected ISIS suicide bombers, were arrested on January 10, reportedly before travelling to Diyarbakır to carry out an attack. The press have not identified these three men's nationality or age; however, their target suggests a different motivation than the failed New Year's Eve attackers.
The Diyarbakır arrests suggest that ISIS is intent on continuing to attack Kurdish-related targets in Turkey, perhaps as a means to exacerbate the current PKK-Turkish government clashes in much of the southeast. This strategy has already paid dividends, with the Suruç bombing contributing to the ending of the PKK-Turkish government ceasefire in July. Moreover, due to a combination of Turkey's overarching Syria policy, which previously allowed the transit of men and material to the anti-Assad insurgency, and then the rise of ISIS, a large number of Turkey's Kurdish citizens strongly believe that Ankara supports ISIS. This belief has helped drive Kurdish political decision-making and has contributed to the recent surge in violence in Turkey's southeast.
More broadly, these latest incidents point to the continued presence of the ISIS network in Turkey. Despite recent efforts to crackdown on this network, ISIS members continue to take advantage of it to move through Turkey to carry out attacks. The recent events also point to a two-pronged strategy to exacerbate Turkish-Kurdish tensions, while also attacking the Turkish economy. In the case of the latter, the strategy has succeeded. Thus, the concern is that the ISIS assault on Turkish economic targets may only have just begun—and that this is the start of a more concerted effort to attack Turkish targets.
Aaron Stein is the Senior Resident Fellow for Turkey with the Rafik Hariri Center for the Middle East.