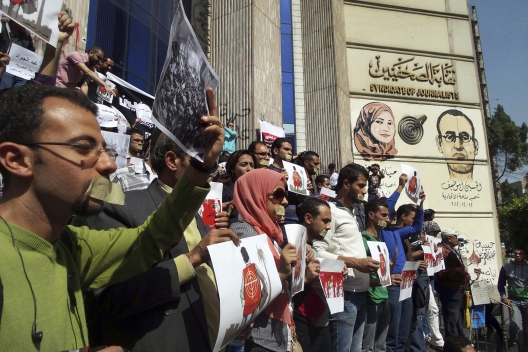 When the 2011 revolution broke out, the Egyptian Journalist Syndicate (EJS) stayed silent and kept its doors shut. The only constitutionally-allowed professional body for journalists did not condemn attacks on media or intervene to help those reporting in the street. In the euphoric and chaotic months that followed, many journalists rallied behind long-standing calls for reform to the highly politicized body's financial, membership, and legal structures. Now the EJS, they argued, could finally fight for the interests of journalists — not that of the state. But old-time politics continued to reign.
Four years later, the EJS finds itself, in many ways, back where it began: Bankrupt and financially dependent on the state, and too politicized to be able to effectively put up a sustained fight for journalists' rights. But now, amid a crackdown on opposition news and views, critics says that the EJS is far too entrenched within this problematic political climate to be a real force for digital and political change. And the overall sidelining, silencing, and co-opting of journalists obviously does not bode well for the prospects of press freedom — and much-needed institutional reforms of Egypt's media to back it up — going forward.
"We reached the point where enough is enough," said Abeer Saadi, a long-time EJS member who, in protest, froze her position on the twelve member Syndicate Board in February and left Egypt to study in England. "I walked away because they stopped all of my activities. With this board, with these laws of the syndicate, you cannot achieve anything. This entity gives an ethical coverage to the attacks [on journalists]."
Prior to the 2011 revolution, Egypt's twenty-eight syndicates were among the few institutions in which the then-banned Muslim Brotherhood could contest power through unofficial Brotherhood blocks. Membership in syndicates also comes with a host of benefits, such as property deals available only to card carriers, while the head of each syndicate votes in important bodies, like Egypt's most recent Constituent Assembly. Since July 2013, Egypt's professional syndicates and labor unions have been an ongoing site of General-turned-President Abdel Fatah El Sisi regime's crackdown on the Muslim Brotherhood, opposition, and bystanders caught in between.
The EJS has never been a Brotherhood stronghold, but during Mohamed Morsi's presidency, the syndicate elected the Brotherhood pick, Mamdouh Waly, as EJS President, and then shortly after grew polarized between those who supported Waly and those who decried his rule as part of the group's project to "brotherhoodize" Egypt. It was a trajectory similar to the stories being reflected across Egyptian news: At the time, Egypt's private-media was aligning along an anti-Morsi stand. Then — in a vote touted as a test of the Brotherhood's strength in media and labor institutions — in March 2013, the EJS voted out Waly and elected Diaa Rashwan, a noted Nasserist and Brotherhood critic. Rashwan, the head of the Al Ahram Center for Political and Strategic studies, pledged to "restore the union from the hands of the ruling regime."
Now, nearly two years later, and fast-talking Abeer Saadi is still rattling off the syndicate's same-old problems. According to the body's bylines, only journalists who work full-time at print newspapers can become members. This means that most of Egypt's journalists — those who work in another medium or are technically part-time — don't make the cut. Instead, EJS membership remains skewed toward the archaic state-run press, increasing the incentive for those already in good standing to maintain their status quo. Egypt's constitution (and all the ones before it) also mandates just one syndicate per profession: In recent years, there have been moves by disenfranchised journalists to organize alternative bodies, but they've remained on the fringe and legally ostracized. So it is that many of Egypt's increasingly young cadres of journalists don't have press accreditation, which in the eyes of the state can officially make their work illegal. (Foreign press accreditation is a different story.)
Another long-standing issue is the debt-inducing monthly stipend or badel, which keeps rising to acquiesce members. The badel started in 1981 as a monthly stipend towards professional development; it's since risen to 1,200 Egyptian pounds and has become a lifeline for many of the syndicate's underpaid or unemployed members. With each presidential election, candidates campaign to raise the stipend and other perks like retirement pensions — which in practice means borrowing more and more money from the ministry of finance to cover the compounding costs. In discussions with local journalists since the revolution, they've frequently expressed the desire for better pay, protections, and professional training — but often dismissed the syndicate as too-outdated to actually institutionalize these improvements.
"They are hopeless," said prominent Egyptian publisher Hisham Kassem told EgyptSource. "They are the weakest syndicate in Egypt." He elaborated: "This is the only syndicate's whose members are being killed on the job and they are unable to do anything about it."
Press freedoms in Egypt have indeed continued a steep descent, which started under former president Mohamed Morsi, and has since accelerated with Sisi's ascent. In the last two years Egypt has ranked second worldwide in the numbers of journalists jailed and killed. Other reports, such as a recent one by the Cairo-based Association of Freedom of Thought and Expression, have documented case after case of the police and military detaining and assaulting journalists while covering street protests. Within months of Morsi's ouster, the privately owned (and incitement heavy) Islamists media, which had mushroomed just after the revolution, were shut and many of their journalists jailed; few new outlets of any political persuasion have opened since.
Alongside the startling rise in state violence, Egypt's state and private media have also largely aligned to take a pro-military, nationalist line, leading to widespread official and self-censorship. While the occasional critical opinion pieces and investigations still reach readers, since Sisi came to power, a handful of Egypt's most prominent and professional journalists, such as OnTV's Yousri Fouda and Reem Maged, have left their jobs and gone silent in what appears to be a case of censorship. There have also been tens of documented cases in which the state has ordered newspaper issues not to print, radio or TV hosts to be cut from air, and journalists arrested or threatened with arrest for their coverage on unsubstantiated charges, including "terrorism." In November 2013, the government issued a highly controversial Protest Law that severely restricts demonstrations, a harbinger of the climate to come. More recently, in October 2014, the top editors of major newspapers agreed to support the state in its "war on terrorism" and to not publish statements that undermined the military and other state institutions. Rashwan attended the meeting. Much of the syndicate protested — but then retreated as the policy nonetheless persisted.
It's these kinds of violations that a syndicate is expected to protect against. And it was the rise in state violence against journalists that changed the situation for Saadi. She criticized the syndicate president and board for not doing enough to protect all journalists in the street or in jail — regardless of their membership status and political affiliation — and accused them of using their positions of power to at times try and excuse the military's killing of journalists. The syndicate still does issue harshly worded statements and members occasionally hold vigils, protests, and hunger strikes. But when the military violently dispersed the pro-Morsi Raba'a al-Adaweya sit-in on August 14— killing four journalists and over 800 protesters —the EJS did not condemn the violence.
Egypt's politicized media market has never favored independent and professional journalism. Since 1952, the state maintained tight control over media and only state news outlets existed. At the beginning of the 2000's, the state began to grant licenses for private newspapers and satellite channels. The media's liberalization, however, followed a propaganda-skewed logic: As would be expected, the licenses largely went to a handful of big businessmen who had thrived under Mubarak's crony-capitalism. They were subsequently able to bankroll their media enterprises (along with political handouts) as bargaining chips to further their interests. At the same time, Egypt's state-run media — never structured as a profit-making enterprise — grew more and more indebted to state subsidies and write-offs.
After the January 2011 revolution, and with changes made to restrictions in the media law, dozens of new privately owned TV channels, newspapers, and websites popped up, leading many to hope that Egypt's media landscape was indeed revolutionizing. But four years later a different picture is forming: After Egypt's media moguls sided with the military in forcing out the brotherhood, media ownership still remains largely in the corrupted hands of the same political and business elite. In this way, big state and private media are able to crowd out innovative, transparent, and professional journalism — despite Egypt's many journalists who want, deserve, and can do better.
"The problem now is that even though you might have more channels in terms of the frequency, you have much less diversity of options," Professor of Mass Communications Rasha Abdulla told EgyptSource. "With every regime that came to power since the revolutions, it's basically gotten worse. The whole media system has faced more and more pressures."
With Saady gone for now, board member Khaled Al Balshy is now one of the syndicate's last voices of opposition — and it's a sticky place to be. Al Balshy has long been critical of syndicate's archaic membership criteria and badel system and an advocate of alternative syndicates to meet the needs of excluded journalists. Now, seated in his Garden City apartment in December, Balshy openly characterized the "despotic regime" that "practices tyranny, but also with the support of the people." He elaborated, "There is a climate that is against everything that is opposition, against any words that are different that [people think] could return us to the past and Muslim Brotherhood rule." This idea that the military is still better than the Brotherhood is a pervasive view shared by journalists (and public) justifying current conditions. Al Balshy appeared to dance between this claim and its counterpoint: "I was before a failing religious regime and now I'm before a failing military one," he said. "The reality is that all the regimes were against media freedoms."
Still, Balshy is "optimistic" that the media's current descent would soon reverse, and he defended Rashwan's record, arguing that Rashwan has "offered the most that he possibly could" given the tough situation. In November, Balshy and several others started a new movement, The Front to Defend Journalists and the Rights of Citizens. So far, the front has taken on several battles including a protest against the new Chamber of Private Press Industries, a controversial body started by the owners of private newspapers in November. Balshy has also kept up the call for an alternative syndicate for digital workers as part of building a more encompassing network of journalists united under one syndicate umbrella. He spoke hopefully of the prospects — despite the most basic difficulties like the constitutional ban and lack of independent funding.
In the spring, the syndicate is scheduled to hold elections for president and six of the twelve board member seats. As of now, Rashwan is expected to run, and win, again.
Miriam Berger is a freelance journalist who focuses on the Middle East, Africa and media. Miriam has previously reported for BuzzFeed World and is now also pursuing a masters degree at Oxford University. On Twitter: @MiriamABerger.