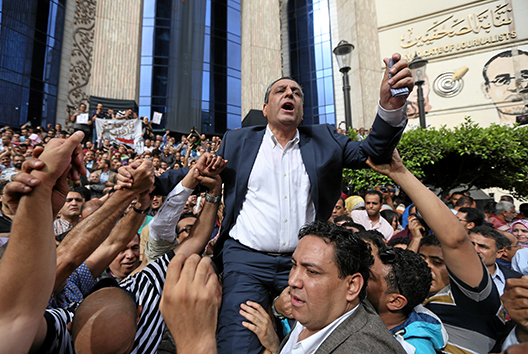 The trial of the head of Egypt's Press Syndicate and two board members resumed this week without much fanfare, indicating that President Abdel Fattah al-Sisi's government has won popular support in the confrontation between the government and independent journalists.
The Syndicate Raid
Press Syndicate Chairman, Yehia Qallash and two board members, Khaled al-Balshi and Gamal Abdel-Rahim, are facing charges of harboring fugitives and spreading false news. The first charge relates to the detention of two journalists, Amr Badr and Mahmoud al-Sakka, who were arrested on May 1 in an unprecedented raid on Egypt's 75-year-old Press Syndicate, where they were staging a sit-in.
An arrest warrant had been issued for Badr and Sakka in April, days prior to demonstrations planned in protest against an agreement in which Egypt ceded control over two strategic Red Sea Islands to Saudi Arabia. Badr, editor-in-chief, of Yanayer, a small news organization that claims loyalty to the January 25 Revolution and is critical of Sisi, and Sakka, a reporter for the same news organization, were on the run for nearly 10 days, before taking refuge in the Press Syndicate. They declared they would stay there until the charges against them were dropped, claiming they were being prosecuted over content that was critical of the government on the Yanayer website. Hardly 24 hours after Badr and Sakka arrived at the Press Syndicate, police and plain-clothed National Security officers raided the building and arrested them. They have been referred to trial with seven other defendants, including prominent lawyer, Malek Adly, and all face charges of joining an illegal organization that aims to topple the regime.
Qallash consequently convened an emergency Press Syndicate general assembly meeting on May 4 in which thousands of journalists called for the removal of the interior minister and an official apology from Sisi. They insisted that the Interior Ministry violated article 70 of the Press Syndicate law, which states that the Chairman of the Syndicate, or his designated representatives, must be present in the event that police enter the Syndicate headquarters.
After the general assembly, however, further unprecedented measures were taken by the authorities. Prosecutor-General Nabil Sadek issued a harshly worded statement saying the police violated no laws, and, in another first in the Syndicate's history, pressed charges against its head, Qallash, as well as Balshi, and Abdel-Rehim. If convicted, they could face between three and five years in prison, according to Qallash's defense lawyer, Tarek Negeida.
After the three Press Syndicate leaders were summoned for questioning on May 31, prosecutors ordered their release on bail of 10,000 Egyptian pounds each ($1,000). However, the three refused to pay, denying all charges against them. Facing the prospect of staying in prison until they are referred to trial, their lawyers reportedly made a unilateral decision to pay the bail. The three men were released a day later, after they were kept at Qasr al-Nil police station overnight.
Trial Demands
The trial began on June 4, and has since been adjourned twice, with several sessions already scheduled for June 25, July 2, and July 9. The presiding judge, Wael Khedr, is known for issuing lengthy prison sentences against young defendants who have taken part in peaceful protests over the past two years. The most recent of these include the sentencing of 51 defendants to two years in prison for the April 25 demonstrations in protest of the ceding of the islands, as well as the sentencing of several young men arrested while silently marking the fourth anniversary of the 2012 Mohamed Mahmoud clashes on Kasr al-Nil Bridge.
During the second session, Negeida presented a long list of demands to the judge, asking to question all officers from the Interior Ministry and the National Security who took part in the May 1 raid on the Press Syndicate. He also asked the court to summon Badr and Sakka for questioning from Tora prison, where they have been held since May 1. He insisted that Qallash, Balshi, and Abdel-Rehim, had no prior knowledge of Badr and Sakka's sit-in at the Syndicate headquarters. "It also makes no sense that a very public place like the Press Syndicate could ever turn into a hideout," Negeida told the court. "We also wonder how the three defendants could be charged with hiding Badr and Sakka, while both had announced publicly that they were heading there to avoid police harassment and raids of their family homes," he added.
Negeida recalled several incidents in which journalists wanted by police for publication offenses have sought refuge at the Press Syndicate's headquarters until negotiations were held with authorities over their cases. In 2010, journalists Ibrahim Eissa and Abdel Galil al-Sharnoubi, both held a sit-in at the syndicate's headquarters after separate arrest warrants were issued against them. Eissa was charged with spreading false rumors, while Sharnoubi was charged with membership of the Brotherhood and running its news website.
"At that time, the head of the Press Syndicate negotiated with the Interior Ministry and prosecutors until a dignified solution was found, while at the same respecting the laws and court orders," Negeida told MENASource. "Even with all the brutality of former Interior Minister, Habib Adly under ousted President (Hosni) Mubarak, he never took the step of raiding the Press Syndicate's headquarters or pressing official charges against its chairman and board members," he added.
Waning Support
In the weeks since the emergency general assembly, any mobilization by journalists against the Interior Ministry has gradually receded. In addition, nearly all independent newspapers have backtracked on a decision made not to publish the name or photo of Interior Minister Magdy Abdel-Ghaffar. While the opening session of the trial was crowded with journalists on June 4, this was not the case in the subsequent session, with hardly any journalists attending. At the Abdin Courthouse, however, more lawyers were present in a show of solidarity with Qallash and his two colleagues, including the head of the Lawyers' Syndicate, Sameh Ashour.
This shift can be attributed to several factors. First, Qallash came under heavy fire from pro-government journalists and presenters of several television talk shows. He was accused of using the Press Syndicate to criticize the president and the agreement with Saudi Arabia because of his Nasserist/leftist background. Editors of state-run daily Al-Ahram, state-owned Middle East News Agency, and other government-owned publications organized meetings demanding Qallash's removal and calling for early Press Syndicate elections, originally slated for March 2017. Government officials, among them Sadek and Abdel Ghaffar, as well as pro-Sisi members of parliament have also argued that, as terror groups continue their deadly attacks against policemen in Cairo and Sinai, the Press Syndicate and journalists in general, are making unjustified demands during a critical time in Egypt's history.
After the trial was adjourned until June 25, Balshi told MENASource the escalation in the confrontation against journalists "is a clear attempt to end the syndicate's role in defending freedom of expression, and questioning the government's policies. But we will never give up even if the price was to end up in prison."
Khaled Dawoud is currently Deputy Editor-in-Chief of Al-Ahram Weekly, an English-language weekly published by Egypt's oldest news establishment, Al-Ahram. He is also the former official spokesman of social-liberal Al-Dostour Party established by Nobel Peace Prize Winner Dr. Mohamed ElBaradei.