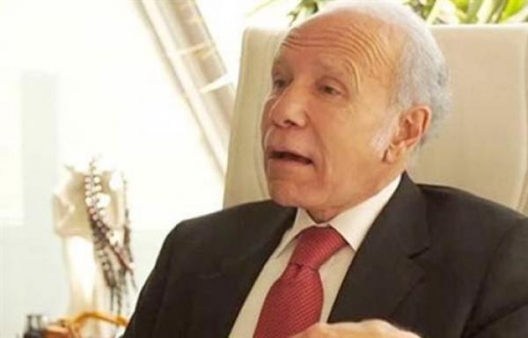 Four days after Salah Diab's surprising arrest, the Egyptian businessman and co-founder of one of Egypt's largest daily newspapers was released. The decision came just one day after the courts had ordered Diab, together with his son Tawfik, detained for another fifteen days on charges of possession of unlicensed weapons. The questions remain: why was Diab arrested, who was behind the decision to arrest him, and who decided to release him?
Allegations of Illegal Weapons Possession and Corruption
Diab's troubles started on November 6 when Prosecutor General Nabil Sadek ordered the freezing of his assets, placing them under government control. The assets of several of Diab's family members and ten other businessmen, including Gamal Mubarak's father-in-law, were also frozen in the move. A statement by Sadek's office said this was in response to a complaint filed over four years ago claiming that they misused state land given to them for reclamation and agriculture. The Prosecutor said they turned it instead into a luxurious residence compound, illegally profiting tens of millions of dollars.
Purchasing state land at rock bottom prices for expensive real estate projects was commonplace under former president Hosni Mubarak. Diab is just one businessman on a long list of names who prosecutors say they are investigating on charges of corruption and profiteering. One of Mubarak's former housing ministers, Ibrahim Suleiman, was among several officials recently convicted on charges of squandering public funds, after he sold state land at below-market prices to real estate company, SODIC. The government has also announced it is seeking billions of pounds in penalties from businessmen involved in these practices under Mubarak.
However, when a heavily armed, masked police unit raided Diab's mansion overlooking the Nile at 5 am on November 8 as he slept next to his wife, they were not there to arrest him on corruption charges. The Interior Ministry said it received information that Diab was in possession of unlicensed weapons, and seized two machine guns and seven bullets. To add insult to injury, the special unit was accompanied by a photographer who snapped photos of the 70-year-old Diab in handcuffs. The picture was later circulated online and was run by tabloid newspaper al-Youm al-Sabie.
Diab and Al-Masry Al-Youm
Diab was among the first Egyptian businessmen to benefit from late president Anwar Sadat's open door policy. Diab signed deals with US, and later with Israeli companies, in the fields of oil and agriculture. He was also involved in the founding of La Poire, one of Egypt's most popular patisseries. He is best known, however, to most Egyptians for his role eleven years ago in launching the daily newspaper, Al-Masry Al-Youm (AMAY). At a time when all major daily newspapers in Egypt were tightly controlled by Mubarak, who appointed their editors in chief, AMAYquickly gained popularity for coverage that was critical of the government. The newspaper has been credited with helping "inaugurate a new opening for independent media in Egypt" under Mubarak.
While local media enjoyed an unprecedented level of freedom after Mubarak's removal, a mood of self-censorship and a threat to press freedom has since returned. President Abdel Fattah al-Sisi has repeatedly asked the media to stand behind him in the ongoing fight against terrorism. He has warned that failing to do so would lead Egypt toward a fate similar to that of Libya, Syria, and Iraq, embroiled in civil and tribal wars. AMAY largely complied with the post-July 3 order, and has been extremely critical of the Muslim Brotherhood group, referring to it, like Egypt's state news agency and newspapers, as a terrorist organization. Over the past few months, however, the newspaper has published a growing number of articles, op-eds, and interviews critical of Sisi's policies.
The businessman's lawyer, Farid al-Deeb, insists that Diab's arrest was linked to AMAY's increasingly critical coverage. Several of the paper's reporters were recently referred to investigation after it ran a special report on police violations and torture allegations. The paper also published an interview with former army chief of staff under Mubarak, Major General Hamdi Weheba, who made unusual charges against Sisi, claiming his experience was limited. "He is an ordinary man, and there are other more efficient leaders in Egypt," Weheba told Al-Masry Al-Youm.
Speculation over the reasons behind Diab's arrest aside, few in Egypt believe the official charge that led to his imprisonment for several days: illegal possession of unlicensed weapons. However, in what could be interpreted as an attempt to show good intentions towards the regime, AMAY announced, a day after Diab's arrest, that Gamal al-Gamal, one of the newspaper's writers who is most critical of Sisi would no longer be writing for them. Mohamed al-Sayed, AMAY's acting Editor-in-Chief, however, justified the move as "a point of order amid an overall review of our editorial policy."
A Backlash Following the Arrest
Major businessmen, including the Federation of the Egypt Chambers of Commerce, expressed shock at the manner in which Diab was arrested. They were also joined by journalists who feared that the government wanted to send a clear message over critical coverage. Even journalists known for their support of Sisi, such as writer and presenter of a popular talk show Ibrahim Eissa, were disturbed by Diab's arrest. "This is a return to the practices of January 24, 2011," said Eissa in reference to widespread police oppression under Mubarak. "The message has been delivered: The government, the regime, can get anyone and humiliate anyone, even major businessmen such as Diab." Due to the charges, and the manner of arrest, AMAY employees also reportedly described the arrest as politically motivated.
Hani Sarieddine, the former head of the stock market under Mubarak and consultant for Sisi on economic issues, implied that the president himself was not happy with Diab's arrest. In an article he wrote for state-owned Al-Akhbar, he said the real harm to Egypt was caused by "some law enforcement officers" who could not appreciate the consequences of their actions on the business community, at a time the country is facing serious economic problems. Sarieddine went so far as to say the manner in which Diab was arrested was far more damaging to Egypt's economy than the heavy losses the country's tourism industry expects to face after a Russian plane crashed in Sinai three weeks ago.
An informed government source who spoke to EgyptSource on condition of anonymity said the Egyptian president intervened to ensure Diab's release. While Sisi was in Saudi Arabia attending an Arab-Latin American summit, on November 10, the courts extended Diab's detention. One day after Sisi's return from Riyadh, not only was Diab released after paying EGP 50,000 (approximately $6000) bail, but the courts reversed a decision to freeze his assets, and those of sixteen others. It decided instead to freeze only the assets of the company linked to the sale of of state land on which Diab built a sprawling housing project.
"It could be the case that it was Sisi who demanded his release," said the informed source. "But a lot of damage has been done, and everyone is now confused on who actually makes the final decisions in Egypt," he added.
Khaled Dawoud is currently Deputy Editor-in-Chief of Al-Ahram Weekly, an English language weekly published by Egypt's oldest news establishment, Al-Ahram. He is also the former official spokesman of social-liberal Al-Dostour Party established by Nobel Peace Prize Winner Dr. Mohamed ElBaradei.