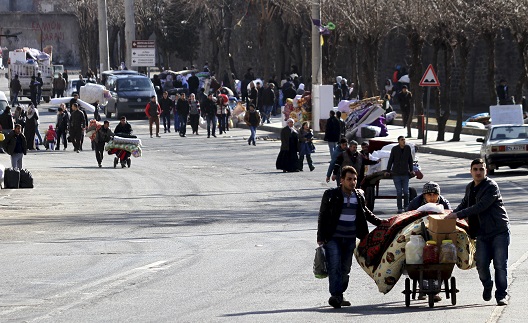 Seven months after violence between Turkey and the PKK began anew, the dynamics underpinning the conflict show no sign of abating. Even as the PKK is rolled back by a determined military push in cities across the region, it is adapting to the new, urban dimensions of a conflict once confined to the mountains of Turkey's southeast.
Since the summer of 2015, Turkey and the insurgent Kurdistan Workers' Party (PKK) have fought for control of cities and towns across country's majority Kurdish southeast, claiming the lives of over 200 civilians and displacing over 100,000. In late January this year, however, Prime Minister Davutoğlu signaled that the months of urban battles may soon be at an end. Turkey's military, Davutoğlu said, was preparing to declare victory "within a few days" against PKK insurgents in Cizre, an embattled town located on Turkey's border with Syria and Iraq, and in Sur, a historic walled district in the Kurdish-majority city of Diyarbakır.
But just hours after Davutoğlu promised a new, less violent chapter in the state-PKK conflict, an insurgent ambush in Sur killed five Turkish police officers and soldiers. In the two days before the prime minister's address, seven more security officers had died in ambushes on the streets of Cizre and Sur. These incidents and other open-source casualty data maintained by International Crisis Group (ICG) suggest that the seven-month-old conflict has entered a new phase.
According to this data, 28 soldiers and police officers were killed in Turkish state-PKK clashes in December, a figure that rose to 49 in January. In Sur, where an estimated 200 PKK fighters are battling approximately 2,000 security officials equipped with tanks and armored vehicles, 34 security officers have died since a military curfew went into effect on December 2. Security force fatalities in the district nearly tripled between December and January from 9 to 25, with fatalities from IEDs and snipers rising significantly.
The PKK has also employed more deadly urban tactics than in the summer of 2015, when the group relied on an armed urban youth militia known as the Patriotic Revolutionary Youth Movement (YDG-H) to secure and hold neighborhoods throughout the southeast. The group appeared to act without direct PKK supervision, but some believe the PKK provided the group with training and weapons.
When police cracked down on the YDG-H in the town of Cizre in September, an eight-day battle resulted in the death of 21 residents and sparked international concern over the Turkish government's counterterrorism tactics. Ankara, however, hailed the mission as a success: No police officers died during the operation that led to the arrest of dozens of YDG-H members.
After that confrontation, the YDG-H increased its use of improvised explosive devices (IEDs) to slow the Turkish military's urban advances, a tactic the PKK may have learned from Al-Qaeda in Iraq, the predecessor to the Islamic State (ISIS or ISIL) in Syria. According to ICG data, more than 45 percent of the 259 security officers killed since July 2015 have fallen victim to IEDs.
The PKK announced another change in tactics in mid-December. The PKK leadership said it had reinforced the YDG-H with seasoned insurgents as part of a new urban group christened the Civil Protection Units (YPS), a name meant to imply protection of areas the group has declared autonomous from the Turkish government. Media and casualty data indicate that the spike in security force deaths coincides with the PKK's decision to embed fighters with YPS units in urban areas.
By late December, Turkish media began attributing a growing casualty tally in Sur to the deployment of PKK snipers, and speculated that the PKK had redeployed veteran fighters from the PKK-aligned YPG in northern Syria to fight in Sur. There is no reliable data to confirm where the snipers came from. Though pro-government media outlets speculate that no more than eight PKK snipers were dispatched to Sur, the Turkish military attributes 12 out of 34 security force deaths in Sur since December to snipers and 9 to IEDs, according to Crisis Group data.
Snipers have become a minor fixation for Turkish media, which in January was abuzz with the alleged death of Roza the Hunter, a female sniper who allegedly fought in Syria, and in February, improbably reported that two PKK snipers were foreigners of Serbian origin.
"When soldiers try to clear a barricade to defuse an IED on a street, they're hit by snipers," said Mahmut Bozarslan, a Diyarbakır-based journalist for Al-Monitor. Even as the military ratchets up its curfew in Sur and uses tanks to root out insurgents, "the PKK is learning to put its weapons—barricades, IEDs and snipers—together in an increasingly deadly way."
The Turkish armed forces' overwhelming firepower will eventually clear the lesser capable YPS and PKK in Sur and Cizre. It claims to have already killed a combined 605 insurgents in both curfew zones since December. ICG data lists total of 265 confirmed PKK deaths since the beginning of the conflict in July 2015. Post curfew, both communities are likely to resemble the border town of Silopi, where the military ended a 36-day crackdown in January. A heavy military and police presence and a curfew remain in Silopi.
In Cizre, Sur, and Silopi Ankara hopes to drive a wedge between residents and the PKK's hardline leadership by pouring resources into reconstruction and economic development. Prime Minister Davutoğlu will also hold weekly meetings with local Kurdish leaders in different Kurdish majority cities in Turkey's southeast, though the plan is likely a bid to gain conservative Kurdish support for a proposed referendum to strengthen the powers of President Recep Tayyip Erdoğan.
But while Ankara may feel that months of urban battles are nearing an end, the PKK is unlikely to see it that way. "Erdoğan said 'we will crush [the PKK] this winter.' Now winter is ending," PKK lieutenant Durkan Kalkan said in a recent announcement. "They say 'we're going from the first stage to the second stage [of the state counterterrorism policy]. We're winning victories.' It's the same old tale." Ankara, meanwhile, remains determined to militarily defeat the PKK.
The PKK's broader strategy is linked to its vision of political autonomy, a vague concept that entails local councils governing independent of parliament. The group's current leadership in Kandil favors the use of armed struggle to coerce Ankara to make concessions to its imprisoned leader, Abdullah Öcalan. At times, the PKK appears divided, with Öcalan taking softer-line positions compared to that of the Iraq-based leadership. However, the return to the insurgency suggests that the group is united behind the current strategy. This implies a continued cycle of violence, especially in spring, when the bulk of the PKK will be able to traverse the now snow-filled mountain passes dividing Iraq from Turkey.
In Sur, the military could prevent another flare-up in urban violence. But in other neighborhoods of Diyarbakır, the PKK could draw the military into a similar confrontation, while in more rural areas, bordered by mountains, the military may not be able to prevent PKK infiltration from Iraq.
The increasing deadliness of the PKK's urban insurgency suggests that it may be equally, if not more willing than ever, to draw the Turkish military into whack-a-mole style battles in cities throughout the southeast. Absent a return to the peace process, the prospect of a yet more deadly chapter of conflict looms large.
Noah Blaser is an independent journalist who has been based in Istanbul since 2011.
Aaron Stein is the Senior Resident Fellow for Turkey with the Rafik Hariri Center for the Middle East.