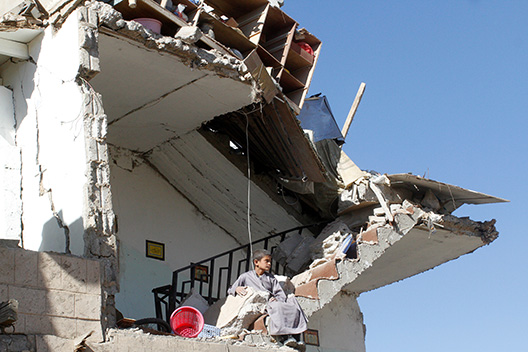 In a last ditch effort by the Obama administration to salvage Yemen's peace talks as the war grinds on, US Secretary of State John Kerry visited Oman twice this month, personally meeting with Houthi representative Mohammed Abdussalam. In a statement released after his second visit, Kerry welcomed a 48-hour ceasefire in Yemen, but not all parties appeared to be in agreement. President Abd Rabbo Mansour Hadi's foreign minister fired back at Kerry's statement, saying, "The government was not aware of nor is it interested in what Secretary Kerry announced." This also comes after Hadi's government rejected a proposal for peace from the UN Envoy in August. Hadi's rejection of a deal that his western backers, and, at least according to Kerry's understanding, his GCC patrons think is reasonable leaves one to question his motives or possibly those of Saudi Arabia. Either Kerry was too hasty in announcing a ceasefire before he had left Muscat or he misunderstood the answer he received from Saudi leaders. Either way, Kerry's suggestions need to be more specific and laced with pressure on Hadi and his Saudi sponsors.
Prior to the beginning of peace talks in Kuwait in April, all parties had accepted in principle that a cessation of hostilities would be followed by Houthi withdrawals from seized territory, a transitional government, and finally an elected all-inclusive government. The devil has been both in the details and in the lack of clear step-by-step sequencing, purportedly left for the parties to work out in direct negotiations with one another—something unlikely to happen anytime soon. The Houthis insist on a transitional government made up of a national unity cabinet in which they would be well represented and a presidential council without Hadi. Hadi's delegation, however, insists on the return of the current government first, with Hadi as president—representing a return, even if temporarily, to legitimate authority.
US Ambassador to the UN Samantha Power, has consistently expressed support for Hadi as the legitimate leader of Yemen, upholding Saudi Arabia's right to defend itself, and offering harsh criticisms of Houthi attacks. In a noted shift in the US position—with just two months left at the time for the Obama administration in the White House—she issued a statement at the end of October blaming both sides for the hold-up in the peace talks and for the mutual escalation that continues to jeopardize the lives of thousands of children.
Left to their own devices, the warring parties do not seem capable or willing to work out a detailed agreement. A stepped up US role in pressuring, cajoling, and mediating the parties to the conflict is critical if this conflict is to be brought to a political end. In order for this to succeed, first the Houthis can be promised strong representation in government as well as promises of rebuilding infrastructure in their area in the north. And Saudi's should be made to understand that US support has its limits.
The following is a suggested sequencing of steps in deescalating, though this is certainly only one of several possible scenarios:
Saudi-Led Air Strikes End
The United States and United Kingdom can urge Saudi forces to end air strikes unilaterally. The two have an interest in doing so quickly as both could be implicated in war crimes in Yemen based on statements by international human rights groups and by US lawmakers and officials. Ending the air offensive, launched in response to the Houthi takeover of Sanaa and march towards Aden, should not be predicated on full Houthi withdrawal from all cities they occupy. Air strikes have been the most destructive of war activities—especially to civilian life and infrastructure. Ending airstrikes would save countless lives and would also constitute a gesture of good faith to the Houthis and a strong message to pro-Saudi forces on the ground of a serious intent to end the war.
Houthis Stop Shelling Ta'iz
The Houthis have surrounded Ta'iz, pounding the city mercilessly for months, but have been unable to overcome the stiff resistance of its citizens. Breaking the siege would send a strong signal from the Houthis that they welcome the end of air strikes against them, and are ready to take their own serious steps to end the war.
A Ceasefire is Announced
After the first two steps are taken, it should become easier to establish an inclusive ceasefire and convince smaller parties allied with the two major parties to this conflict to enforce discipline among their followers.
Blockade on Yemen is Lifted
The Saudi-led, US-assisted air and sea blockade on Yemen has stopped all but small shipments of arms to the Houthis, likely smuggled in small boats and across the border with Oman. The same blockade, however, has also stopped humanitarian assistance from reaching the men, women and children who desperately need it. Lifting this siege would provide urgently needed relief to tens of thousands of Yemenis and would, more than any other act, signal the end of this conflict.
Houthis withdraw from Hodeidah and Ta'iz
Houthi withdrawal from Hodeidah and Ta'iz would signal the end of their expansion campaign. They could at this point regroup in Sanaa and vacate all territory to the south and east of the capital.
Humanitarian Aid is Allowed into all Regions of Yemen
Foreign assistance, which has been on hold for the past year, should at this point resume, but in a more directed and organized manner than before. A multilateral approach should pool resources and assign an international group of experts to dispense the funds according to an agreed on development plan. The humanitarian situation in Yemen is urgent and cannot wait for bilateral aid to be doled out to a virtually decimated Yemeni state which, under the best of circumstances, was corrupt and inefficient. A neutral group could more urgently and effectively put the money into projects which could be of direct benefit to ordinary citizens.
Transitional Government is Formed
A transitional government is formed, with an equal number of delegates from all involved parties: The Houthis, the Hadi goverment, and representatives from the opposition and southern Hirak movement. The goal of this government would be to agree on and begin implementing a road map towards the future.
Houthis Relinquish Weapons
The Houthis can hand over their heavy weapons to a neutral country or international organization and withdraw their forces from Sanaa
UN Peacekeeping Force in Sanaa
A UN peacekeeping force is allowed into Sanaa to monitor the peace and protect civilians.
Election Date Announced
An election date is announced and international organizations are called in to help Yemen start preparing for both presidential and parliamentary elections.
None of these suggested steps are easy, and taking them would require a great leap of faith among the warring parties. They are however both critical and doable. Each step should be accompanied by incentives to reward compliance and disincentives should either side try to deceive or drag their feet at the implementation phase. The US and the international community will have to keep a close eye on the process and hold firm to a clear carrot and stick approach to see the process through to the end.
Nabeel Khoury is a Nonresident Senior Fellow at the Atlantic Council's Rafik Hariri Center for the Middle East.